MLS Playoff Previews: Western Conference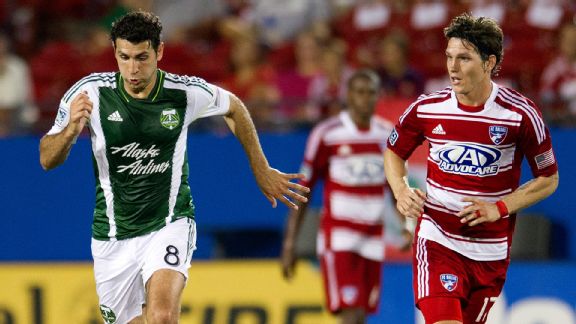 Cooper Neill/Getty ImagesMidfielder Diego Valeri, left, makes things go for the Portland Timbers.
PORTLAND TIMBERS: 14-5-15
(57 points, 1st in conference)

Semifinal matchup: Two-leg tie vs. Seattle-Colorado play-in winner; away Saturday 10 p.m. ET; home Nov. 6 or 7

Team strength: Attack. The Timbers are a marvel of speed and athleticism contained within a group that can pass the ball as well as anyone in the league. Creative midfielder Diego Valeri is supremely dangerous and is adept at finding the feet of players such as Darlington Nagbe, Rodney Wallace and Ryan Johnson, three players with speed to burn. Few teams in MLS have the personnel to pull off the 4-3-3, but the Timbers make it look easy.

Team weakness: Set piece defending. The Timbers are among the league's strongest defensive teams -- a marvel considering injury issues this season -- but are notably weak when it comes to defending set pieces. Nowhere does this matter more than in the playoffs, when games become cagey affairs that turn on a handful of moments. The Timbers' expansive attack figures to make them a handful for anyone, but a slip in concentration on a corner or free kick might be the difference between a deep playoff run and going home early.

MLS playoff coverage:
- Labidou: Is this New York's year?
- Davis: Portland's wild, uncomfortable winning ride
- Carlisle: Under-the-radar players to watch
- Lalas, Twellman: Can L.A. three-peat?

X factor: Jose Valencia. The young Colombian forward, nursed through a knee injury and brought slowly into their system, gives Caleb Porter an extra weapon to insert into the lineup as needed. As a late game sub, the man they call "Trencito" presents a matchup problem for any defense in MLS. He's creative, quick, and powerful. If Porter decides to shuffle his lineup and start Valencia, he'll have speedy Ryan Johnson in reserve. Either way, the Timbers have the advantage.

Forecast: Having secured the top seed in the West, there's no reason to believe the Timbers can't progress all the way to the MLS Cup final. A first round matchup with the play-in game winner gives Portland the advantage of rest over whomever they end up playing. The only reason to doubt at all is the Timbers' away record since they'll be on the road to start the conference semifinals. But Portland managed three wins and ten draws away from Jeld-Wen this season, making it hard to imagine they'll return home with an insurmountable disadvantage.

--Jason Davis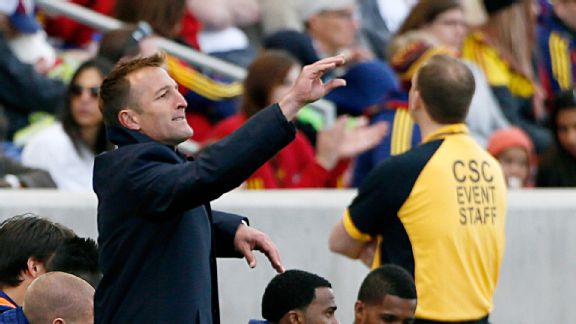 George Frey/Getty ImagesJason Kreis' team-first philosophy is paying off at Real Salt Lake.
REAL SALT LAKE: 16-10-8
(56 points, 2nd in conference)

Semifinal matchup: Two-leg tie vs. L.A. Galaxy; away Sunday 9 p.m. ET, ESPN/ESPN Deportes/WatchESPN; home Nov. 6 or 7

Team strength: Attacking play and teamwork. No team scored more goals than Jason Kreis' team during the regular season (57), and operating with a possession-based style, it is a further nod to the "The team is the star" mentality Kreis has cultivated in Salt Lake. With the core of the squad still intact since the 2009 championship win, stellar seasons from the likes of Ned Grabavoy and Javi Morales in attack are why the club has exceeded expectations and finished the season high in the playoff picture.

Team weakness: Lack of options tactically. On a good day, Kreis' use of a 4-4-2 diamond has made Real Salt Lake a potent side in front of goal but at its worst, it has made them predictable as he reverts to the long ball game when under pressure. Occasionally switching to 4-3-3 has been a rare flourish but against the bigger sides, RSL have been susceptible to the counterattack. A lack of Plan B is something that has haunted Kreis for some time now, and perhaps he is bound by the lack of flexibility with star man Alvaro Saborio. On his day the Costa Rican is worth every penny of his designated player salary, but he can sometimes look one-dimensional in his play.

X factor: Javier Morales. While Grabavoy has had an amazing season thanks to his terrier-like and positional versatility, Morales holds a quality that just puts him above his fellow veteran. With much made of the harmony among the roster, many people close to the camp attribute that to Morales' efforts to ingratiate the Hispanic players into the squad. Now in his second season as a DP, the Argentinian holds the potential to unlock even the sternest of defenses, and it is no surprise he leads the team for assists this season.

Forecast: New signing Robbie Findley revealed the current dressing room is the best one he's been a part of during his career, and while Kreis has been quick to display his shock at just how well his side have done this season, they should not be underestimated. With Grabavoy losing a little bit of steam in recent weeks, I'd expect RSL to give a good account of themselves but ultimately fall short against the might of L.A. in the conference semifinal.

--Kris Heneage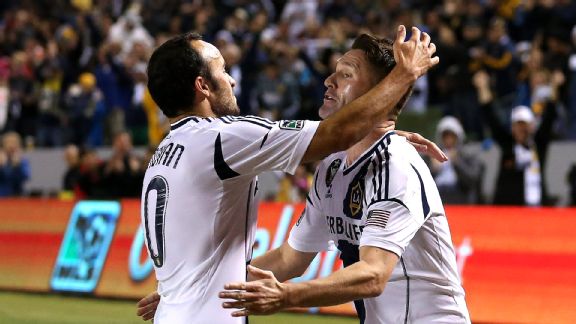 Stephen Dunn/Getty ImagesThe Galaxy's Landon Donovan, left, and Robbie Keane.are proven playoff performers.
L.A. GALAXY: 15-11-9 (53 points, 3rd in conference)


Semifinal matchup: Two-leg tie vs. Real Salt Lake; home Sunday 9 p.m. ET, ESPN/ESPN Deportes/WatchESPN; away Nov. 6 or 7

Team strength: Landon Donovan and Robbie Keane. The league's most dangerous forward tandem seem to have a psychic connection, and there's probably not a scarier proposition out there for MLS defenses. If Donovan and Keane are both healthy, a third consecutive MLS Cup title remains a real possibility. If one or both are less than 100 percent -- Donovan is currently nursing an ankle injury -- it fundamentally changes how good the Galaxy can be in a short tournament.

Team weakness: Concentration. The Galaxy have a tendency to switch off, something that could have serious consequences come playoff time. Their defensive record this season is respectable, but they can sometimes be caught napping when protecting a lead or working against a steadfast defense. When everyone is healthy and engaged, the Galaxy are supremely difficult to beat, which keeps them in every game and allows their stars to make the difference. Right now, L.A. is nursing several injuries that bear watching, in addition to a makeshift back line that has only come together in the closing weeks of the regular season.

X factor: Juninho's goal-scoring ability. Everyone knows the Brazilian midfielder, the hardest-working man in the Galaxy lineup, has a cannon for a right foot. His ability to score from distance makes the Galaxy that much more dangerous, and more importantly allows for L.A.'s attackers to play against a softer back line. When teams have to track Juninho and guard against his long-distance strikes, it gives Keane, Donovan and others the opportunity to slip into space where they are most effective.

Forecast: The Galaxy made their run to a second consecutive MLS Cup title in 2012 from the fourth seed, meaning the play-in game wouldn't have scared them. Thanks to their draw in Seattle, however, the Galaxy get the benefit of a bye to the conference semis and a date with Real Salt Lake. Though a tough matchup, L.A. knows how to navigate the gauntlet no matter which path presents itself. Bruce Arena's team is among the MLS Cup favorites because recent history says they should be. Though no one would be surprised to see a good RSL team take out the two-time defending champs, the ceiling for this Galaxy team is a third MLS championship in a row.

--Jason Davis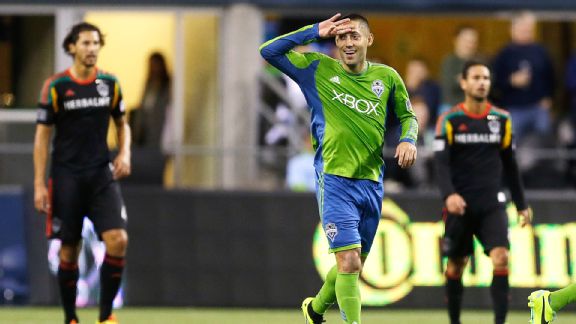 AP Photo/Ted S. WarrenClint Dempsey was relieved to finally score his first Seattle goal Sunday, helping the Sounders earn a 1-1 draw with the Galaxy.
SEATTLE SOUNDERS: 15-12-7
(52 points, 4th in conference)

Play-in game matchup: Home vs. Colorado Wednesday 10:30 p.m. ET; winner vs. Portland in two-leg tie in semifinals, home Saturday 10 p.m. ET; away Nov. 6 or 7

Team strength: Their potential. Despite the Sounders' calamitous form, you cannot write Seattle off just yet in this short playoff format. Though they might be far down the list in terms of likely MLS Cup winners, the talent at their disposal means they could easily click at the right part of the season. Ultimately, they require just a spark -- perhaps Clint Dempsey's first goal of the campaign will prove to be the catalyst -- as the team tries to jel in the postseason.

Team weakness: The lack of goals. If the club are to win MLS Cup, they must improve their goal return. It's with a sickening sense of irony that Seattle find themselves as the fifth-lowest goal scorers after the regular season given the pedigree of their attacking players this season.

Analysing their regular-season form, no player has broken double figures, with Eddie Johnson stuck on nine goals while Lamar Neagle and Obafemi Martins managed eight. The crumb of comfort here comes in the fact that their defensive record is the joint eighth-best in MLS overall. Compare that with teams that made the playoffs, however, and they place just fifth.

X factor: Clint Dempsey. It came late on Sunday night, finally, after over 500 minutes of play: Clint Dempsey had his first Seattle Sounders goal. His grandiose unveiling as a Sounders player has made his lack of impact all the more painful to watch, but as many a player will testify, the first goal can often be the most important one. With the burden lifted from his shoulders, his understated celebration spoke of a man who felt there was more to do in the coming weeks as he looks to settle in Seattle.

Forecast: A dire run of form recently -- winless in their past seven games -- has placed them as an outside bet in the playoffs. Goalkeeper Marcus Hahnemann remained humorous about their recent form when he told the Seattle Times that "We had to create some drama."

Joking aside, Seattle needed to halt their tailspin and did so to a degree with their draw against the Galaxy. Finishing the season with L.A. also gave them a strong look at the quality they will have to overcome to lift the MLS Cup. Yet it still seems like the club are struggling to place Clint Dempsey. At Fulham, out on the left was his best position but Seattle like to run things through the middle a lot. For that reason it could well be a case of "not now, maybe next season."

--Kris Heneage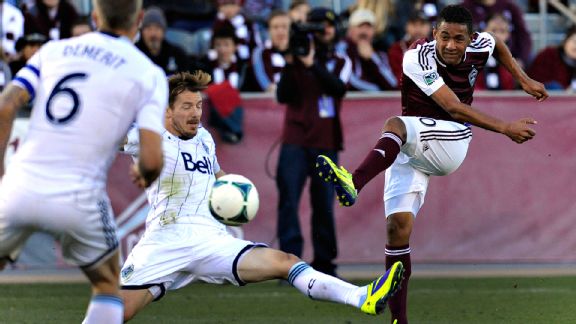 Karl Gehring/The Denver Post/Getty Images Five days after a devastating loss, Panama's Gabriel Torres, right, rebounded by scoring two goals to lead Colorado over Vancouver.
COLORADO RAPIDS: 14-11-9
(51 points, 5th in conference)

Play-in game matchup: At Seattle Wednesday 10:30 p.m. ET; winner vs. Portland in two-leg tie in semifinals, home Saturday 10 p.m. ET; away Nov. 6 or 7

Team strength: Attacking play. Oscar Pareja has tried to cultivate an attractive ground-based game in Colorado but hasn't always succeeded, as the recent loss to San Jose -- a game he described as "ugly" -- proved.

However, against sides more eager to attack, Colorado have fared slightly better. Beating the Galaxy and then mauling Seattle 5-1 earlier this month was a lesson in potency. Although they didn't boss possession (39 percent) as they might have liked, they scored five goals from just nine attempts. Whether they can repeat that on a regular basis remains to be seen, but their athletic group of youngsters certainly has the potential to cause problems.

Team weakness: The lack of playoff experience and quality depth. Perhaps a tad harsh, but the freshness of this Colorado side could easily translate to naiveté. Their attack is largely staffed by MLS rookies, goalkeeper Clint Irwin is set to start his first game in the playoffs and their left-back was in the NASL last season. Also, Shane O'Neill is just out of his teens, and while teammate Drew Moor has commended the amount of growth his young teammates have shown this season, there's still potential for their innocence to shine through. It's a double-edged sword.

X factor: Gabriel Torres. Putting the crushing blow that was Panama's failure to qualify for the World Cup behind him, Torres has the chance to finish the season strongly at the club level. Able to play up top or behind Edson Buddle, his flexibility is just one of the many things that make him such an exciting prospect. Almost talismanic at times, the Rapids' progression in the postseason will likely depend on how well the 24-year-old performs.

Forecast: Going into the playoffs on the back of a 3-0 defeat is hardly ideal preparation. However, I'm a big fan of Pareja. He's been trying to build something with the Rapids, and after a period of awkward transition, he has got players on board who want to play his way. Their 5-1 demolition of Seattle might prove to be a freak result in the long term, but I think it highlights the team's potential. I could see them being dark horses in the playoffs and even end up going all the way to the final. I certainly feel they have an advantage over Seattle, as well as the mental edge given their recent victory over Sigi Schmid's side.

--Kris Heneage