MLS Playoffs: Six under-the-radar players to watch
The MLS playoffs are usually the time for stars to shine. A look back through the history of MLS Cups reveals how players like Jaime Moreno, Tony Meola, Landon Donovan and Guillermo Barros Schelotto all stepped up when their teams needed them most. But invariably, it also takes some heroes of the unsung variety to secure a championship. Last year, when L.A. claimed its fourth MLS Cup, Mike Magee's goals and the impressive performances of rookie defender Tommy Meyer were just as critical to the team's success as the play of Donovan and Robbie Keane.

With the playoffs now set to begin, here are a half-dozen players operating under the radar who are poised to make critical contributions to their team's postseason success.

1. Peguy Luyindula, M/F, New York Red Bulls
One goal in 22 appearances seems a poor return for a forward, but Luyindula's seven assists are second most for the Supporters Shield winners. And his recent switch to an attacking midfield role operating behind Thierry Henry and Tim Cahill has added considerable punch to New York's attack in recent weeks, with four of Luyindula's assists coming during the past two games. With various elements of the Red Bulls roster beginning to heal up, it's possible that manager Mike Petke might go in a different direction. But even if he doesn't start, Luyindula has the experience to make the kind of killer plays needed to hoist MLS Cup.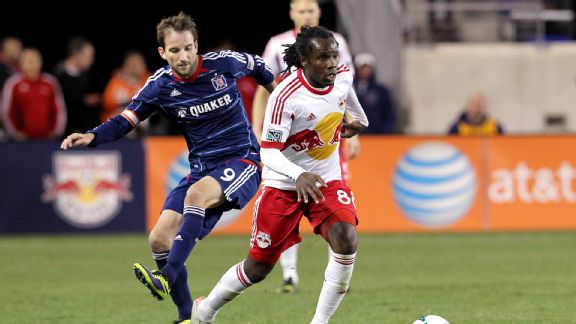 Brad Penner/USA TODAY SportsPeguy Luyindula isn't the most well-known New York Red Bull but his work in support of Tim Cahill and Thierry Henry could make him a playoff star.
2. Chris Schuler, D, Real Salt Lake
RSL's defensive performance has been a bit spotty this season, a fact that hasn't hurt too much because of a team-record 57 goals scored. But the back line has tightened up in recent weeks, conceding just two goals in its last four games, due in large part to the return of Schuler and the physical presence he provides. Injuries plagued the 6-foot-4 defender for much of this season, but now he's healthy and the chemistry he has with Nat Borchers makes for a center back tandem that is greater than the sum of its parts. If RSL is to get past its conference semifinal matchup with the L.A. Galaxy, the club will need to have Schuler operating near his maximum level.

MLS playoff coverage:
- Labidou: Is this New York's year?
- Davis: Portland's wild, uncomfortable winning ride
- Team Previews: Western Conference
- Lalas, Twellman: Can L.A. three-peat?

3. Gyasi Zardes, M/F, L.A. Galaxy
The Galaxy have been looking for a third scoring option ever since trading Mike Magee to Chicago back in May. There have been moments when Zardes -- who has contributed four goals and four assists -- looked the part, especially when operating on the left side of midfield. But if the Galaxy are to be successful in their bid for a third consecutive MLS Cup, they will need more than just moments. They will need consistency, something that most players -- never mind a 22-year-old -- struggle to provide. Zardes has the tools and the attitude, and with a full season of experience, he may yet provide L.A. with the varied attack it needs.

4. Rodney Wallace, M/F, Portland Timbers
Wallace enjoyed a career year with the Timbers this season. His seven goals were more than he scored in his previous four professional seasons combined; his six assists were double his previous career high. Of course, on a team that includes Diego Valeri and Darlington Nagbe, it's easy for such contributions to be forgotten. And that is precisely what the Timbers are hoping will happen come playoff time, when opponents do their utmost to shut down Valeri and Nagbe.

5. Soony Saad, M/F, Sporting Kansas City
Heading into the playoffs, Kansas City's offense has faded a bit, scoring just six times in its past six games as the team tries to adjust to life without the departed Kei Kamara. That's where manager Peter Vermes is hoping Saad comes in. Like Zardes in L.A., Saad has shown flashes with some pinpoint deliveries out wide as well as his ability to strike from distance. Such contributions will be needed to relieve some of the attacking burden on U.S. international Graham Zusi.

6. Andy Dorman, M, New England Revolution
The emergence of players like Kelyn Rowe and Scott Caldwell reduced Dorman to bit-part status for much of the season. But manager Jay Heaps has shown an increasing reliance on the veteran midfielder in recent weeks, with Dorman logging two 90-minute stints in the Revs' past two matches. Even if Heaps returns to his midfield of Rowe, Caldwell and Lee Nguyen, Dorman's veteran presence can be ideal in helping New England close out matches.