Productive Fagundez winging it for Revs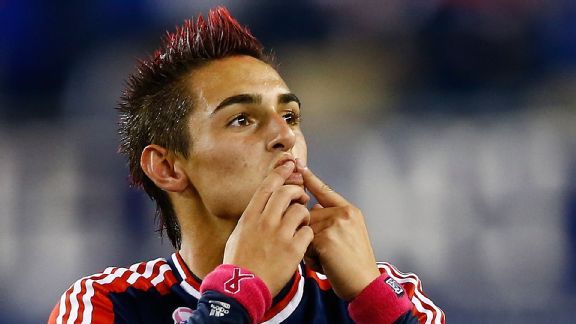 Jared Wickerham/Getty ImagesDiego Fagundez, still only 18, is New England's leading scorer with 13 goals, including five game-winners.
Screams echo near the base of the lighthouse at New England's Gillette Stadium, a symbol of Massachusetts' history, and there is no doubting that the screams of joy are for Diego Fagundez.

These kinds of crowds are usually reserved for boy bands and famous actors, but after the Revolution's last regular season home game, an important 3-2 defeat of the Columbus Crew that puts them in the driver's seat for a playoff spot heading into the final week of the regular season, the screams are for Fagundez, the 18-year-old forward who grew up in Leominster, Mass., and signed with the team at 15.

Born in Uruguay but living in the U.S. with his family since he was five, Fagundez is living up to the hype that surrounded him when signed three seasons ago. This year, he's won the team's MVP award and has the Revolution one win from their first playoff berth since 2009. With his spiky mohawk and team-leading 13 goals -- he also has seven assists -- Fagundez became the first teenager in MLS history to score more 10 or more goals in a season, something Jozy Altidore and Freddy Adu never managed.

-Davis: MLS playoff scenarios, predictions

But this didn't happen overnight. It took a few seasons for Fagundez to realize the hype. He needed time to develop physically and mentally. Last year, Jay Heaps took over as the Revs' coach and gave him more of a regular run in the team as a forward. Fagundez did well, but he still had work to do before he could become the kind of player he was projected to be with the natural talent on and off the ball he possessed.

During the offseason, Fagundez woke up in the morning and met with a personal trainer at a gym to work out to add muscle to his frame. He said he put on anywhere between 5 to 10 pounds. "I think Diego came in [this season] understanding what we wanted [from him] physically, what the league demands from him physically, and really had an emphasis on his fitness level, his strength and his conditioning," Heaps said after training on Thursday.

The extra work has paid off for Fagundez, who was always good with the ball at his feet and running at defenders. Now he has the strength to boss older and stronger players off the ball when he needs to put in a tackle. He's also been able to bounce back from the physical beating the body takes over the course of the season.

"When you're a little bit smaller than someone, you have to be a little bit quicker than them and more fit so you can take the hits and get up. But you also have to be strong to absorb knocks you have to be little bit stronger," Heaps said. "I think Diego was taking shots last year and those weigh on you over time, but when you're a little bit stronger you can absorb them."

In his two previous seasons as a professional, Fagundez averaged two goals and 1.5 assists -- starting only 11 games and playing in 26 over that span. This year, in 27 starts and 30 appearances, all the extra work has allowed him to take each hit and keep going -- he has scored 11 of his 13 goals in the second half of games this season, five in the final 20 minutes.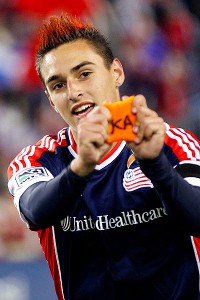 Greg M. Cooper/USA TODAY SportsDiego Fagundez paid tribute to teammate Kevin Alston after scoring against Philadelphia in April. Alston returned to the Revs after being treated for chronic myelogenous leukemia.
But even with the hard work, the goals might not have come the way they did this year for Fagundez if a few tweaks to the Revs' formation and system hadn't been made. In the past, Fagundez was partnered with another forward even though his style isn't ideal for him playing with his back to goal and holding up play.

Heaps recognized this and with a collection of attacking players such as Fagundez on this year's roster, he decided to implement a fluid system that suited his team full of players who wanted to play on the front foot. Heaps moved Fagundez to the left wing, where he had more space to turn and run at defenders and could drift inside onto his stronger right foot.

"Having Diego [Fagundez] in the position we have him in we think makes our team better. We wanted to have scenarios where he at is his best, coming inside, coming off one and two-strikers, having a midfielder slip him through, being engaged defensively so when we have a break he's one of the first guys in the final third," Heaps said. "Those three things are really vital to how we play."

The move did bring some challenges, though. The switch to the wing forced Fagundez to play defense, something he wasn't familiar with. "Last year I was playing forward, so it was kind of hard [because] I am not good playing with my back to goal. I like attacking one-on-one and I think once he [Heaps] played me out wide, I just had to learn to played defense, and once we started working on that, I got better at it," Fagundez said. "Now, when I'm going at defenders, it's a lot easier because the goal is in front of me not behind me."

Yet all the extra work and shifts in formations wouldn't matter if Fagundez wasn't so naturally gifted. His timing and feel for the game, as well as his technical ability on the ball, are things that players growing up in the United States often lack.

He sees and feels the game and he never feels rushed or hurried on the ball even when he's running at full-speed. That kind of understanding of the game was best displayed last weekend in the Revs' win over Columbus last Saturday.

Fagundez was anonymous for much of the second half, struggling to find the ball and space. But after solid build-up play from midfielder Andy Dorman, who burst into the box with a chance to shoot from a tight angle, pulled it back across goal knowing that Fagundez would be there.

The goal ended up being the game-winner, Fagundez's fifth of the season. "I was trying to shoot across the goal and Diego [Fagundez] is always in those spots to sneak a goal," Dorman said after the game.

That kind of ability to pick space and pockets in a game is what separates Fagundez from other players his age. He reads the game in a way that can't be learned. "I think he's gifted conceptually; he's gifted technically, and with those things together it makes him a pretty good player," Heaps said.

Fagundez's ability has since made him a sought after player in international soccer. Uruguay called the 18-year-old into camp for its Under-20 squad in Montevideo in October 2012, when he made two substitute appearances in friendlies. But Fagundez recently received his green card and has begun the process of becoming a U.S. citizen, which takes around five years after receiving a green card, and he's expressed interest in playing for the U.S. if the opportunity arises.

For now, though, there is one game left in the season. A win in Columbus on Sunday and the Revolution will find themselves in the playoffs for the first time since Diego was 14. If the Revs do lock down a playoff spot then it's more than likely Fagundez will play his part. After all, the bright lights will be on. That's where he shines.

Kevin Koczwara is a freelance journalist living in Worcester, Mass. His tweets about sports and other things @kkoczwara.