U.S.'s split personality: strong at home, fragile on road
KANSAS CITY, Kan. -- The United States saved their best till last. A dominant 3-1 victory over Guatemala in the delirious atmosphere of Kansas City saw Jurgen Klinsmann's team qualify for the final hexagonal round of CONCACAF World Cup qualifying, in sole possession of first place. The U.S. demonstrated real composure after leaking a shock early goal. Urged on by the boisterous sold-out crowd at the tiny cauldron that is Livestrong Park, the team were able to finish the night dancing alongside man of the match, Clint Dempsey, as he deliriously held a giant "Deuceface" aloft like a gladiator triumphantly lifting the severed head of a defeated foe.

By the final whistle, Rio felt magically close to Kansas City.

In truth, the overall performance was industrious and well-intentioned as opposed to inventive and sharp-edged. An emotionally drained Klinsmann acknowledged this after watching his team suffer through a numbing number of defensive lapses. "In a game like this you are never sure," he said. "We could have given away a goal in the second half and the momentum changes. I wished there had been a fourth goal to kill it off, but I am very pleased."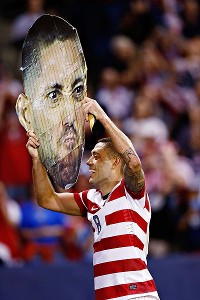 Jamie Squire/Getty ImagesClint Dempsey and his most awesome doppelganger celebrate after the U.S. win.
There was indeed much to feel positive about. Klinsmann suggested his team had "demonstrated a new chemistry" in this game, and that "the partnerships are getting smoother and smoother." Even as he singled out the combination of Eddie Johnson and Clint Dempsey in attack, and the balance of Michael Bradley and Danny Williams in front of the defense, the coach was keen to play down any sense of triumph or relief. "We expected a difficult qualifying campaign and that is what it is," he said. "We gave away a game in Jamaica and we had to pay the price. That is how soccer works."

Clint Dempsey was more direct in summing up the campaign so far. "We were confident because we knew we had the quality coming in but sometimes you need a kick up the backside," he said.

After six games in which they compiled an erratic 4-1-1 record, it is almost impossible to identify exactly where the USMNT is in terms of their progress. The team have a split personality: confident at home, amid rapturous scenes in Kansas City and Columbus, yet fragile and easily disoriented on the road. The tireless Herculez Gomez summed up the nature of this team when he explained, "If you look at our progress, from the first home game to our last home game, we have been gradually better. But when we play away we drop to our opponents' level."

The potent Michael Bradley spoke calmly as he articulated the team's game plan for the next round. "We've got to play good games at home and come away with three points," he said. "Away, you need to know how to go to different places … and come away with points, whether it is in the heat and smog of Azteca or the field in Jamaica. There is little room for error."

Klinsmann agreed the challenge was partly physical. "Every game we play, the teams battle us from the first second. We have to compete in that physical battle and then bring our technical qualities into play," he said. "We have to make sure [our players] know how to respond so they don't have their breath taken away."

After his effervescent two-goal, one-assist performance, Dempsey suggested the key lay in the team's ability to hold on to the ball. "We did a better job of keeping possession tonight," he said. "We were able to show our quality on a quality pitch. The ball is your friend, and we have to show confidence in possession."

Klinsmann suggested this will come in time as his squad logs more minutes on the pitch. "I know about World Cup qualifying as a player," he said. "It always goes down to the wire. You want your players to develop and feel they are getting better, but it is not easy for them to just fly in and get the right perspective when they are playing 55-60 games a year [for their clubs]."

The alchemy of team chemistry was front of mind for a forthright Geoff Cameron. "We have so many styles coming in. Guys are still getting used to each other," he said. "You look at a team like Spain; half their squad plays for Real Madrid, the other half plays for Barcelona. You look at us and guys are coming in from all over and we are still trying to find that cohesiveness. We are taking baby steps."

Tim Howard held the bar high as the U.S. face up to a hexagonal round featuring Costa Rica, Honduras, Jamaica, Mexico and Panama. "We feel like we are the best team in the region," he said. "Mexico think they are the best team in the region. When you believe that, we have to go out and prove that every game. We will work to get better and tinker with some friendlies before the hexagonal, but right now we feel excitement, not belief. We believed we would go through. Tonight we just want to enjoy the moment."

Roger Bennett is a columnist for ESPN, and with Michael Davies, is one of Grantland's "Men In Blazers." Follow him on Twitter: @rogbennett.