MLS provides two Panamanians place to heal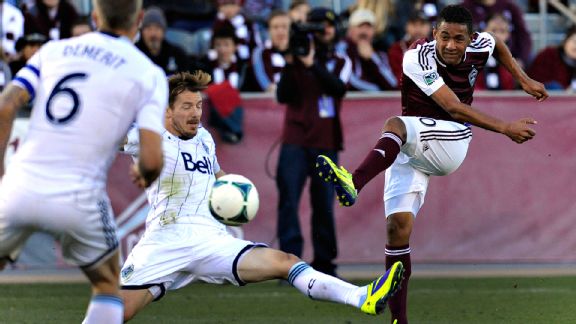 Karl Gehring/The Denver Post/Getty Images Five days after a devastating loss, Panama's Gabriel Torres, right, rebounded by scoring two goals to lead Colorado over Vancouver.
Jaime Penedo can still hear the words of Panama manager Julio Dely Valdes.

The Canaleros had just had their hearts broken by the U.S., losing 3-2 in a World Cup qualifier Tuesday that saw Panama narrowly miss out on reaching a playoff against New Zealand. In the locker room, the players had just begun to sift through the gut-wrenching final few minutes when Dely Valdes spoke.

"Dely Valdes was very positive," said Penedo in a telephone interview Friday through a translator. "He just told us to learn from this moment, to learn how to pick ourselves up from this experience."

Back with their club team last weekend, Penedo and international teammate Gabriel Torres appeared to heed their manager's advice. Penedo delivered several key saves to preserve the L.A. Galaxy's 0-0 tie against the San Jose Earthquakes, reinforcing the notion that club manager Bruce Arena need not worry about the quality of play from his goalkeeper.

Torres' contribution was just as critical, scoring once from the penalty spot and delivering a spectacular strike late to give the Colorado Rapids a 3-2 victory over the Vancouver Whitecaps.

Such performances are just the first step toward recovery for Penedo, Torres and the rest of the Panamanian players, a way of increasing the distance from the pain of what took place at the Estadio Rommel Fernandez.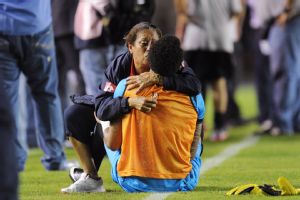 Rodrigo Arangua/Getty ImagesIt will take a long time for Panama to heal from last week's loss to the U.S., but two of their players got back into action quickly.
And what occurred Tuesday has already taken on legendary proportions. After falling 2-1 to Mexico four days earlier on a late Raul Jimenez overhead kick, Panama needed to beat the U.S. and have Mexico lose in Costa Rica to advance to the playoff.

There was a point where it seemed everything was going to fall perfectly into place. Michael Orozco's second-half goal canceled out Torres' 18th-minute opener, but Luis Tejada's goal in the 84th minute, combined with Mexico trailing Costa Rica, appeared to set the Canaleros on their way to the playoff.

Then a double gut-punch arrived in the form of Graham Zusi's equalizer followed by Aron Johannsson's game-winner. Panama's World Cup dream was dead, while Mexico had been granted a stay of execution with the possibility of a full pardon.

"It's been hard, I'm not going to lie in that respect," said Penedo. "We had lots of high expectations, not just myself but the entire country, and especially the way it happened. [The results] were there; it was happening. Then the moment escapes from you. That part has been very painful."

Adding to the lore of the match are reports from U.S. players that their Panamanian counterparts implored them to take it easy in the final minutes. Penedo insisted that he wasn't surprised by the U.S. team's approach at any point and understood that many American players were playing for a spot on the World Cup roster.

But Penedo admitted that in the run-up to the match the team was being constantly reminded, both by the country's print media and on social media, that the U.S. had already qualified and was bringing an understrength side. The message was subtle, yet insidious: Panama could win the game without playing at the level normally required to beat a team such as the United States.

"That [message] may have affected our focus a little bit because these games are never easy," said Penedo. "And I knew from the moment we started preparing for this game that it wasn't going to be an easy game."

There has also been second-guessing about the way Panama played those final few minutes. Needing a goal, Dely Valdes used all three of his subs. When Tejada's goal came, there was no switching into a more defensive posture, and the lack of focus Penedo alluded to began to reveal itself.

"Honestly, we never imagined the United States would close the game in that manner, running," Torres told the Rapids' website. "We tried to keep the ball from them, but, well, in the two opportunities that they had, they scored two goals. And we're out of the World Cup."

Now, the Canaleros' coaches and players are left with an empty feeling of what might have been. It's a wound that might never fully heal, even though as a soccer nation Panama has made immense progress in the past decade. Kick-starting that momentum will now be the team's biggest challenge.

But players have to move forward as well, and both Penedo and Torres took those initial steps toward dulling the pain of Tuesday. For Torres, that meant getting back on the field as quickly as possible.

"When I came back, [Colorado manager Oscar Pareja] talked to me, and I told him I was ready for the game," said Torres through a team spokesman after Saturday's victory. "I know what kind of position he was in, what position we were in, and I wanted to play this game."

For Penedo, it was a case of shifting priorities.

"Right now, my objective is to help [the Galaxy] win another championship," he said. "One dream ended, but another dream starts."

Let the healing begin.