Schellas Hyndman's FC Dallas resignation came at the right time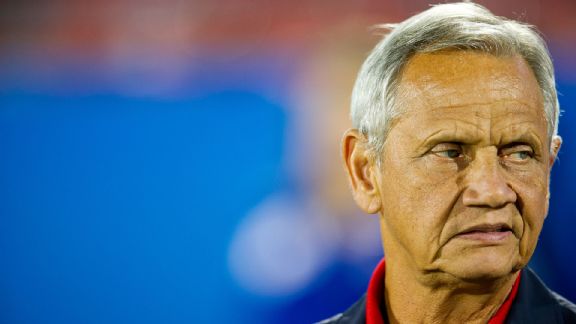 Cooper Neill/Getty ImagesSchellas Hyndman's love-hate relationship ultimately caused his downfall.
The bond between Clark Hunt and Schellas Hyndman goes well beyond your typical owner/head coach relationship.

Hunt, the chairman and CEO of Hunt Sports Group, which oversees FC Dallas, was a one-time captain at Southern Methodist University during Hyndman's time in charge of the men's soccer program there. And Hunt pursued Hyndman for years before the latter finally agreed to become manager of FC Dallas back in 2008.

So when Hyndman announced his resignation Friday as FCD's manager, effective at the end of the season, it was tinged with a bit more sentiment than might otherwise be expected.

"It was just a very emotional day for he and I," Hunt said via telephone about Hyndman's decision. "We've had a tremendous relationship, and I don't see that changing on a go-forward basis. But we sure enjoyed the opportunity to work together for the last five-and-a-half years and I think we'll both miss that [going forward]."

To be fair, a strong argument could be made that a change was needed. FCD began the season as one of the hottest teams in the league, starting out 7-1-3 and looking like a prime contender for the Supporters Shield. At which point, the campaign completely unraveled. A lack of depth, especially at center back and center midfield, were largely to blame. The 50 goals allowed by the club were exceeded only by D.C. United and Chivas USA.

Add in the fact that that Hyndman only reached the playoffs in two of his five-plus seasons in charge, and one got the sense that a it was time for a new voice to lead the team, a feeling that Hyndman himself acknowledged.

"I felt it was the best thing for the club, which is very important to me, that they go in a different direction," Hyndman told reporters Friday. "It is very difficult for me because I've coached for so many years. I love the competitive side, I love the teamwork, I love the training. It's come to a point in time [where] I think the team needs a different voice. I've not been able to bring the best out of them."

The all-or-nothing nature of Hyndman's final season in charge was fitting in a way, given that there seemed to be little gray area when it came playing for him. You were either one of Hyndman's guys or you weren't, and there didn't appear to be much movement between the latter group and the former. Dax McCarty, Heath Pearce, Brek Shea and Daniel Hernandez were among those who ran afoul of Hyndman at one point, and each one was ushered out the door. Hernandez's exit, which came earlier this season when he was fired from his role as an assistant coach, was the most surprising, given that he was another former SMU captain, and as big a Hyndman backer as one was likely to find. His departure, and the team's subsequent struggles, left one to conclude that his leadership and staunch support of Hyndman's methods was sorely missed.

That said, Hyndman had some success when it came to building a team. The 2010 side that reached the MLS Cup final was one of the more entertaining outfits in recent years, with that season's MVP, David Ferreira, operating at his peak. The team's 3-0 manhandling of the Los Angeles Galaxy in that year's Western Conference final was as impressive a road performance one is likely to encounter.

But perhaps the most impressive aspect of that team -- aside from the fashion statement Hyndman made with the leather jacket he sported late that season -- was his ability to adapt to the players he had. The Dallas manager long preferred to operate out of a 4-4-2, but hit upon a 4-1-4-1 with Hernandez providing the steel in midfield and the likes of McCarty and Ferreira providing the link play and creativity. It proved a nearly unstoppable combination.

Dallas hasn't been able to reach those heights since, although the broken ankle Ferreira suffered early in the 2011 season played a big role in that. Now it looks as if Dallas is starting over, although some impressive pieces like George John, Matt Hedges and Fabian Castillo remain. For his part, Hunt insisted that the club would cast a wide net in terms of finding a new coach, but would also strike a balance in terms of timing.

"The way the MLS calendar sets up, there are decisions regarding next year that need to be made in the next six weeks or so," he said. "In an ideal world, you would have a new head coach ahead of making those decisions. But really the most important thing for us is to get the right candidate as opposed to just getting it done quickly."

At age 62, it's an open question whether Hyndman will coach again. He insisted that Friday's announcement was a resignation, not a retirement, and that he intended to remain involved in the game at some level. But for now, he intends to take a break once the season ends.

"I look forward to the days where I cannot have those sleepless nights and stress in my life and enjoy my family," he said.

After spending almost 40 years in the game as a coach, it's safe to say Hyndman has earned that right.