Beitashour's World Cup dream brings him from San Jose to Tehran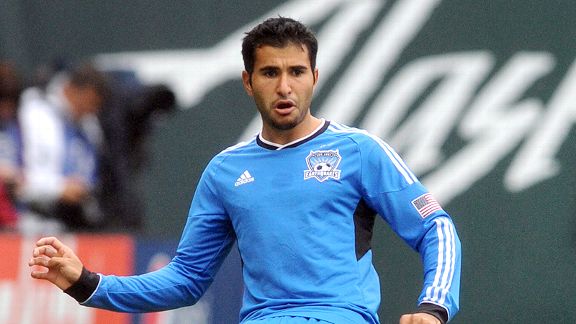 Steve Dykes/Getty ImagesSteven Beitashour has made a bold move to switch national teams from the U.S. to Iran.
Steven Beitashour's World Cup dream was fading fast. At age 26, the San Jose Earthquakes defender was at his peak, but he knew he didn't have many more World Cup cycles left in his career. He was also aware that his chances of breaking into the U.S. team had shrunk to almost nothing.

So in a move with plenty of internal logic, Beitashour decided to represent Iran, the country where both his parents were born and one that has already qualified for next summer's festivities in Brazil.

"It's easier for people who have established themselves to be in the national team," said Beitashour via telephone. "For me, if I don't prove myself now, then I'll be 31 when the next World Cup comes around. There will probably be younger, better guys than me. You just have to make the most of all the opportunities that come your way, and hopefully I will."

A defender with good range and an ability to deliver pinpoint crosses, Beitashour had mentioned the possibility of representing Iran in the past, even as he was called into the U.S. national team on two occasions. But when PersianFootball.com revealed that he had been named to Carlos Queiroz's squad for the upcoming Asian Cup qualifier on Oct. 15 against Thailand, the only question was whether he would accept. He did, and now Beitashour hopes he will have a long, fruitful partnership with Team Melli.

"I can't think about the World Cup too much, but the possibility of it is pretty exciting," he said. "I don't want to get carried away. It depends on how well I play and how I feel when I get over there. Each coach is different, each coach sees different things in a player, so hopefully Coach Queiroz likes what he sees."

As defections go, it's one that doesn't rise up to that of Neven Subotic, who went on to play for Serbia at the 2010 World Cup, or New Jersey-born Fiorentina forward Giuseppe Rossi, who is back in Italy's national team after dealing with a series of knee injuries. Both are considered world-class talents. Yet the dual nationality issue is one that is cropping up with increasing frequency for all kinds of players. While geopolitics or cultural issues can have a huge impact, oftentimes the decision comes down to what will benefit the player's career the most. For a player like Beitashour, that means playing in a World Cup.

"It's 2013, so I think it's a sign of the times," said ESPN television analyst Taylor Twellman about Beitashour's decision. "Is Jermaine Jones playing for the U.S. for the same reason? Probably. I feel like that's the way the world is right now."

That said, Beitashour's decision isn't completely devoid of benefit to the U.S. soccer community.

"Any time a player is called into a national team, I think it looks good on MLS and his club, in this case the San Jose Earthquakes," Twellman said.

Iran has been chasing Beitashour for a while now, with American-born assistants Dan Gaspar and Omid Namazi in near constant contact with the right back for the past two years.

Beitashour is set to depart for Tehran after Wednesday's club match against the Colorado Rapids, but it will have been a long time between visits. Beitashour said he had been to Iran three times, but the last time he visited was when he was around 7 years old. His only memory of that time is "delicious food." But he knows enough about the country to be confident that he'll be embraced by Iran's soccer-loving populace.

"I don't think there will be any backlash at all," he said with regard to his being born in the United States. "It's about playing soccer. I think everyone here and over there loves soccer and soccer players, so any time you have the opportunity for something like that, I think everyone is proud of you and wishes you the best. And people there love Americans; they really do."

In the process, Beitashour is turning his back on the U.S., although he insists that U.S. national team manager Jurgen Klinsmann was fully aware of the possibility that the San Jose defender might opt for Iran. Beitashour said the two were on good terms and that it's a decision Klinsmann understood, especially with a chance of going to the World Cup at stake.

"Jurgen's a great guy, and really it's a great opportunity," said Beitashour. "He just told me [if it happened] to make the most of it."

Beitashour has every intention of doing just that.