Recovering Will Packwood ready to push forward from a severe injury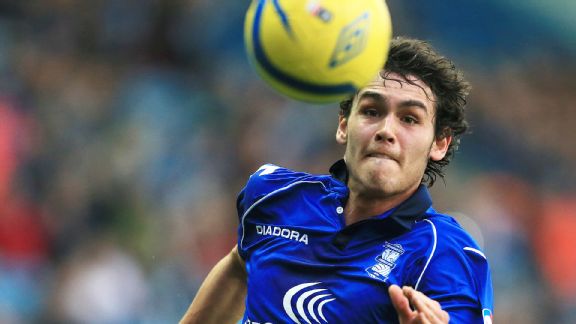 AP PhotoWill Packwood is considered by many to be a part of the United States' future in defense.
For Will Packwood, the reminders of the broken left leg he sustained last January are everywhere.

There are the scars from three surgeries he underwent. He can still feel through the skin the two plates and 16 screws it took to put his tibia and fibula back together. There's even a YouTube video of the injury, when the Birmingham City defender went down in a heap during a third round FA Cup tie against Leeds United.

"You can watch it if you want to," Packwood offered via telephone. "I don't recommend it."

Fortunately for Packwood, 20, the amount of progress he's made over the last several months has pushed those memories into the background. The native of Concord, Mass., has made five appearances this season with the Blues' U-21 Developmental Squad (formerly known as the reserve team), going the full 90 minutes in his last three games, and even scoring in a 3-2 win over Burnley on Sept. 24.

"The recovery is going very well," he said. "In terms of fitness and such, I'm back at that level now."

"Packwood has fared very well straight away," added Birmingham City's U-21 coach, Richard Beale. "He's come back in as if he hasn't been away. He's getting closer and closer to getting put back into the first team. He's looked a million dollars really."

It's the kind of news that will elicit a collective sigh of relief from the U.S. national team program. Prior to his injury, Packwood was considered one of the top prospects in the U.S. player pool, with U.S. U-20 manager Tab Ramos building much of his defense around the Blues' defender.

"Packwood is excellent in the air, and for his size he has very good feet," Ramos said. "I always try to pick guys who can play, and for us playing out of the back was important. He's one of those center backs who can not only play the ball into the middle of the field, but he could also skip a line and find the forwards' feet with a longer ball out of the back. He's very good at that, so for us, he would have been a very important player."

Instead, the U-20s were forced to push on without him, and while the team managed to qualify for the finals in Turkey, it was placed in the Group of Death and was outscored 9-3 in its three group stage matches. The back line in particular looked overmatched, leaving the U.S. U-20 defender to wonder if his presence might have resulted in a different outcome.

Of course, by then Packwood had bigger priorities. Looking back on the sequence in which he was injured, the play looks innocuous enough. The Leeds keeper clears the ball well up field, where Packwood rises up to challenge for the header, goes to ground, and doesn't move.

"I was just on the floor in a whole lot of pain," he recalled. "From there it was stretcher, ambulance, hospital, this, that, and the other; drugs, morphine, everything."

Back in Concord, Packwood's father, Richard, and his mother, Mary, were listening to the broadcast over the Internet via Birmingham City's web site. For the elder Packwood, the sight of his son suiting up for the Blues was steeped in emotion. Not only had young Will caught the soccer bug in large part because of backyard kick-arounds with his father, but Birmingham City was the club the elder Packwood had supported since he was nine years old.

Yet when news first filtered through that his son was injured, he and his wife were taken on a rollercoaster ride at warp speed.

"It was tough for us, very tough, because the announcer said he had heard a crack on the field, and it looks as though he has a head or a neck injury," Richard Packwood said. "Our first thought was the worst imaginable, that Will had broken his neck or something. Then the commentator said, 'No, it looks like his leg.' Compared to how bad it could have been, we were a little bit relieved."

Both Richard and Mary were on a plane that night, and while it pained them to see their son in such condition, they were blown away by the level of support the club provided, even beyond the immediate aftermath of the injury. Not only were manager Lee Clark, his staff and the senior players all in constant contact with the young defender, but the club also took the step of extending his contract through the end of the 2013-14 season.

"It really takes a load off your mind, just knowing that you can get down to your work, and not having to find a new rehab facility and all that sort of stuff," Will Packwood said about the contract extension. "It was very good knowing that I could have a set program with good physios."

Packwood spent the early weeks of his rehab lying low and simply recuperating from his surgeries.

"I played a whole lot of video games," he said. "I got real good; little bit of FIFA, Call of Duty, Halo, the standard ones."

Packwood's recovery soon accelerated. He took just two weeks off in the summer while the rest of his teammates had six. And the club's physiotherapists made sure Packwood had simulated every facet of his game prior to letting him back on the field.

That said, some obstacles still remain. Packwood describes the injured area as "very temperamental." Some days the leg aches, while on others it's pain-free. As a consequence, he engages in a 20-minute warm-up routine before he even contemplates kicking a ball. He also admits that it's more difficult for him turn off his left leg than his right. But Packwood sounds as if he has no shortage of confidence, and has no fear whatsoever.

"Obviously, you feel better after your first sort of crunching tackle, and someone had to suffer a little bit, someone had to take one of those for me to feel good again," he said with a laugh. "Then you're just lost in the game, you're focused on what you're doing rather than thinking about the injury."

Now Packwood finds himself approaching the level that saw him make seven first team appearances last season, although they came primarily at right-back as opposed to his preferred center-back position. So will he be back in the first team soon? Given the way the club stood by him, Packwood is eager to repay that faith.

"It's hard to say exactly when, but the manager reassured me that I'm in his plans for the season and for the future," he said. "I feel like I could be playing now personally, but it's down to the manager to make that decision on when he wants to throw me back in. I personally hope it's sooner rather than later."

Of course, players will always think they're ready, even if they're not, but Beale agrees that a first team return isn't far off.

"Will's at the stage where he could go back and play in the first team," he said. "We've done well recently. We've won our last three matches, so Will will start now coming into consideration to be back in the first team. He might well have a loan spell out to just gain more experience at first team level before he's put back into the first team. If he does well out there, the manager will call him back in."

When that happens, it will be a video that everyone will want to watch.