U.S. Open Cup: D.C. United score historic upset over RSL
D.C. United and Real Salt Lake entered Tuesday's U.S. Open Cup final occupying very different floors within the high-rise building that is MLS. RSL was aiming to occupy the penthouse, in contention for three trophies, while United was literally in the basement, trying to get through a disastrous league season.

Yet in the aftermath of DCU's shocking 1-0 triumph over RSL, it is United holding up a trophy, its season made. And it is RSL who is staring into the void; its campaign teetering towards failure after yet another cup final disappointment at home.

Without question, Tuesday's final will go down as one of the bigger upsets in the tournament's history, perhaps outdone only by second-tier Rochester's run to the 1999 crown. We're talking about a D.C. United side that has now won more games in the USOC (four) than it has in the league (three). United also needed to survive a penalty shootout in its first USOC match against the Richmond Kickers back in May, as well a semifinal at Chicago. On Tuesday DCU faced an RSL team who has been at or near the top of the Supporters Shield standings all season, on the road at a venue where it had never won.

No matter. DCU delivered a stellar -- and at times desperate -– defensive performance, with its back line playing especially well, and goalkeeper Bill Hamid delivering some timely and jaw-dropping saves. With Lewis Neal's netting the all-important goal late in the first half, it was enough to claim its third USOC title.

"It's been a strange season, but to have the smiles on those guys faces right now, it's unbelievable," said Olsen in a postgame interview with MLSSoccer.com. "We've forgotten about the negativity of the year. We managed to find focus in this Open Cup, and come away with something in a season of turmoil, with a trophy. I credit those guys, the organization, and I credit our fans, ownership, everybody. We didn't let the wheels fall off."

Looking at United's regular season record of 3-21-6, that characterization seems the stuff of fantasy. But there is truth in what Olsen is saying in that for whatever reason, United found a way to rally itself during the competition's tough moments, and speaks to the fact that as bad as the league campaign has been, Olsen deserves to stick around for the inevitable rebuilding effort set to take place.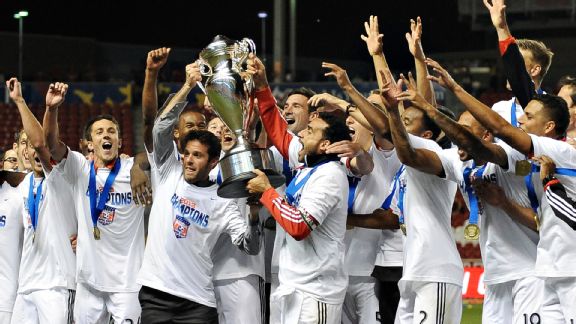 Gene Sweeney Jr/Getty Images
The irony of course is that the future of RSL, a team that by almost any measure has had a far better season than United, looks murky. Tuesday's defeat is just the latest in a disturbing sequence of big-game failures at Rio Tinto Stadium, with the 2008 Western Conference Final, the 2010 playoff elimination against FC Dallas, the 2011 CONCACAF Champions League final, and postseason defeat at home against Seattle, the other examples.

"It is something I can't really put my finger on," manager Jason Keis told reporters. "How we can get so close and how we can have so much momentum through the majority of the season and we get to get to a game like this and we can't seem to put things together. We can't seem to get over that last hurdle."

Whether this latest disappointment bleeds into the race for the Supporters Shield and the playoffs is unknown, but it presents Kreis and the team's locker room leaders with an immense challenge. With Kreis' contract due to expire at the end of the season, there's also the ongoing uncertainty about his future with the club, which frankly is a distraction that the club doesn't need.

There's no guarantee of course that Tuesday's result means the rest of the season will end in disappointment for RSL. There's a possibility that the USOC defeat could galvanize the team on to greater success. But aside from the 2009 MLS Cup triumph, the team's recent track record suggests otherwise, and a result like Tuesday's is almost like being forced to return to base camp after getting within sight of Everest's summit. It's not the end by any means, but the physical and emotional capital that has been spent will have to be weighed, and some repair work to the team's psyche will be required.

Of course, given the season United has had, some remodeling work needs to be applied to that team as well. But the presence of another trophy will make it easier to accept.