Reinvigorated Javier Morales aims to deliver in U.S. Open Cup final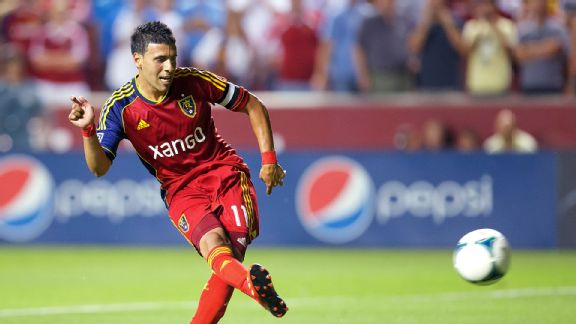 Russ Isabella/USA TODAY SportsJavier Morales has turned back the clock after dealing with various injuries.
When it comes to cup finals, Javier Morales has some unfinished business to take care of.

It's not that Morales has never won a title. He managed that feat with Real Salt Lake in the 2009 MLS Cup final against the Los Angeles Galaxy. And it's not as if he's never come up big with a title on the line, as he was that and more for the 2011 RSL side that reached the final of the CONCACAF Champions League. It's just that he's never managed to do both at the same time.

The 2011 CCL final ended in heartbreak when Real Salt Lake lost the second leg at home 1-0 to Monterrey, a result that saw the Mexican club prevail 3-2 on aggregate. As for RSL's victory over L.A. in 2009, on that occasion Morales was reduced to the role of tearful spectator. Just 15 minutes into the match, he sustained a sprained knee (lateral collateral ligament) thanks to a clumsy tackle from David Beckham, and Morales had to come off the field seven minutes later.

On Tuesday, Morales will get a chance to fulfill his ultimate title-game dream when RSL hosts D.C. United in the final of the U.S. Open Cup. Granted the USOC isn't at the top of most players' trophy wish list, but that hasn't lessened Morales' enthusiasm.

"It's exciting -- you want to play a final every year," he said via telephone. "We have another chance right now. Maybe it's a little revenge for the final against Monterrey we lost at home. We were in front of the home crowd, and in that moment we couldn't make it."

Given the current form of Morales and his RSL teammates, a happier outcome seems likely, although a determined D.C. United team will have something to say about that. The RSL playmaker is enjoying his finest season since 2010. He has tallied eight goals and 10 assists, spearheading an attack that has scored a league-leading 54 goals. But beyond statistics, Morales has also played a critical role off the field for a side that shed several high-priced veterans last winter.

"For me, Morales is a link man," said RSL manager Jason Kreis. "He's not only just a linking man between the defensive side of things and the offensive side of things on the field for us. He's also a critical linking man for us in the locker room because I think he does a tremendous job of linking the young Hispanic players to the older Hispanic players, and of linking the Hispanic players to the American players. He's somebody that everybody looks up to and respects in our locker room, and I think he does a great job of keeping everybody connected."

Given everything that Morales has been through in the last few years, it's a wonder that the RSL playmaker will be around for Tuesday's festivities, as he spent the vast majority of the 2011 and 2012 seasons battling injuries both major and minor. First, there was the horrific broken ankle he sustained in May 2011, and while he recovered in time to contribute to RSL's playoff push that season, he wasn't the same player.

That wasn't a surprise given the severity of the injury, but when Morales' health problems bled into the 2012 campaign, the worry meter of both player and club began to redline. A persistent quad injury was connected to a nerve problem in his back. There were other problems that ultimately were traced back to the original ankle injury.

"I had a lot of problems in my muscles, I don't know why," said Morales. "The doctor said because my body was off the field for five months, then because I was worried about my ankle … when I come back maybe I pull my quad, pull my adductor or my back, or something like that. My body had to adapt again to a professional sport, and then take a couple of months to be 100 percent again."

In the meantime, the drop-off in Morales' production was considerable. In 2012, he scored just three goals while adding nine assists. Not awful, but not what he or the club had come to expect either. For example, in 2008, Morales had seven goals and 12 assists.

"You could just see he was a bit tentative," said teammate Nat Borchers. "He wasn't playing at the game speed he wanted to play at."

During the past offseason, Kreis admitted that some thought was given to not bringing the out-of-contract Morales back. RSL eventually reached a deal with the Argentine at a reduced salary, although he retained his designated-player status. When Morales showed up for preseason, his fitness tests were -- in the words of Kreis -- "off the charts" and all appeared to be well. But then a torn meniscus in his right knee meant another surgery. And more doubt, especially since there are days when the ankle still bothers him.

Morales said, "I talked to the doctor a couple of weeks ago, and I ask him, 'Hey, when is the ankle going to be 100 percent again?' He said, 'Maybe never.'"

But Morales gradually returned to health, and some small tweaks to his in-season fitness routine ensured that this trend continued. He began going to the gym twice a week for sessions that include yoga and Pilates as well as strengthening exercises for his ankle.

"I decided to do it on my own," said Morales. "I feel that when I am fit and when I am healthy, I can play my best soccer. So the last two years, I've been having a couple of problems, so now I have to do something else to be 100 percent every weekend. For that, it's helping me a lot, and I'm feeling better every day."

Both Kreis and Borchers have noticed some subtle changes in Morales' game, though it's more due to experience than anything injury-induced. Kreis feels Morales is more of a two-way player than when he first arrived in MLS back in 2007. Borchers said his longtime teammate is more adept at managing tempo than in the past. Yet it's in the final third that Morales continues to have the biggest impact.

"I feel that he's gotten himself back to being the old Javier Morales that we all knew and loved and valued and appreciated so much from a couple of years ago," said Kreis. "I just think he's been invaluable to all of our successes this year."

Morales' re-emergence as one of the league's premier playmakers has also been well-timed, especially when one considers the numerous personnel changes the team has undergone in the past year. So did Morales think RSL would be this good, and in the hunt for three trophies this late in the season?

"Yes and no, because you always believe in your team and you always think they're the best," he said. "But to be realistic, I know we lose a couple of good players – Jamison Olave, Fabian Espindola, Will Johnson – and I didn't know the new guys in that moment, and you're thinking, 'Maybe this is going to be a tough year for us.' But the new guys have come in and played pretty well, and they adapt so quick to the team, and we're happy to have them with us right now."

RSL feels the same way about its playmaker.