Seattle has golden chance to secure MLS Supporters Shield on Sunday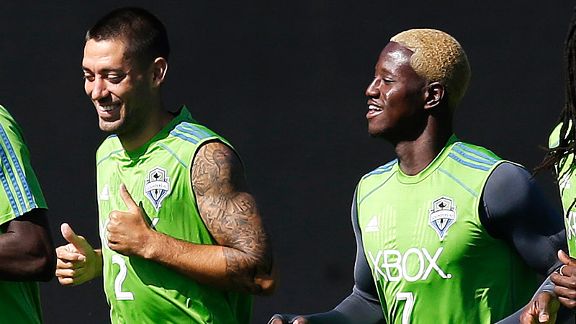 AP Photo/Ted S. WarrenClint Dempsey and Eddie Johnson should be all smiles as they have a chance to take advantage of a weakened New York Red Bulls.
The top two teams in Major League Soccer will square off on Sunday when the New York Red Bulls travel to CenturyLink Field to face the Seattle Sounders. To the disappointment of many, both teams will be missing some key performers.

It's all so very Supporters Shield.

The trophy is given to the MLS regular-season champion, yet like many other team sports in the U.S., it's obscured by the playoffs. MLS Cup is the priority, a point driven home by the fact that New York stars Thierry Henry and Jamison Olave, who despite training on Friday didn't travel to Seattle due to an aversion to playing on artificial surfaces.

"By the doctor's recommendation, they shouldn't be playing on turf," explained New York manager Mike Petke about Henry and Olave. "Thierry has a chronic Achilles injury, and Olave has a bad knee. Every time they play on turf, it could be a complete blowout or they could make it through fine. Is that a situation that we're comfortable with? No, not at all. Not with the regular season and important games to come."

Some would argue that Sunday's tilt couldn't be more important. New York, which hasn't won a major trophy in its history, leads the Supporters Shield race by one point over Seattle, although the Sounders have two games in hand. If Seattle wins, it'll be almost impossible to catch. If the Red Bulls prevail, the Sounders will have to almost run the table to prevail. Seattle certainly looks like it isn't holding back despite Clint Dempsey's expected absence from the starting lineup due to a hamstring injury, and the suspension of defender and emotional leader Zach Scott.

"As a club, I think [the Supporters Shield] is something to take a lot of pride in," said Seattle manager Sigi Schmid, who is aiming to win the Shield with his third club. "It shows a consistency of performance over 34 games."

It also reveals endurance and depth, which is why it's fitting that a match with massive Shield implications will be contested by teams short of full strength. Over the course of a season, it's imperative for a Supporters Shield winner to get big contributions from reserves when international absences, injuries or suspensions strike.

Sunday's match is no exception, and is why Seattle is a heavy favorite to prevail. The fact remains that Dempsey has yet to reach anything close to top form since joining the Sounders in August. Yet with the likes of Lamar Neagle, Mauro Rosales and Eddie Johnson operating near their respective peaks, it hasn't mattered, with Seattle going 8-1-1 in its last 10 games. The loss of Scott is eased by the presence of Djimi Traore, who started 22 games this season before recently finding himself out of the lineup. There had been some concern about Johnson's availability due to a shoulder injury he picked up last week against the Los Angeles Galaxy, but Schmid stated that X-rays were negative.

"Johnson is just a little sore," he said. "He trained full-out Thursday and didn't have any issues."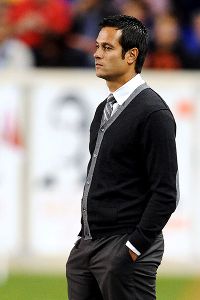 Joe Camporeale/USA TODAY SportsMike Petke has his work cut out for him with Thierry Henry and Jamison Olave sidelined.
New York's replacements are a bit more untested with Ibrahim Sekagya likely to slot in for Olave and fit-again midfielder Lloyd Sam possibly sliding into midfield with Tim Cahill moving up top alongside Fabian Espindola. Sekagya in particular will need to come out on top in his battles with Johnson.

But New York has undergone something of a transformation in recent weeks winning four in a row following a training-ground spat between Petke and Henry. Petke has gone to great lengths to minimize the incident's impact, instead preferring to dwell on his side's overall improvement.

"It's guys taking pride in certain areas like defending, team defending," he said. "I think its accountability being a lot higher, personal accountability from players not pointing fingers, really taking things to heart and coming together as a team. It's a great time for that to happen. Are we the complete package, are we 100 percent where we want to be? No. I think there's a lot more room for improvement. That's good because we're in a good situation."

That said, on Sunday, Seattle's situation is likely to be better with the Supporters Shield almost within its grasp.