Ching ready for next phase of soccer career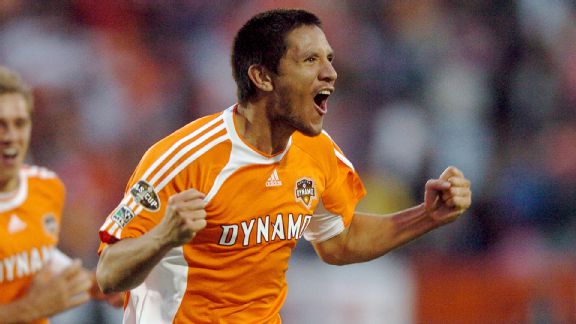 Steve Grayson/Getty ImagesBrian Ching's 114th minute equalizer against the New England Revolution in the 2006 MLS Cup will be forever remembered by Houston Dynamo fans.
Brian Ching announced his retirement on Tuesday and his exit from the Houston Dynamo and Major League Soccer brings an end to one of the most underrated careers in American soccer.

- Report: Ching makes retirement official

Upon initially glancing at Ching's stats, his 12-year run as a professional might not raise any eyebrows. He never tried his hand (or foot) in Europe and averaged one goal per every three and half matches that he played in. Yet, watching the towering 6'1" forward, it's clear that he possessed a very unique skill set not found in most American attackers.

While his height obviously made him a scoring threat on set pieces, another one of Ching's assets made him a favorite among those who played with him. United States international Landon Donovan, a former teammate of Ching's on the San Jose Earthquakes and the national team, praised Ching for having amazing field vision and work ethic.

"I think he's a very underrated as a passer, how clever he is and how smart he is on the field," Donovan told ESPN FC. "Everyone sees him as a big strong guy, but he has much more intelligence than what people realized.

"He's probably been overlooked and underrated most of his career."

Due to all of his versatility, Ching had a rough relationship with U.S. soccer fans at times. As with the cases of Eddie Johnson, Freddy Adu and now Jozy Altidore and Juan Agudelo, fans of the Stars and Stripes often have unrealistic expectations of their attacking players and their disappointment with Ching reached a boiling point just over three years ago.

During that time, Ching likely faced one of the worst periods as a professional.

It started when Ching learned from U.S. head coach Bob Bradley that he didn't make the 2010 World Cup team, despite scoring four goals in qualifying matches. Then it ensued, where from coast to coast, the towering striker had to face loud chants of "U.S. reject" from the supporter sections of Los Angeles' Home Depot Center and New Jersey's Red Bull Arena.

As much as Ching tried to act professional in those instances, the internal damage was visible as he'd tear up during post-match interviews.

Three years since those incidents and other criticisms, Ching admitted it was his teammates that kept him motivated to fight through the tough times.

"You read things and you hear things and it's hard not to be affected by it," Ching said to ESPN FC in a telephone interview. "Obviously, there were times where I was hurt by what people said. What brought me back and made me feel good was that the guys around me and the guys that mattered were the guys that wanted me there. That's what I ultimately cared about the most."

As Ching's playing days come to a close at the end of this season, he insists that he's more than satisfied with the experience that he had. Ching will walk away from soccer with four MLS Cup appearances, three MLS Cup wins (did not play in 2003 final for San Jose due to injury), a Golden Boot award, 45 caps on U.S. national team and being selected to the 2006 World Cup team (though he didn't play in that tournament). Off the field, Ching is one of MLS' most active players on the charity front, helping to build homes for those less fortunate with his The House That Ching Built Foundation.

From Ching's perspective, he isn't underrated because he never expected to achieve as much as he has.

"I always felt that I was giving the most of my abilities and my body," Ching explained. "I just wanted to do whatever it took to win, to make sure the team was successful. I never really cared about the individual stuff; I just cared more about the team.

"If we were winning and successful, I was extremely happy. That's the way I judged my success. I always felt that I was overachieving and I think part of that is what drove me."

As for what's next for Ching? Ching will join the Dynamo in an unspecified role at the end of the season but he revealed that he isn't interested in emulating his head coach Dominic Kinnear in managerial ranks.

"I like my hair, I like my low blood pressure," Ching joked. "I don"t see myself on the coaching side."

Rather, Ching is hoping to spend some time with the Dynamo's front office learning as he'd like to one day become a technical director or a general manager. He hasn't set an exact timetable for that goal but he hopes to spend the next few years learning and gaining experience.

"I want to be more involved on the business side and helping the scouting end. Helping our academies get better," Ching said. "I hope to learn more about that over the next few years."

Though Ching didn't have a chance to play in Europe, he will soon be experiencing one of the continent's grandest soccer traditions: a testimonial. The Dynamo organization approached Ching about staging an event to celebrate his career at the BBVA Stadium in Houston and the proceeds will go to Habitat for Humanity and his charity. He will be the first American to have a testimonial stateside and Donovan is one of the many star players scheduled to play in the match.

"I'm surprised that more [American] players haven't [had testimonials], you think about what some have done in the United States. To be the first American player to have it, it's kind of special," Ching said.

This time, Ching can count on a warm reception.