Young player retention an ongoing puzzle for MLS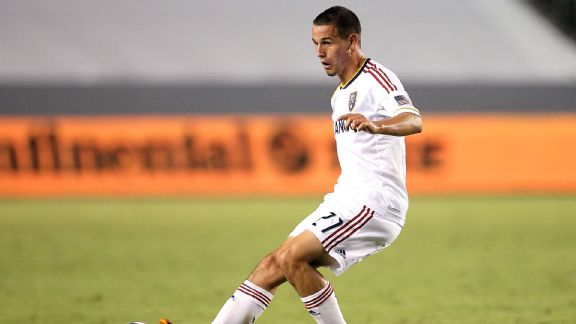 Victor Decolongon/Getty ImagesReal Salt Lake's Luis Gil is one of the many young players in MLS that the league would like to retain for the foreseeable future.
The recent unveiling of MLSSoccer.com's 24 Under 24 list highlighted what has been evident for some time, that MLS has become fertile ground for attracting and developing young players.

Without question, the presence of budding stars like the Portland Timbers' Darlington Nagbe, New England Revolution midfielder Diego Fagundez and Real Salt Lake's Luis Gil is a boon for the on-field product. But it's accompanied by an immense challenge, that being the league's ability to hang on to its best young performers. To paraphrase the Notorious B.I.G.: "Mo' talent, mo' problems."

- Report: Ching makes retirement official
- Report: Galaxy advance to CCL quarterfinals

"I think it's one of the more interesting issues for the league, because we all talk about wanting to be more involved in the transfer markets and transferring players," said Real Salt Lake general manager Garth Lagerwey via telephone. "But we also talk about if we want to be one of the best leagues in the world, wanting to hold the young stars here."

That inner conflict is one that MLS has been up against since the league's early days, when the likes of Joe-Max Moore and Eddie Lewis bolted for European climes. In 2013, the dynamic has continued, with one key difference. The advent of "Homegrown Player" contracts -- whereby teams can sign players from their academies -- has meant that the departing players are getting younger. While Lewis was 25 when he left MLS in 2000, Juan Agudelo, 20, is set to join English Premier League side Stoke City once the current league season ends. Former FC Dallas midfielder Brek Shea was 22 when he joined the same club in January.

To be clear, there are some battles MLS just won't win. The lure of the top leagues like the Premier League, La Liga and the Bundesliga -- complete with the requisite jumps in salary that come with such moves -- is just too strong for MLS to be able to keep every player in the league.

That doesn't mean the league is sitting idly by while its best players are poached. This isn't the MLS of even three years ago, when Ricardo Clark famously quipped that MLS stood for "Must Leave Soonest." The league's implementation of a core player retention fund, which allows teams to spend upwards of $225,000 salary cap free, on a maximum of three players through the 2014 season, has helped augment the salaries of players like Fagundez, Sporting Kansas City midfielder Graham Zusi, and Vancouver Whitecaps midfielder Gershon Koffie. The express intention of the program has been to lock up these players before their contracts expire. At minimum, such maneuvering will allow MLS to collect a transfer fee if a player does decide to leave.

According to MLS' executive vice president of player relations and competition, Todd Durbin, what has helped make CPRF work is that there has also been a noticeable change in terms of how players view MLS and its potential impact on their playing futures.

"While a young player may have felt that in order to progress his career and make the national team, it was in his interest to go and play overseas, what you're finding now is that isn't necessarily the case," he said. "The pressure we felt as a league 3-5 years ago in terms of playing in MLS as a means of progressing your career and improving and playing at a very high level, that's really moved to the background of the discussion, which is a really positive statement of how far we've come in such a short time."

Mike Gartlan, an agent with COR Sports Management Group, who represents Gil among others, feels that the implementation of the CPRF means the pull of remaining in one's comfort zone has become even stronger for some players, especially those just below the highest level in MLS.

"I think there's always players who can improve here, and there's loads of them that think '[MLS] is where I want to be,'" he said via telephone. "I do think it's more a mentality of 'I want to be in the U.S.,' not 'This is going to make me the best soccer player.' But MLS is becoming a very good league."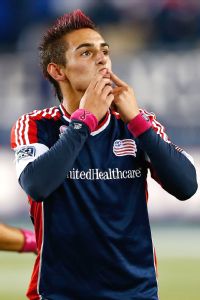 Jared Wickerham/Getty ImagesMLS' core player retention fund has helped increase salaries for young players such as New England's Diego Fagundez.
But there is also widespread acknowledgement that the CPRF only goes so far, especially now that MLS has shown a greater willingness to reward current players like San Jose forward Chris Wondolowski and Los Angeles Galaxy defender Omar Gonzalez with Designated Player contracts. And if a player like Fagundez continues to develop -- he's currently tied for fifth in the league in goals with 11 -- there's little likelihood that the CPRF will be big enough to keep him in MLS the next time his contract is up.

"Obviously when you start to get to a different level in terms of salary, then you've really moved beyond the realm of CPRF, and quite frankly allocation money," Durbin said. "Now you're firmly in the world of DPs."

Which brings us to the rather underutilized category of Young Designated Player. Now in its second season, the Young DP program is designed to encourage clubs to take more risks on young foreign talent, while minimizing the impact on a team's salary cap. Players with that label who are under age 21 count just $150,000 toward the salary cap. Young DPs age 21 to 23 count $200,000.

Much like regular Designated Players, there have been some hits among Young DPs (Chivas USA's Erick Torres and Dallas' Fabian Castillo), as well as a spectacular miss (D.C. United's Rafael). But as of yet, no player already within MLS has been granted such a contract, even though a player like Gil is a known quantity. Durbin offered that there is nothing stopping clubs from taking such a leap.

"When our clubs are looking at this, they certainly have the option to look at important promising young players, and if they and we think it's an appropriate investment, then we can invest the funds and the money to retain them," he said. "But that decision isn't made in a vacuum. They are making that decision in the context of what their alternatives are. Oftentimes, if a team decides that they don't want to pay a player a certain salary amount, it's not that they don't value the player, it's not that they don't rate the player, it's that they made a judgment call as to whether they can get more value or a better player by spending that money elsewhere."

So might that approach be taken with a player like Gil? His deal expires in two years, and his performances at the U-20 World Cup last summer have certainly put him on the radar of overseas clubs. By making him a Young DP, RSL could succeed in retaining one of the league's most promising young players while also limiting his hit to the salary cap.

Lagerwey stated that "there's nothing imminent" with regard to Gil's contract, but later said, "We would look at all of our options, and certainly [a Young DP deal] would be one of them."

New England counterpart Mike Burns can breathe a bit easier. He signed Fagundez to a new deal last March with the help of CPRF, but he also knows he'll find himself in a similar situation a couple of years down the road. At that point, the contracts of players like Fagundez, Kelyn Rowe, Andrew Farrell and Scott Caldwell will all be winding down, although it's impossible to predict how each of those players will progress.

"We'll take each case as it comes," he said. "Most of these guys are in the first or second year of their deals. Diego's case was a little bit different. Diego was a player who wanted to re-sign, and he wanted to remain a member of the Revs, wanted to continue his career here."

MLS will be hoping that for Fagundez and many of the league's young players, those sentiments continue.