Fast-healing DeMerit could give Vancouver boost
SAN JOSE, Calif. -- When Jay DeMerit ruptured his left Achilles tendon six months ago, his season seemed over just six minutes into the 2013 campaign. But the Vancouver Whitecaps defender returned in Saturday's match against the San Jose Earthquakes, and his rugged, steady play helped his side earn a point in a 0-0 tie.

DeMerit's return was unexpected on multiple levels. Not only did his recovery go quicker than anticipated, a glut of injuries to the Whitecaps' center-back corps accelerated his return to the field. Last week, Johnny Leveron (calf) and Andy O'Brien (back) were sidelined with injuries. Then, early in Saturday's match, Brad Rusin went down with a recurrence of a right ankle injury. So 31 minutes into the game, manager Martin Rennie was forced to turn to DeMerit.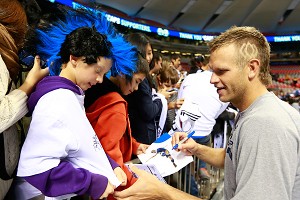 Jeff Vinnick/Getty ImagesVancouver's Jay DeMerit is sure to be greeted warmly at BC Place when the Whitecaps return home Sept. 28 to play Real Salt Lake.
"You always make sure that if you are needed, you're ready," DeMerit told reporters. "Sometimes, it's like riding a bike. You just have to get out there and play. I was happy to get out there and contribute."

What's even more notable about DeMerit's return is Rennie stated earlier in the week that the defender was "not ready." But the former U.S. international was solid throughout, providing a dominating presence in the air and blocking several shots on the ground, including a 70th-minute effort from Quakes midfielder Marvin Chavez.

It was a performance that impressed both opponents and his manager.

"When Jay came in I didn't see any rust from him at all," San Jose forward Alan Gordon said.

Said Rennie: "What's impressed me the most is that he's even in contention [for playing time] at this point in the season. To rupture your Achilles at the start of the season, to come back as fast as he's come back is incredible really. It just shows how determined he is to succeed, how hard he's willing to work."

That said, there were considerable unknowns when DeMerit entered the match. Vancouver's captain has been putting in plenty of extra hours to get his fitness back, but replicating game situations has been difficult due to the team's lack of reserve-team matches. On Saturday, Rennie had no choice but to make the best of a difficult situation.

"DeMerit doesn't look that good in training anyway, even when he's playing well and even when he's at his best," Rennie said. "The only way we were going to find out was a situation like tonight."

DeMerit, 33, mentioned the decision-making that comes with reading the game, closing down opponents at the right time, making last-ditch tackles and staying with players has been the part of his game that has been slowest to come back. Manufacturing confidence after such a lengthy layoff has been a challenge, as well.

"Sometimes you've got to go out there and have a little baptism of fire, and tonight we had that, and thankfully we got through it," he said.

DeMerit added the timing of his entry into the game helped. The fact there were only 14 minutes left in the first half allowed him to get a feel for the pace of the game, then regroup at halftime and carry on from there.

All told, it was a performance that gave DeMerit immense satisfaction, especially after watching his teammates go through considerable ups and downs over the past six months.

"Watching is always hard ... if you imagine yourself out there and you're not, that's the original frustration," he said. "For me, when you're at this stage of your career, if you're not out there, you're trying to help others that are. I've actually enjoyed that part of this recovery process. But nothing's better than getting out there and playing, helping lead your team to results. For me, just to try and get out there and do that tonight was a major step in the right direction."

So does he now feel he's ready to go a full 90 minutes? "Oh, yeah."

For an injury-riddled side struggling to remain in the playoff race, DeMerit's timing couldn't be better.