Will firing Warzycha help Columbus turn the corner?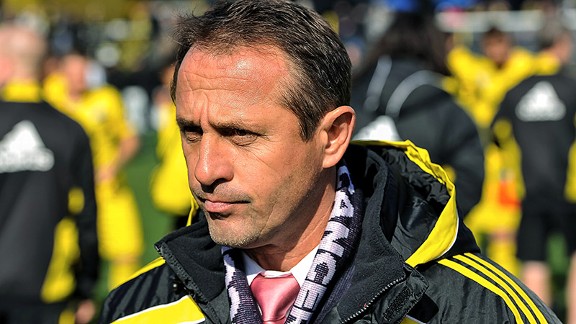 Jamie Sabau/Getty ImagesThe firing of Robert Warzycha solves one problem but Columbus still has more to fix.
To look at the Columbus Crew over the last five seasons is to witness a club in steady decline. A Supporters Shield triumph in 2009 -- a feat that came on the heels of a Shield and MLS Cup double the year before -- has slowly given way to lower and lower positions in the conference table, culminating in what is currently eighth place in 2013.

It's the kind of trend that makes a manager's position untenable, and so it came to pass on Monday that Robert Warzycha was fired as head coach and replaced on an interim basis by technical director Brian Bliss.

"There hasn't been consistent performances from the team," said former Crew forward and current ESPN television analyst Alejandro Moreno in a telephone interview. "There were a lot of changes to the lineup, a lot of changes in the way the team played. It hasn't amounted to results."

It's a move that was met with much cheering among some segments of the Crew fan base even though Warzycha had been associated with the club in one form or another for 17 years. Given how often the Crew squandered chances to get points this season, such emotions are understandable.

"You can go back and identify nine points that we should have," said general manager Mark McCullers via telephone. "We gave up late goals in New York and two penalty kicks in L.A. and just made mistakes that we shouldn't be making, which lends itself to the perception that we're underperforming. Injuries are certainly a factor but you also have to look at the body of work over time -- and kind of look at it from a broad perspective."

McCullers added that the appointment of Bliss will not only bring a fresh perspective on what is ailing Columbus, but will hopefully result in a change of style as well.

"Everybody wants to have possession, that's an important part of the game," said McCullers. "But emphasizing the transition and really getting at the goal and being more aggressive, more up-tempo in our style of play, that's been our vision and that's how this team was assembled. [Bliss] wants to get back to that mentality a little bit more."

That is all well and good, and in players like Jairo Arrieta, Justin Meram and, in particular, Dominic Oduro, Columbus certainly has the speed to punish teams on the break. But the talk of style obscures a bigger issue, which has to do with the level of talent on the roster. McCullers insisted that Columbus was good enough to make the playoffs, especially after a late run last year that saw the Crew narrowly miss out on the postseason.

But a closer look reveals that reaching the postseason was always going to be a struggle, a fact exacerbate by the way some veterans have underperformed. When injuries struck the likes of midfielder Eddie Gaven and central defender Glauber, there was not sufficient depth to compensate.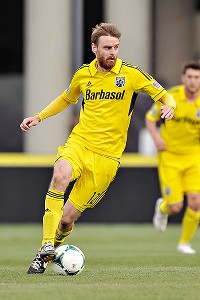 Jamie Sabau/Getty Images

The loss of Gaven cut especially deep given that he was the second creative option behind Federico Higuain. The fact that his four assists are still second on the team, despite having played just 10 games, speaks to the club's inability to replace him. As to why that wasn't done remains an open question. A source indicated that after Glauber and Gaven were lost, Warzycha went to McCullers and asked him to spend the team's available allocation funds on replacements, a request that McCullers turned down. Granted, the fact that the club was in the process of being sold by the Hunt family to Anthony Precourt probably had something to do with it.

McCullers insists this wasn't the case; rather, that Columbus' salary cap situation left the club "somewhat limited" and that the team had a "nominal" amount of allocation money.

"We went through all the options," said McCullers. "We worked to try to find solutions... it wasn't a case of, 'Here are these resources and you can't [use them].' It was, 'Is it going to help the team? Do we have the resources?' That's how it works."

McCullers later added: "Brian [Bliss] talked to every team in the league. He also has international contacts... there's a myriad of variables in terms of what a team is willing to do or not willing to do. We talked about trading a player to create cap space, but it didn't come together. It has to make sense." Meanwhile, Columbus' conference rivals -- most notably Chicago -- were adding some considerable pieces to their rosters.

The issue of the team's talent level has manifested itself in another way as well in that Columbus has steadily shed quality players over the years without always finding adequate replacements. The likes of Brian Carroll and Guillermo Barros Schelotto departed. Finding a replacement for Carroll has been especially difficult and some blame Warzycha's standoffish ways for pushing those players away.

Of course, the setup by which there is a G.M., technical director and head coach allows for plenty of misdirection when it comes to apportioning responsibility for poor results. Those in charge of acquiring players insist they merely did the manager's bidding. The head coach will claim he was forced to make do with what was given to him by his superiors.

To his credit, McCullers stated that there is plenty of blame to go around. "We all accept responsibility and accountability for our results; myself, our competition staff, coaching staff and our players," he said. "Robert is the one that's going to take the bullet, and that is typically the case in this industry as it relates to the head coach. That's an easy target for what is usually a complicated issue."

Now there is considerably less cover for both Bliss and McCullers. There is a new owner eager to turn things around and that will start with the hiring of a manager on a permanent basis. Bliss has made no secret of his desire to be an MLS head coach. McCullers indicated that former league MVP Guillermo Barros Schelotto, currently managing in his native Argentina with Lanus, is a candidate as well. He declined to get more specific than those two names when it came to potential hires.

"We certainly have some names that we've already written down, but we want to grow that list," said McCullers. "We want to cast a wide net initially and not limit ourselves at the beginning of this process and develop a pretty robust pool of candidates and then apply a criteria and start to whittle that list down and see who is the best fit."

Given the current state of the Crew, there is still be plenty more work to be done.