Player grades for U.S. win over Guatemala
When the U.S. fell behind to Guatemala after five minutes in Tuesday's World Cup qualifier, it looked like its worst nightmare -- namely failing to qualify for Brazil in 2014 -- was in danger of coming true. Fortunately for the U.S., Clint Dempsey made sure the Americans' World Cup dream remained intact, scoring twice and adding an assist to secure a 3-1 victory.

Carlos Bocanegra added the other U.S. goal, and the Americans ended up claiming the top spot in CONCACAF's Group A, and a spot in next year's final-round Hexagonal.

But man, did the U.S. make hard work of this round, and this encounter was no different. Guatemala striker Carlos Ruiz broke the Americans' offside trap and rounded goalkeeper Tim Howard to score with the game just minutes old, at which point the tension at Livestrong Sporting Park red-lined. But U.S. nerves were eased by a three-goal flurry in a 26-minute span that put the Americans firmly in control.

Bocanegra atoned for failing to track Ruiz by redirecting Dempsey's header in the 10th minute, and eight minutes later, Dempsey bundled home Eddie Johnson's cross to put the U.S. ahead. The Tottenham attacker then doubled the Americans' advantage by slamming Michael Bradley's delicate chip over the line when it looked like the original shot might drift wide.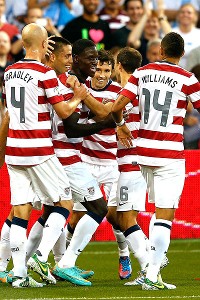 Jamie Squire/Getty ImagesThe U.S. reached the next round of World Cup qualifying, though coach Jurgen Klinsmann still has some problems to sort out.
Guatemala, in desperate need of goals, became more adventurous in the second half. But the U.S. defense looked more secure, with the Americans doing better in controlling the tempo than in a first half that was very wide open. It proved a killer blow for Los Chapines, as Jamaica's 4-1 win over Antigua & Barbuda allowed the Reggae Boyz to claim the second spot in the group on goal difference at Guatemala's expense.

All told, the U.S. got the job done during this round of qualifying, but plenty of worries remain for manager Jurgen Klinsmann as the team heads into the final round. In particular, the U.S. defense, save for the continued steady play of Steve Cherundolo, hasn't inspired much confidence. The Americans only recorded one clean sheet in six games, something that will need to change as the team heads into the Hex. But for now, the U.S. can breathe easy that it has safely navigated the first part of its qualifying journey.

Player ratings: (0-10; 10=best)

G Tim Howard, 4 – Didn't help out his defense with his starting position on Ruiz's goal, but did well to parry a cross from Jose Contreras. Fumbled a rather innocuous looking shot from Contreras in the second half, but recovered to clear with his legs. Not his most consistent performance.

D Michael Parkhurst, 5.5 – Not bad for a stand-in left back. Contributed to the attack and defended decently, although he did get caught in possession a few times.

D Carlos Bocanegra, 4.5 – Completely out of sync with Cameron on Ruiz's goal, but redemption came quickly in the form of his equalizer. Still seemed vulnerable to Ruiz's movement in the first half, but showed more consistency in the second half.

D Geoff Cameron, 4.5 – His aforementioned lack of cohesion with Bocanegra was evident early on, and lost more aerial duels than he normally does, but settled down a bit more as the game went on.

D Steve Cherundolo, 7 – Remains the most consistent U.S. defender, and his telling pass to release Johnson on the second goal was pure class.

M Eddie Johnson, 6 – Amazing what the last four days has done to Johnson's international prospects. Johnson was a threat all night, and his perfect pass to Dempsey in the 18th minute put the U.S. ahead to stay. Failed to convert a pair of clear second-half chances, however.

M Danny Williams, 6.5 – Huge improvement over the Antigua & Barbuda game, as he connected his passes with greater regularity, but can still do better with his one-on-one duels.

M Michael Bradley, 7.5 – Pushed all the right attacking buttons, getting forward when needed and teeing up Dempsey's second. His movement off the ball was stellar as well. Should have been given a penalty in the second half when fouled by Ruiz.

M Graham Zusi, 7 – Was all over the field, and continued to impress with his set piece deliveries, as well as his service from out wide. He's perhaps the find of the round for the U.S. and Klinsmann.

F Clint Dempsey, 9 – Delivered the kind of performance that has been missing in recent matches, with two goals, one assist, and plenty of deft touches around goal. A huge performance with the pressure on.

F Herculez Gomez, 7 – Showed off the deft touches that were absent against Antigua & Barbuda, including a cushioned ball for Bradley that led to Dempsey's second. His work rate was outstanding.

Subs:

M Sacha Kljestan, 5.5 – Not quite as impactful as Friday, but still stung the palms of Guatemala keeper Ricardo Jerez with one drive.

M Maurice Edu, 5.5 – Didn't need to be flashy, and was content to play safe passes into his teammates.

M Joe Corona, NR – Late cameo for the Tijuana attacker, but he is now officially cap-tied to the United States.