MLS notebook: Nucleus of young players sparks Revolution
You won't find too many MLS clubs willing to stake their playoff fortunes on young players. Maybe you'll find a prospect or two sprinkled within the starting XI, but for the most part, the path to the postseason is usually trod by veterans whose guile and experience can carry them through the toughest moments.

New England Revolution manager Jay Heaps has taken a different approach during the 2013 campaign. A look at the Revs' starting lineup last Saturday against Philadelphia revealed five starters age 22 or younger, and on this night the kids weren't just alright, they were devastatingly good in leading the Revs to a 5-1 victory.

Twenty-year-old Juan Agudelo, 21-year-old Kelyn Rowe, and Diego Fagundez, 18, combined to score all five New England goals. In fact, the last eight New England tallies have been scored by one of those three. Add in the steady play of holding midfielder Scott Caldwell, 22, and right back Andrew Farrell, 21, and you have about as impressive a nucleus of young players as you'll find anywhere in the league.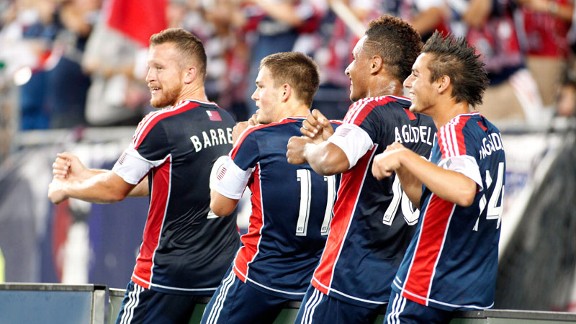 Stew Milne/USA TODAY SportsKelyn Rowe, Juan Agudelo and Diego Fagundez (joined by Chad Barrett at far left) are responsible for the Revolution's last eight goals.
As the season enters the stretch run, New England finds itself clinging to the fifth and final playoff spot in the Eastern Conference, this after failing to qualify for the postseason the previous three years. And while the Revs have benefited from wise old heads like goalkeeper Matt Reis and defender Jose Goncalves, the team's young players have oftentimes been the difference.

"It definitely is surprising," defender Chris Tierney said about the play of the team's youngsters. "The teams I've been on in the past here, we've had a lot of veteran players. And just the way these last few seasons have gone, there's obviously been a lot of turnover. But I'm extremely surprised with how well our young players are doing, and how they're able to contribute at such a high level so early on in their career."

Heaps admitted that the club's passel of young players has exceeded his expectations, but he's also not shocked. When he took over prior to the 2012 season he knew full well that New England was not going to be among the league's big spenders and would thus have to rely on cheaper avenues to strengthen his squad.

"I think it's the model with which we need to build," he said. "We knew we had to draft well, we knew we had to use our [homegrown] players. By design, we know there are some good young players out there."

Each pipeline has produced quality performers. Agudelo arrived via a trade with Chivas USA in May, but the other four are New England products to varying degrees. Farrell was the No. 1 overall pick in the 2013 MLS SuperDraft, while Rowe was selected the year before. Caldwell and Fagundez are both products of the club's academy.

Yet the path into the starting lineup has been varied. Farrell was inserted into the right back position practically from the start of training camp. Rowe has shown flashes of brilliance throughout his time in MLS, but this season his consistent work rate won Heaps over to the point where he's now solidified his place alongside Lee Nguyen in the Revs' attack. Caldwell had to climb over three veterans in order to secure his spot as the team's holding midfielder. And Fagundez has upped his game considerably this season after breaking into the squad back in 2011 as a 16-year-old, scoring eight goals and adding six assists during the current campaign.

"I think last year Fagundez was definitely inconsistent in his training habits, he was definitely inconsistent in terms of things away from the game," Heaps said. "This year has been completely different. He came in as one of our fittest guys. He came in and really bought in to what we were doing in terms of film, in terms of where we thought he could play to make him a really impactful player."

Such a youth movement can have its repercussions, and not always in a positive way. An increase in playing time will always come at the expense of a teammate, yet that hasn't caused any sort of schism within the squad.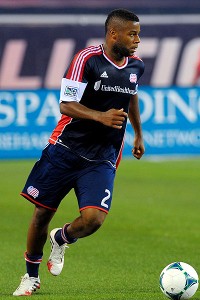 Bob DeChiara/USA TODAY SportsThe Revs' Andrew Farrell, the No. 1 SuperDraft pick this year, was inserted into the right back position practically from the start.
"Obviously everyone wants to play, but anyone who hasn't been on the field this year has been wanting to help the guys around them, to make everyone better, and that's the best way guys can handle it," Caldwell said. "It's really been helpful for me having veteran guys like Andy Dorman, Clyde Simms, and when Kalifa Cisse was here, they helped me so much with the little intricacies of my position and making sure I was getting better every day. I just think all the veterans have been excellent."

There have been moments in which the club's reliance on youth has revealed itself. In particular, New England's home form hasn't been as consistent as it has needed to be, with a loss to Toronto and a tie with D.C. United the most glaring examples.

But the Revs have experienced an uptick in form thanks to the aforementioned win over Philadelphia as well as 2-0 win over Chicago. And with Agudelo set to depart to EPL side Stoke City in January, there is a sense of urgency to go along with recent momentum.

"Most of the young guys on our team are fairly new to the league, and we haven't really achieved anything together," Caldwell said. "I think that's a point that really drives us on the field. We really want to prove that we can win games and make the playoffs."

The Revs have nine games left to do just that.

Donovan makes it official: Landon Donovan officially signed his new contract with the Los Angeles Galaxy on Wednesday, but during a conference call with reporters he hinted that there had been discussions between him and Manchester United manager David Moyes.

"I won't speak specifically about conversations that I've had with [Moyes] over the years," Donovan said. "But there was certainly interest from very high-profile teams in England. How's that?"

The fantasy of Donovan donning Manchester United red -- or the jersey of any big club for that matter -- is certainly enticing, but then there is the reality of getting playing time with enough frequency to make it worth his while.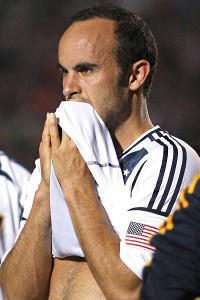 AllsportLandon Donovan hinted that he had discussions with Manchester United manager David Moyes before signing a new contract with the Galaxy.
"As probably most people [do], when you have a decision of this magnitude, you write down pros and cons," he said. "In this case, the pros of staying here heavily outweighed the pros of going somewhere else. So that decision for me became very easy very quickly.

"The national team piece also came into play. I want to make sure that I'm playing, and playing at a high level. If and when the World Cup comes around, I want to make sure I have the best opportunity to be part of the World Cup team. So this made sense from that standpoint as well."

Montreal finds its midfield mettle: After jumping out to an 8-2-4 start this season, the Montreal Impact's campaign looked set to unravel thanks to a 2-5-3 stretch. In particular the defense was looking highly vulnerable, with the Impact too reliant on holding midfielder Patrice Bernier to put out fires.

Yet the arrival of designated player Hernan Bernadello, plus a tactical shift that has seen the Argentine placed alongside Bernier in the center of midfield, has Montreal headed in the right direction again with wins over D.C. United and the Houston Dynamo. Granted, it's not the first time this season that Montreal has played with two holding midfielders, but Bernadello and Bernier seem primed to make it work.

"Bernadello and Bernier have a lot of experience, they are playing very good," Montreal manager Marco Schallibaum said via telephone. "It's a good combination of players. They are good together. Sometimes you get two good players and they aren't good together."

Bernadello has brought a needed dose of feistiness to the Montreal midfield that has served to take some of the defensive burden off Bernier. The move has also served to provide a bit more of a shield in front of a back line that has showed its age at times this season. But what has really impressed Schallibaum is the duo's ability to initiate the Impact's attack.

"I think what you also saw last Saturday was the quality of the passes," he said. "We didn't lose the ball in these [central] positions where it can be very dangerous. That's very important. "

The move has also served to free up Felipe to play underneath striker Marco Di Vaio, freeing him from any defensive responsibilities, and he scored an a delightful curling shot against the Dynamo.

"I think you saw in the D.C. game but also against Houston, we have the Felipe like we had before," Schallibaum said. "That's a very important player for us."

Arrests made in fan clash: It took a while, but the Portland Police Department, with considerable help from their counterparts in Santa Clara, Calif., have at last made arrests stemming from a clash between fans that took place in Portland on April 14 prior to the match between the Earthquakes and the Timbers.

In that incident, James Decker stated that he was in his car waving his Timbers scarf at San Jose fans. He was then punched by a woman as she tried to steal his scarf, and as he attempted to drive away she fell to the ground. When he stopped to ask if she was OK, 10-12 men jumped on his car and smashed his windshield.

On Wednesday, Jennifer Marques, 29, and Uriel Vargas, 21, were both arrested and booked into Santa Clara County jail. They will both be extradited to Portland in the next few days. Marques is charged with assault in the fourth degree, unlawful entry into a motor vehicle, harassment and disorderly conduct. Vargas is charged with criminal mischief in the first degree, criminal mischief in the second degree, harassment, and disorderly donduct. Portland police spokesman Sgt. Pete Simpson said all of the charges are misdemeanors except for criminal mischief in the first degree, which is a felony because Decker's car sustained over $1,000 in damage.

Simpson added that if convicted, both Marques and Vargas could receive probation, fines and possibly face jail time. Simpson added that additional arrests are expected to be made in the next few days.

"In the big scheme of things, these aren't the biggest charges in the world, this isn't the biggest case in the world," Simpson daid via telephone. "But it was an important case for us to do because we want to send a pretty strong message that we don't want to see people coming to Portland ... and feel like they can get away with a crime.

"We appreciate the passion of sports fans, but when it crosses over into criminal behavior, we want to make sure that the message is clear that it's not tolerated in Portland."