The Hex is next for the U.S. men's team
KANSAS CITY, Kan. -- Bachman Turner Overdrive's "Takin' Care of Business" blared not once but twice from the sound system at Livestrong Sporting Park ahead of the game as if to reassure the United States men's team it could overcome its patchy form in qualifying. Jurgen Klinsmann's team beat Guatemala 3-1 and will proceed to the final Hexagonal round. The score line and a 74.4 percent possession rate may suggest a dominant night, but there were enough wrinkles in the performance to suggest this U.S. team is still very much a work in progress.

Here are four quick reactions to tonight's game.

Bad Back
The U.S. opened with its nightmare scenario. Playing toward the boisterous American Outlaws fans in the first half, the team set out to confidently knock the ball around with both Michael Parkhurst and Steve Cherundolo overcommitting on the flanks. Guatemala punished this over-exuberance in precisely the way Klinsmann had predicted in his prematch news conference as a long ball over the top left Tim Howard vulnerable. The Everton keeper hesitated as Carlos Ruiz outpaced Carlos Bocanegra and rolled the ball home to stun the crowd.

The U.S. had only trailed Guatemala for five minutes over the course of its past 18 games. But if this was a test of the Americans' gut, it was one they passed impressively. Within six minutes, Clint Dempsey flicked on a Graham Zusi corner for Bocanegra to stab home and gain a measure of redemption for his earlier mistake. This was the captain's 14th international goal, making him the top-scoring American defender of all time.

Despite the score line, the U.S.'s defense was never truly convincing. Guatemala's Jose Contreras and Ruiz fought a valiant rearguard action and made the U.S. back four appear fragile at times. Steve Cherundolo was vulnerable to diagonal balls slipped in behind him, Bocanegra was repeatedly exposed for pace, Geoff Cameron's distribution was unpredictable and occasionally a liability. Even Howard was uncharacteristically sloppy in his decision-making. U.S. fans have remained nostalgically obsessed with the whereabouts of Timmy Chandler. Tuesday night's performance will not extinguish that preoccupation.

Fastball?
Howard had promised the U.S. would attempt to push the tempo at home and move the ball quickly through the midfield. The American keeper was true to his word, playing one long ball after another in the general direction of hardworking Herculez Gomez. Klinsmann's opening lineup featuring Dempsey, Gomez and the eager Eddie Johnson was bold -- and on their one true moment of first-half fluidity, the Americans got their go-ahead goal. Michael Bradley released Johnson into space and the MLS star rolled a pinpoint ball for Dempsey to slap home. The U.S.'s relief was palpable. Dempsey roared and Klinsmann -- in his powder blue shirt, sleeves rolled up -- double-fist pumped on the sideline.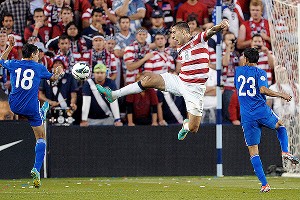 AP Photo/Reed HoffmannClint Dempsey promised a strong performance and delivered: two goals and an assist.
Clint!
Joseph W. Kennedy and Bum Phillips may argue with this, but Dempsey played as if he was Nacogdoches, Texas' favorite son. Frustrated by the mud pit in Antigua & Barbuda on Friday, Dempsey had predicted his swagger would return in Kansas. Two goals, one assist and a 95.1 percent pass completion rate.

The photograph of the Spurs star celebrating his second goal with the generous Michael Bradley as a large "Deuce face" sign hovered over the two of them was arguably the most joyous sight of the qualifying round.

No blaming the field tonight
Kansas City's Livestrong Sporting Park is an American soccer marvel, a tiny cauldron rising up in the American heartland that even a fan with William Gibson's imagination could not have predicted being built 10 years ago. The American Outlaws were in fine fettle all night long. While they had to battle the stadium's overzealous speaker system which threatened to smother the traditional fan-generated din of a real football match, it would be a surprise if the U.S. did not return to K.C. once the Hexagonal round begins in March 2013.

Roger Bennett is a columnist for ESPN, and with Michael Davies, is one of Grantland's "Men In Blazers." Follow him on Twitter: @rogbennett.