Landon Donovan, MLS renew their vows


For the bulk of his club career, Landon Donovan has been an MLS man, perhaps the MLS man. Sure, there were those brief loan stints with Everton and Bayern Munich. There was also the short spell in 2005 when he returned to Bayer Leverkusen, the club that originally signed him as a 16-year-old.

-- Report: Donovan, Galaxy agree on deal

But since 2001, Donovan and MLS have basically been inseparable, emotionally and contractually, and with SI.com reporting that the U.S. international has signed a multiyear deal to remain with the Los Angeles Galaxy, that relationship looks set to continue.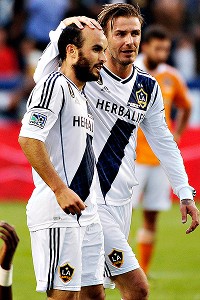 Robert Hanashiro/USA TODAY SportsLandon Donovan was the face of MLS before David Beckham arrived and has remained a viable figure since the departure of his former Galaxy teammate.
It's a decision that seemed destined to happen, despite Donovan's public statements of "intriguing" opportunities overseas, and reports of interest from Italian clubs. Throughout his career, Donovan has been all about finding and staying in his comfort zone. Granted, there were times when he felt like he was in chains, but rather than tearing his way out and trying something new, a slight loosening of the bonds was enough. Combined with his immense value to MLS, that has meant remaining stateside, and in particular L.A., where he can bask in warm weather, be close to family and friends and even take four months off if that's what he felt he needed. No other club, or league for that matter, could provide such a state of well-being.

From that standpoint the decision makes total sense, and the same is true as it relates to Donovan's international prospects. After spending most of July re-establishing himself -- and excelling -- with the U.S. national team at the Gold Cup, there was little reason to compromise that effort by heading to a new club in a new country and having to force his way into the lineup. In L.A. his minutes, not to mention his visibility to U.S. manager Jurgen Klinsmann, will be guaranteed, enhancing his chances of playing a critical role with the team as it prepares for next summer's World Cup.

That doesn't mean the air of "what if?" surrounding Donovan will disappear. For all the debate surrounding Clint Dempsey's return to MLS, one aspect of his career seems indisputable, and that is that by testing himself in one of the toughest leagues in the world for several years, he at least came within touching distance of his ceiling. Whether Donovan did so remains a giant unknown, though the impulse is to think that he didn't. Some will argue that his successful spells at Everton showed that he could hack it at the highest level. That they did. But hacking is one thing. Carrying a team as Dempsey did at Fulham is another level entirely. It would have been fascinating to see whether Donovan could have pulled that off.

Of course, it is Donovan who has had to live his career. No one else could do that for him, and it's hard to argue with the considerable success he has enjoyed in MLS and at international level. In the process, he has been paid to a degree that he could have scarcely imagined growing up in the Inland Empire outside of Los Angeles. However, the extent to which his comfort zone held him back will still be debated.

For the Galaxy, there is no such ambiguity. L.A. has locked up its three best players in Donovan, Omar Gonzalez and Robbie Keane to designated player contracts. And while Donovan's signing will now prevent the club from signing another marquee name, from a playing standpoint it's a no-brainer. The move maintains L.A.'s status among the league's elite.

MLS stands to benefit as well, but that is nothing new. Donovan was the face of the league before David Beckham arrived and has remained near the forefront since the Englishman's departure, although other high-profile players like Dempsey have arrived. True, Beckham helped generate precious momentum that has helped the league reach its current heights, but Donovan was there toiling during the league's darkest hours. That is something MLS no doubt appreciates.

For Donovan -- when combined with all that he has done on the field -- that constitutes an impressive legacy, and he's not done yet.