Wage gap a new wrinkle to Sounders-Timbers rivalry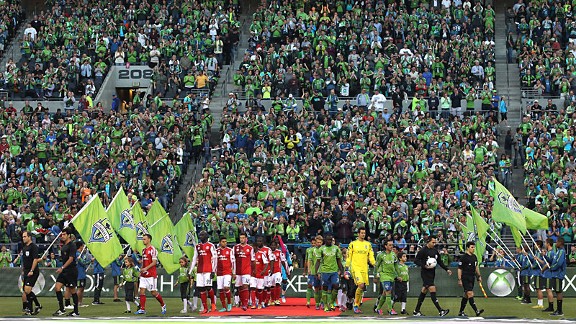 Otto Greule Jr/Getty ImagesSunday's Sounders-Timbers match will be played in front of a sold-out CenturyLink Field in Seattle.
Rivalries thrive on all types of fuel. There's geographical proximity, not to mention dramatic matches with playoff or championship implications.

But in the last few weeks, a different catalyst has been doing its work on the rivalry involving the Portland Timbers and the Seattle Sounders, who will resume hostilities Sunday before an expected sellout crowd of 67,000 fans at CenturyLink Field in Seattle. In this instance, the tried and true perceived sense of injustice combined with one team's willingness to spend more cash than its rival has ratcheted up the feistiness-meter.

- Carlisle: Valeri finds peace with Timbers

The root cause is Seattle's recent acquisition of U.S. international Clint Dempsey. The deal saw the Sounders enter the heady environs of the league's big spenders, and that's even when you take into account the published reports that MLS paid Dempsey's transfer fee of $9 million. Dempsey's arrival gave Seattle the maximum of three designated players, and his $5.038 million salary is the highest in the league.

It's a category that previously was the domain of the L.A. Galaxy and the New York Red Bulls. And it's a characterization that Seattle minority owner and GM Adrian Hanauer didn't dismiss out of hand, even as he tried to put the club's spending in context.

"When we started the team, our goal was to kind of establish a really rational, stable, thriving business," he said. "We spent on DPs kind of in accordance with that. To some degree we took off the training wheels at the end of last year. We talked about the fact that we were willing to go out and spend money if there were the right players, and if we thought they gave us a better chance of winning a championship. It's not just for the sake of spending money. We think that Oba [Martins] and Clint [Dempsey] give us a better chance of winning a championship, and we still think we can run a rational business with them in the organization."

That has left the impression that Portland is now playing backup to Seattle's stars, even as the Timbers have had success this season with relative unknowns. On Friday, Timbers manager Caleb Porter was even playing up the difference to a degree.

"The strength of our club is in the team and the way that we play, and I kind of like it that way, especially in the initial evolution and transformation at this stage," he said via telephone. "If we went out and bought a bunch of million-dollar players and brought them in, it probably would be more challenging to create a culture and an identity. I think we have talent, there's no question. But we don't have a Robbie Keane, we don't have a Clint Dempsey."

It's a characterization that Seattle counterpart Sigi Schmid isn't buying.

"Obviously, Caleb is pushing the team concept," said Schmid during a conference call with reporters on Friday. "I think every coach pushes the team concept. We feel we're a team as well, and within that team you have individual players. They have a Diego Valeri, they have Ryan Johnson, who has nine goals and plays for the Jamaican national team. They have Will Johnson, who has been a very important midfielder for them. They have individuals as well. It's not like it's the Portland team against the Seattle collection of individuals. It's Seattle's team against Portland's team and it's Seattle's individuals against Portland's individuals."

The perception that Sunday's battle is between the Seattle Spenders and the Portland Paupers is ill-fitting in some ways, in that it paints an inaccurate picture in terms of Portland owner Merritt Paulson's willingness to spend. The Timbers paid a reported $3 million transfer fee to make the loan of Valeri permanent. That's not the move of a club that is pinching nickels. They also have another designated player in midfielder Diego Chara on their roster. Even Porter lauded the level of Paulson's financial support.

"I think Merritt spends money," he said. "I feel fortunate to have an owner who will step up and buy players. At least from my end, I don't want to [spend] his money, unless it's on a guy who is going to be worth it."

Would Porter want the club to spend money on a Clint Dempsey?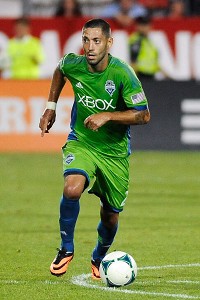 Brad White/Getty ImagesNew arrival Clint Dempsey will make his Sounders home debut on Sunday.
"I don't know," he said. "We definitely would have had a conversation about it, for sure, but there was never an option there. I don't think it's so much that we don't want to be a team that buys players. I just feel that with the way we want to run the club, we're going to be calculating with the players we add and we don't need to go out and necessarily sign big-name players. But if there's an opportunity to do that, I think Merritt and [GM Gavin Wilkinson] would be the first to agree and admit that they would be open to it."

Yet the fact remains that when you add up the respective salaries of each club in terms of guaranteed compensation, as stated by the MLS players' union, Seattle's outlay is more than two and a half times that of Portland. Even when you subtract out the wages of Dempsey, the Sounders' salary expense is still greater than the Timbers. Granted, it's been alleged that some creative accounting goes on with the salary cap, which can distort this picture at times, but the fact remains that Seattle has upped the salary ante considerably.

All of this feeds into Portland's perceived sense of injustice over how the Dempsey deal went down. This is due to the question of who paid the transfer fee -- Seattle or MLS -- as well as the confusion over how Dempsey ended up in Seattle, no matter how often MLS tries to explain the process. Add in the already sizable chip on Portland's shoulder with respect to its bitter rival, and you have an even more combustible mix than what normally accompanies your typical Cascadia Cup clash.

Of course, success can be found in MLS through a variety of team-building approaches. L.A. won the title last year with three DPs. San Jose claimed the Supporters Shield with none.

"I think over time it will probably be proven that three quality DPs are shifting the balance a little bit to those teams spending the money," said Hanauer. "But certainly there's no guarantee."

Sunday's match will begin to reveal whether that is the case.