Diego Valeri finds peace with Timbers
When the Seattle Sounders and the Portland Timbers take the field this Sunday before a capacity crowd at CenturyLink Field, most will be there to witness the home debut of the Sounders' newest Designated Player, Clint Dempsey. But the U.S international won't be the only impressive attacking talent on display. The match will also witness the latest chapter in the American journey of Timbers midfielder Diego Valeri.

• Carlisle: Feilhaber shows signs of acclimating

The Buenos Aires native has been one of the catalysts in Portland's revival this season. Not only has he chipped in with five goals and 11 assists, but in operating at the point of manager Caleb Porter's midfield triangle, he's also done plenty to control the tempo in the Timbers' possession-based attack.

"I'm enjoying [the style] too much," said Valeri with a laugh during a telephone interview. "For me, it is very important because I love the ball. I want to keep the ball every time. With possession, with the ball, we attack. For me it's very important to have that level."

It's a concept that has been driven home to Valeri ever since he first signed on with Argentine side Lanus as a nine-year-old. And as he matured, he found inspiration in the deadeye passes of former Argentina international Juan Roman Riquelme. In 2007, Valeri helped his hometown club reach the summit of Argentina club soccer, leading Lanus to the Apertura title.

Yet as the years passed, a dream of playing in the U.S. began to incubate inside Valeri. A friendly in Los Angeles back in 2005 involving Lanus opened his eyes to the possibility of life in America. Positive reviews of MLS from former teammate and current Real Salt Lake midfielder Javier Morales, as well as Lanus manager and former MLS MVP Guillermo Barros Schelotto only added to the allure.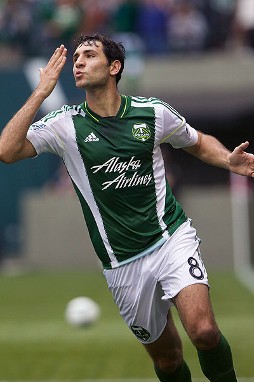 Jaime Valdez/USA TODAY SportsDiego Valeri has been one of the catalysts in Portland's revival this season
But it took a carjacking involving Valeri to convince him that it was time to make the move north a reality. Last October, Valeri was pulling up to his house when multiple gunmen approached his car, with his wife Florencia and young daughter Costanza also inside the vehicle.

"My wife and my daughter go inside [our house], but they caught me," he said. "They steal my car, my things, with a gun. Then they just left me in the street.

"My wife wanted to live in the U.S.A. because it was very dangerous in Argentina. This situation was very important to make my decision."

The following January, Valeri joined Portland on loan and signed a Designated Player contract, a move that was recently made permanent. As a result, Valeri has found everything he wanted. There has been peace, tranquility, and above all, safety off the field, which has allowed his family to witness his on-field exploits for the first time.

"The violence and the security in Argentina in the soccer stadiums, it's very dangerous," he said. "Obviously, my family never went to see me play. It's a bad part of Argentina now. But yes, of course, here it's very, very different. [My family] they can enjoy every game. This is a very different thing, a good thing."

Of course, some aspects of Valeri's life have remained constant, namely his on-field performances, and his play has been instrumental in keeping Porter's retooled side near the top of the Western Conference.

"It's been a home run," said Porter via telephone about Valeri's acquisition. "He's a tremendous player, but beyond that he's a good guy, good person, humble. That was important to me too in building things. I didn't want a guy to come in with a big attitude and a DP stamp on his head, and have an ego."

Valeri's success is a testament to the careful planning and homework done by Porter and Portland G.M. Gavin Wilkinson. Wilkinson and Porter first sat down last fall to plot strategy and identify players. While the team already had Darlington Nagbe on its roster, Porter surmised that Nagbe – who Porter coached when the two were at Akron – was more a player who could create off the dribble. What the Timbers also needed was a No. 10, someone who could create with the pass.

Porter recalled that U.S. international Mix Diskerud was among those identified, but after Wilkinson made the initial contact with the Argentine, Porter and Valeri soon began chatting by phone with the help of an interpreter. Given his experience as a college coach, Porter felt he was back on the recruiting trail, in this case trying to not only convince an Argentina international on the plusses of joining the Timbers, but what motivated a player like Valeri to make the move. What Porter found was a "soccer junkie" who soon asked for videos of Portland's past games and in subsequent conversations showed an astute grasp of the Timbers problems and how he and Porter could team up to solve them.

But beyond the soccer, Porter also sensed that Valeri was a player who was making the move to MLS for all the right reasons. At age 27, Valeri wasn't coming to MLS for the money. Rather, he was coming to MLS to find a better life for his family. A deeply spiritual man who finds inspiration from the books of Henri Nouwen, a Catholic priest, Valeri wasn't the kind of player who was going to cause problems off the field either.

"Everyone knows that DPs make more money, so sometimes there can be some chemistry problems if you don't get a guy who can back it up on and off the field," said Porter. "Diego is a guy who backs it up."

Now Valeri finds himself in the position of being beloved by fans of two clubs.

"I have a very special relationship with Lanus. It's my city, my club. It was hard to leave, but I wanted to come here to Portland," he said. "I'm happy for this."

For Valeri, a victory on Sunday against the Timbers' bitter rivals will bring even greater joy.