MLS notebook: SKC's Benny Feilhaber shows signs of acclimating
Last Sunday's contest against the San Jose Earthquakes wasn't Benny Feilhaber's best match, and he knew it. Granted, Sporting Kansas City's 1-0 loss to the Quakes could be charitably described as Death By 1,000 Long Balls. As a consequence, Feilhaber spent much of the evening watching the ball fly over his head, and his frustrating evening came to an end after 79 minutes.

"It was probably one of the ugliest games I've played in in a while," Feilhaber said as he stood outside the team bus. "I think they'll say that too. There were a lot of balls that went over the midfield. We wanted to keep them away from our goal. I thought we did a pretty decent job of that. Having said that, they got the goal, and we didn't really create too much today. It wasn't the game we wanted to play, it was the game that both teams kind of played themselves into."

When juxtaposed against his season totals of two goals and four assists, there's a powerful impulse to declare Feilhaber's time in Kansas City a bust. After all, the 2010 World Cup performer was acquired from the New England Revolution last December to provide a creative spark. Such numbers indicated an insufficient return on SKC's investment, one that included two draft picks and an undisclosed amount of allocation money.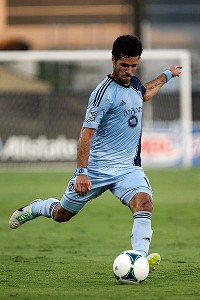 Kelley L Cox/USA TODAY SportsBenny Feilhaber readily admits that his fitness level was affecting his efforts on defense.
But SKC manager Peter Vermes is determined to take the long view. When the subject of Feilhaber's play was broached during the All-Star Game festivities, Vermes brought up the fact that it took Paulo Nagamura nearly half the 2012 season to come to grips with the team's hyper-pressing 4-3-3. He expected the same kind of acclimatization period for Feilhaber.

"It's just a matter of when he turns that corner," Vermes said then.

Three weeks on, the SKC manager feels that progress is being made.

"He's been good as of late," Vermes said about Feilhaber. "He's been getting a lot of consistency in his game, and he's been building from there. It's been a lot better."

Feilhaber has been a steady presence in the lineup since the beginning of July and on Aug. 10 capped off a 3-0 win over former club New England with a laser-guided free kick.

But attacking prowess has never really been an issue with Feilhaber. His passing ability has long made him one of the most creative American players. Rather, it has been his poor defense and lack of overall consistency that has often held him back at various clubs. And to hear Feilhaber tell it, there was a single underlying cause to both issues.

"One of the weaknesses in my game, if not the biggest weakness, was my fitness," he said. "I think being able to run for 90 minutes at the intensity that we do wasn't easy for me. I had to do a lot of stuff on the side outside of practice to get the endurance, the gas tank topped off every game at a higher level than I've ever had. I think right now I can run for 90 minutes and do the work defensively while still providing the offensive spark I'm here for."

There was evidence of Feilhaber's greater attention to defensive duties in Sunday's match. While he'll will never be mistaken for the likes of Seattle destroyer Osvaldo Alonso, he could be seen tracking back and even won the ball back a few times, a bonus given that Oriol Rosell and Lawrence Olum were tasked with doing much of the grunt work in midfield.

Feilhaber offered up a more complete performance in SKC's 2-0 win over Real Esteli in the CONCACAF Champions League, one that drew praise from Vermes.

"[Feilhaber] really helped us in the transition moments in the game," he said. "He's getting it for sure."

And just in time. With Kei Kamara and Graham Zusi sidelined by injuries, and with future CCL games ahead, Vermes will probably rely more heavily on Feilhaber to get the desired results.

Orlando stadium update: Back on Aug. 9, the Orlando Tourist Development Council voted 8-0 to approve a $94.5 million funding package that included a $20 million allocation for a new downtown soccer stadium. The sight of Orange County Mayor Teresa Jacobs and Orlando Mayor Buddy Dyer holding their hands high in celebration left an indelible image that approval by both the Orlando City Council and the Orange County Board of County Commissioners -- the final hurdles in the approval process -- was a fait accompli.

The reality is that the political maneuvering has only just begun, with county commissioner Pete Clark telling ESPN.com, "It's too early to tell" if the proposal will pass.

One important detail to emerge is that approval of the funding package will require a supermajority of the BCC and the Orlando City Council. This is due to the fact that allocating the $94.5 million requires altering an existing piece of local legislation called the Interlocal Agreement, which specifies how the city of Orlando and Orange County will fund various community venues.

In numerical terms, this means that five out of the seven BCC members and five out of seven members of the Orlando City Council will need to vote in favor of the proposal for it to pass. At present, it is believed that OCSC has the necessary votes on the Orlando City Council, but not on the BCC.

Of course, politics are fluid as well as transactional. County commissioner Jennifer Thompson has asked that $1.5 million be set aside by the team for community soccer fields. Commissioner Ted Edwards has asked for an analysis of how other MLS stadiums were funded and characterized OCSC's contribution as "light" when compared to other teams.

Clark has put forward a proposal whereby Orange County would become minority owners of OCSC commensurate with their contribution. In a memo sent to his BCC colleagues obtained by ESPN.com, Clark cites the county's past experience with the NBA's Orlando Magic as a reason for seeking a minority stake. A reported $470 million in Tourist Development Tax funds was spent on the Amway Center without the county benefitting from the increase in the franchise's market value.

"Like any request, we'll look at it closely and decide can we accommodate it, is there an alternative, what are the options, and then go from there," Orlando City president Phil Rawlins said via telephone.

Rawlins also feels that ultimately, the needed votes on the BCC can be obtained. Reading the tea leaves, it appears as though the club likely has the support of four BCC members, meaning it must peel off just one vote to reach the needed threshold.

"We're quietly confident we'll get those five votes," he said. "We've worked closely with the BCC the last few weeks so that they know all about the proposal. I'm optimistic that we'll get this done."

There are also rumblings that stadium opponents are planning a lawsuit on the grounds that the funding by the city of Orlando violates Florida law, but it's unclear when -- or if -- such a suit will be filed.

"I'd be very surprised if that [lawsuit] had any traction at all, but I haven't seen any details of that," Rawlins said. "But in general, we've got a tremendous amount of backing from the community on this."

A vote on the proposal is expected in mid to late September.

Quakes winning with defense at last: After winning four of its last five games, San Jose is among the hottest teams in the league, a run that has managed to keep the Quakes' playoff hopes in the "remote" category as opposed to "nonexistent." And credit is due to interim head coach Mark Watson, who has managed to cure the defensive woes that plagued San Jose not only this season but last year as well.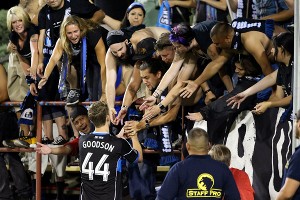 Kelley L Cox/USA TODAY Sports
In terms of the 2013 campaign, the Quakes had just one clean sheet in their first 20 games. They've had three shutouts in their last five league matches. The return of Victor Bernardez from injury and the signing of Clarence Goodson have certainly provided stability in the back. But a tweaking of philosophy has helped as well. Many coaches will talk of being organized in defense, but Watson has placed an emphasis on also being organized when in possession. This has long been a problem for San Jose, whose fearlessness in attack left it looking especially susceptible on the break.

"I think you're very vulnerable when you're attacking in the final third," he said via telephone. "There has to be a balance between the guys that are doing that and the guys who are organizing in the back because there's a lot of really dynamic attacking players in our league and they see those counterattacking opportunities. So that's definitely been a focus for us in terms of keeping our defensive organization while we're going forward and not leaving ourselves open to counterattacks."

Watson added that it wasn't as if such concepts weren't talked about before, but now there is a greater emphasis on not only attacking with the proper number of players but also recognizing situations.

"If one fullback goes, having the other one stay, and having an extra guy in midfield just being that link player but also looking at the space in behind," he said. "Not sending too many guys forward where there's tons of spaces where the opposition can collect the ball and run at the defenders. It's kind of just having an idea of what we want to do and then adapting."

By all appearances, San Jose's recent uptick appears to have arrived too late. But if the Goonies are to pull off a miracle run to the postseason, a few events will need to converge. First, the teams ahead of San Jose will need to stumble. Badly. Seattle in particular will need to suffer a spectacular meltdown given the fact that it has three games in hand. But San Jose will need to take its newfound defensive resilience on the road as well, starting with Saturday's match in Dallas. The Quakes will also need to nick points off some of the league's best teams. San Jose has two games in L.A. and another in Salt Lake. Given the fact that the Quakes have but one road win all year, that seems a massive stretch. But the improving defense at least gives the team hope.

"The team is healthy right now, we're confident, and we've had some good wins," Watson said. "I think that the belief that maybe we were struggling with a couple of months ago is definitely there."