Dempsey's position with Sounders presents puzzle for Schmid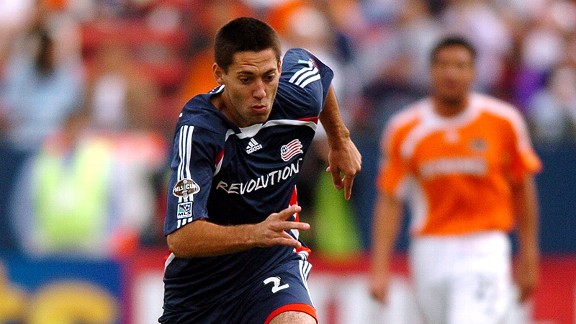 Steve Grayson/MLSClint Dempsey is expected to play Saturday in his first MLS match since the 2006 MLS Cup.
It's been almost seven years since Clint Dempsey last graced an MLS field. On that occasion, the New England Revolution lost the 2006 MLS Cup final to the Houston Dynamo on penalties, with a right ankle injury forcing Dempsey into the role of second-half substitute.

The U.S. captain will likely take on a similar job when he makes his debut with the Seattle Sounders on Saturday at Toronto. A virus limited his ability to train during the week, as did the general hullaballoo over his transfer. He was also very much in preseason mode when he was still on the books of English Premier League side Tottenham Hotspur, making a 90-minute stint even more unlikely.

- Davis: Clint Dempsey's misunderstood investment

Yet Saturday's match will be the first data point for Seattle manager Sigi Schmid to determine precisely how to construct his side around Dempsey, and, suffice to say, he has some options. Of late, Schmid has opted for a 4-4-2 with Eddie Johnson and Obafemi Martins occupying the two forward spots. Keeping that formation intact would likely result in Dempsey being deployed in a central midfield role with Osvaldo Alonso covering his back.

It's a formation that could work, assuming that Alonso stays healthy, but there's one problem. Dempsey's best asset has long been his ability to get on the end of service into the box. That's not to say he can't play a defense-splitting pass, it's just that his ability as a goal scorer is greater.

"There were times for Tottenham last year when Dempsey was playing underneath Emmanuel Adebayor or Jermaine Defoe," said former England international Paul Mariner, who coached Dempsey during his time with the Revolution. "That's where I think he's most dangerous because, for the two lines, who is going to pick up his runs? He's sort of comes from no-man's land. He's difficult to pick up anyway if you're marking him, but if you allow him to get in between the lines, he's almost impossible to mark because he's so aggressive with his runs."

If Schmid is intent on playing to Dempsey's strengths, then that requires playing him behind a center forward, much like he does with the U.S. national team. That would require moving Johnson out wide and playing Martins as a lone forward.

That leaves one of Brad Evans, Lamar Neagle or Mauro Rosales as the odd man out -- if not Saturday, then at least at some point in the coming weeks. Evans has long been a Schmid favorite, going back to the pair's days in Columbus, and his versatility, not to mention his work rate and better defense, makes it unlikely that he will be the one to be sacrificed. He could easily slide in alongside Alonso in a 4-5-1 while still being given license to go forward.

Neagle has shown an impressive nose for goal during his stints with Seattle and has put in honest shifts, whether utilized up top or out wide. Rosales offers more creativity -- and has been handed the captain's armband of late -- but has also developed something of a reputation for playing only when he's 100 percent fit. A super-sub role might suit him well in this case.

Of course, on-field chemistry can be difficult to predict. Some players hit it off right away, while others can take a while to learn the tendencies of their teammates. The latter scenario certainly seems to be what has transpired with Johnson and Martins, who finally showed the kind of cohesion that was expected in last weekend's 3-0 hammering of Dallas. Of course, now Schmid is faced with the prospect of altering that partnership.

"It's going to take about three weeks for Schmid to figure all these things out, but that's part of the manager's job," said Dempsey's old boss at New England, Steve Nicol. "And it's one of the more enjoyable parts when you're having to find a place for a guy like Clint Dempsey."

Indeed, but there isn't much margin for error, either. The Sounders are currently in seventh place in the Western Conference, although this is more a byproduct of having played two -- and in some cases four -- games fewer than their conference rivals. Put another way, if Seattle won just one of its two games in hand, that would vault it up to fourth place in the conference. That said, just eight points separate first place from eighth in the West.

All the more reason to take advantage of Dempsey's presence, starting Saturday against Toronto.