Clint Dempsey's misunderstood investment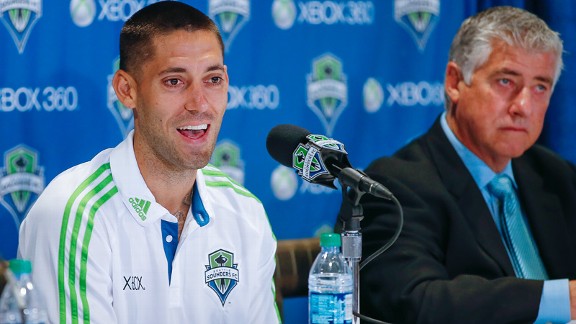 Otto Greule Jr/Getty ImagesU.S. fans far and wide were stunned by Clint Dempsey's decision to leave the Premier League and return to MLS.
Clint Dempsey's shocking move to MLS and the Seattle Sounders is about many things: the league's growing willingness to pay transfer fees of significance, the rising relevance of MLS in a shifting soccer universe, Seattle's intention to not only talk like a big club and draw like a big club, but to act like a big club. And it's also about Dempsey, his career, his motivations, his goals, maybe his family; all with a World Cup looming in less than a year. The number of moving parts in this surprising tale of American-star-comes-home is staggering.

It's also about us. We're losing our trailblazer, the first man to truly succeed in the world's game on the world's biggest stage. When Dempsey first went to England, he was just another American player trying to make his bones on a higher level. Over time, and through all that he accomplished, he became something much more -- the singular representation of our collective will to prove to the world that we deserve respect.

"Us" and "we" being American soccer fans, both the MLS-inclined and the MLS-deriding. It's easy to overstate the negative response to Dempsey's decision -- that he'll stop being a great player because of MLS, that he's a hypocrite for "giving up" on his Champions League dream, that America's best players should always stay in Europe as long as possible -- because the haters are typically the loudest and the internet chorus can hardly be said to be representative of the entire American soccer community, but there's an obvious upset seeping through the fan base. That probably says more about us than it does him. Whatever his reasons, it's ridiculous to suggest that he'll markedly regress as a player at age 30 because he left a part-time playing gig for a guaranteed starting spot.

So many attempts to couch disgust for Dempsey's decision within nominal concerns over his form come World Cup time.

So many exclamations of horror that a key USMNT figure would voluntarily pass on extending a career in Europe, where everything soccer is better.

So many distressed moans and categorical rebukes, thick with the stink of a raging inferiority complex.

Damn him, for upending our worldview. Dempsey was the warrior, the ultra-determined id of American soccer who would never give up on climbing as high as he could up the European soccer ladder. He was the "yang" to Landon Donovan's "yin", a player who possessed all the ambition the LA Galaxy star failed to gin up after crashing out of Germany.

For so many, it was easier to stomach's Donovan's decision to remain "comfortable" in MLS with Dempsey slaying dragons in the land of St. George. At least someone was getting it done where the soccer was high-level and the pressure more intense. When Dempsey passed Donovan as the best American player in most conventional thought (though they've both since been passed by Michael Bradley), it came down to his success in a league of a higher standard. It was always difficult to judge just how good Donovan was because of the MLS factor; Dempsey presented no such problem. The Premier League was big, rich, and ultra-competitive. If Dempsey was scoring goals there... well, forget Donovan. Deuce was the man.

And now... what? Back in MLS after seven years with -- conservative guess -- two or three more seasons at peak form left in that wiry Texan frame? Is it about the money? Does it make Dempsey something less of the inveterate scrapper we believed him to be? Can you be the man if you trade the world's biggest pond for a much smaller one, even if the fishing's better?

Dempsey played the role of American soccer trailblazer so well. No matter what you might think about Texas, the state where everything is bigger has a penchant for producing inversely charismatic figures. Dempsey's crackling intensity and Ali-esque attitude not only served him well on the field and in the annual exercise of re-proving his ability in England, but fed American soccer's need for a hero who didn't shirk from any challenge. Dempsey's soccer career is the career we all wanted to have -- if only we had the talent -- full of amazing moments (that chip against Juve...) and framed by an air of defiance. In England, Dempsey was a rebel. Not in the cliche Dennis Rodman/Mario Balotelli/Zlatan Ibrahimovic way that so many ill-behaving professional athletes are, but in a subtler, more subversive, and more gratifying way that shoved American soccer's rising prominence in the face of those who doubted Yanks could play, each and every time Clint (to paraphrase Bruce Arena's eloquent description of Dempsey's game) "tried s***."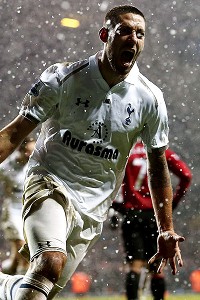 John Peters/Getty ImagesDempsey's penchant for scoring big goals against top EPL clubs, like against Man United last January, made him a favorite on both sides of the pond.
Dempsey didn't slink away. He even went further and pulled a power play on Fulham, pushing for a move to a bigger club and a chance at the Champions League. If he didn't shatter a glass ceiling, he certainly gave it a forceful whack. He then put in the work at Spurs, and while it wasn't the season or the Champions League soccer he had hoped for, no one could say he failed.

The healthy, well-adjusted way to look at Clint Dempsey's move back to MLS to join the Seattle Sounders for a massive contract and the opportunity to play in front of 40,000 soccer-mad fans is as a coup for Seattle, MLS, and American soccer. It's a move -- nay, an event -- that could herald a new era in Major League Soccer's maturation. Knee-jerk assumptions that this is Dempsey "giving up" on challenging himself don't really belong in the discussion. That the Sounders are even in a place to not only pay Dempsey a competitive salary but to purchase him from Spurs for a reported $9 million transfer fee is a breathtaking sign of the league's growth. Let's be honest with ourselves: such a thing was inconceivable as recently as twelve months ago. Heck, such a thing was inconceivable until it actually happened. There's a good chance some of us are still in dumbfounded denial.

For Dempsey, the move might partly be about wanting to get in on what MLS has become while he's still good enough to be a marquee star and earn a hefty contract. It will be interesting when he speaks in-depth about the move -- not that it will mollify the people who believe he's throwing his career away by going to (gasp) MLS -- and hear his reasons for passing on a chance to extend his English career. But how could Dempsey not feel the pull of MLS when it is so radically different than the last time he suited up for a league game in the United States? European aspirations or not, every player who grows up here possesses the same hopeful mote in their soul -- the one that dreams of the day soccer is truly big in America -- that we all carefully nurture. No one is immune to it. Not even Dempsey.

It's possible American soccer fans are simply not ready to allow themselves to be happy. The most common reason for disparaging Dempsey's move is the aforementioned belief that he'll regress as a player. Such a thing could have a serious impact on American World Cup fortunes considering Dempsey's key role in the team, hence the outsized angst. The move certainly goes against Jurgen Klinsmann's directive for his players to keep challenging themselves, and the USMNT head coach is already on record minimizing Dempsey's accomplishments in England.

But there are plenty of examples of players who have thrived in MLS, despite the deficit in quality to the English Premier League and other European competitions. At age 30, it's unlikely Dempsey has much room for "development" left in his game anyway, and any regression will be more down to a decline in physical abilities than the drop in competitive level.

We're far enough along this meandering American soccer story for there to be reasonable doubt on that point. Our problem as fans is that the cloak of inferiority is so difficult to shed. Our preconceptions hold firm, refusing to evolve with the times. Perhaps some of the long-term value of Dempsey's move will be a shakeup of our outdated mindset. Perhaps he is deserving of some trust.

As long as we continue to project our wider hopes and dreams on our best players, the Clint Dempseys of the world will continue to be castigated for making understandable, and defensible, choices about their careers. At some point, our attitudes have to change for the betterment of MLS, American soccer, and our own psychological health. Soccer self-immolation writ large is not a good look. Whatever's lost by not having Dempsey and his unapologetic swagger in England is more than made up for by the symbolic nature of his move and the amazing possibilities it augurs.

What we must tell ourselves, because it's as true a thing any, is simple:

Clint Dempsey isn't giving up, he's taking part.