MLS transparency leaves something to be desired
Just prior to last week's All-Star Game, MLS executive vice president of competition and player relations Todd Durbin held a roundtable with reporters to discuss the league's roster rules as well as take questions about any player-related topics. One issue that was brought up was the creation of the new retention fund that teams use to re-sign players already on their roster, and why its existence wasn't revealed at the time of its creation.

Durbin answered, "[The retention fund] was fully disclosed to all of our teams, to all the technical directors, to the coaches. Everybody sort of knew about it."

Everybody that is except for the fans and media. It was later explained that the league wanted to allow teams to take the rule for a kind of test drive before making it public.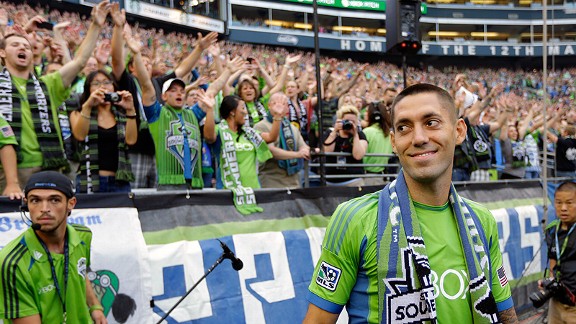 AP Photo/Ted S. WarrenClint Dempsey's move to Seattle -- when Portland was atop the allocation order -- underscored MLS' lack of clarity to the public regarding roster rules.
Just days later, the transfer of Clint Dempsey from Tottenham Hotspur to the Seattle Sounders was revealed, and once again MLS found itself having to answer questions about its lack of transparency. With the Portland Timbers sitting atop the allocation order, many assumed that if Dempsey returned to MLS he would be allocated much like any other U.S. international and head to the Timbers. As it turned out, his designated player status meant that he could sign with basically any team willing to meet his financial demands, including the reported transfer fee of $9 million. That ended up being Seattle, much to the chagrin of Timbers fans everywhere.

The problem was that the roster rules available on the league's website didn't address the scenario of a returning U.S. international being signed as a DP, even though Claudio Reyna had done precisely that back in 2007. Once again, it was a case of everyone in the league office knowing the rules. Outside, not so much.

"I understand why, if you look at it, there may be some confusion," Durbin said via telephone Tuesday. "But from my standpoint, it's absolutely consistent with everything that we've done historically."

Perhaps that explains the lack of consternation from league executives elsewhere, at least outside of northwest Oregon's 503 area code.

"I'm not sure who the aggrieved party is here," Toronto FC president and general manager Kevin Payne said. "Part of single entity is that we have the ability to make strategic decisions for the good of the league ... It's not like there could have been a lot of public conversation about [the Dempsey transfer] before it happened. I certainly trust the judgment and integrity of the league office."

But the league can still do much better when it comes to making -- and perhaps more importantly, explaining -- its rules to the public. MLS has come a long way since the Wild West days of the late 1990s, when the league's rules, particularly as they related to the allocation of players, were written in pencil. But even these days, the impulse to disclose even innocuous rule changes is sadly lacking.

This also applies to the issue of transfer fees and who pays them. SI.com reported that Dempsey's fee of $9 million was paid by the league, while the $3 million used by Portland to purchase the contract of midfielder Diego Valeri was footed by the club. One team executive, who asked not to be identified, explained that in his experience, determining which entity pays the transfer fee for an incoming player is usually decided on a case-by-case basis.

"It would depend on what relationship you would want to have in terms of your ability to resell the player," he said. "We could go to the league and say, 'We want to be able to resell him,' When you're buying an asset you want to be able to resell the asset, that's part of the whole point. So you're not going to fork over that transfer money unless you can resell him [and recover some of the fee]. Who puts up the money depends on who is going to own that asset long term. In my experience there's been numerous ways to handle it depending on the dollars involved, and the player."

Another concern with the Dempsey deal is that MLS -- a league that has embarked on an almost obsessive pursuit of parity -- may yet devolve into a competition between haves and have-nots. Granted, this has been a concern ever since the Beckham Rule was first introduced. The salary cap is still in place, as are the allocation and discovery mechanisms that essentially prevent teams from bidding against each other for players. Small-market teams like Real Salt Lake and Portland have had successful seasons this year without a marquee name like Dempsey. For his part, RSL general manager Garth Lagerwey has faith that the league will prevent the pendulum from swinging too far in one direction.

"If we're working together, and there are marquee players like this who are willing to come in their primes, hopefully that drives bigger television ratings," he said. "Hopefully that gives us more resources. If the league has more resources, I'm sure the league will do their best to find a way to allocate them equitably.

"In the short-term, does the Sounders spending eight figures on a player help us? No. It would be ridiculous to maintain that it does. But hopefully in the long term it has the effect of giving us all more resources to continue to increase the quality of play and hopefully make all our jobs more meaningful and put even better soccer on the field."

Greater transparency will certainly help in that regard, but in Tuesday's interview, Durbin was steadfast in his insistence that the league not reveal financial data surrounding player acquisitions, even as the salaries are disclosed by the MLS Players Union. Would it really hurt the league to be more forthcoming? The salaries, the transfer fees, all of it would provide even more fodder for fans to dissect.

For MLS, better to have the attention focus on the numbers than in the rulebook.