Orlando City seeks fast track in bid to join MLS
When Flavio Augusto da Silva talks about soccer, there is an air of romance in his voice. He talks about growing up playing in the streets of Jabour, a poor neighborhood in Rio de Janeiro, where he would play with his friends for hours everyday using two pairs of flip-flops for goals.

But mixed in with that nostalgia is the savvy mind of a successful entrepreneur. Da Silva recently sold the company he founded, Wise Up, and at the time of the sale, it was estimated to be worth $450 million. Earlier this year, he joined forces with Phil Rawlins to become a co-owner of USL-PRO's side Orlando City SC. Da Silva's aim is to follow in the footsteps of clubs like the Seattle Sounders, Portland Timbers and Montreal Impact and make the jump from the lower tiers of North American soccer to MLS. There is little pretense to his ambitions.

"I'm not just here for the passion," he said as he sat in a hotel lobby in Kansas City, Mo., during last week's MLS All-Star Game festivities. "I see an opportunity. I could invest in any place in the world. I have resources to invest in Europe or Brazil. I chose to invest in the United States. This was my choice. I believe here is the best opportunity of investment in the world. You have the main economy, the biggest economy in the world, and I believe that in 10 years, MLS is going to be one of the biggest leagues in the world. I'm investing, but in the same moment, it's a passion for me."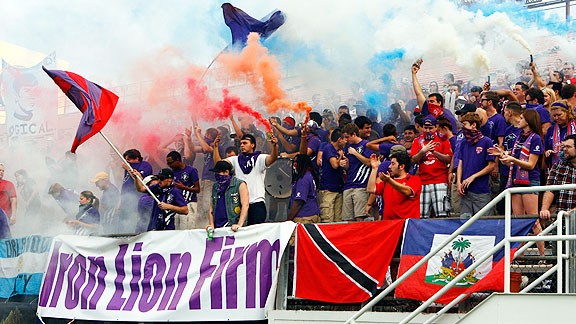 Douglas Jones/USA TODAY SportsOrlando City averages just under 8,000 fans per game competing in the USL-PRO, helping it neutralize MLS' failed history in Florida.
His timing, along with that of Rawlins, appears to be impeccable. Last Wednesday, on the day when MLS commissioner Don Garber announced that the league intends to expand to 24 teams by the end of the decade, da Silva made his pitch to MLS executives. The story he was able to tell was no doubt compelling. The ownership group has the deep pockets needed to compete in MLS and to pay the reported $70 million expansion fee. Orlando is also one of the top tourist destinations in the world, and more importantly, Orlando City is currently averaging just under 8,000 fans per game in the third tier of USL-PRO, meaning that a sufficient foundation has been laid in preparing the market for an MLS team. Given the failure of two previous MLS franchises in Florida, this is an important aspect of the team's bid.

That leaves the final leg of the expansion three-legged chair: the stadium. Fortunately, significant progress has been made in that area. In conjunction with the city of Orlando, a downtown nine-acre site -- just five blocks from the city's entertainment district -- has already been identified and is ready to be handed over to OCSC. A portion of the financing is expected to come from da Silva himself to the tune of about $30 million. If OCSC can convince the Orange County's Board of County Commissioners to appropriate $20 million from a Tourist Development Tax, that will be enough to get the project for the proposed 18,000-seat stadium off the ground. It is expected that OCSC will later seek additional funding from the State of Florida, but any cost overruns are expected to be covered by the club.

All told, Orlando City appears to have checked off nearly all the boxes, and the club's approach has even drawn compliments from MLS president and deputy commissioner Mark Abbott.

"[Orlando City] has a good ownership group, they have obviously shown there is interest in the market, their USL team has done well and the last piece of the puzzle is really the stadium, and they continue to work on the stadium," Abbott said in an exclusive interview during last Wednesday's All-Star Game. "There's a plan but they need some additional [monetary] support. But it's a very credible effort."

About the only area of potential disagreement is when Orlando might enter the league. The OCSC ownership is pushing for a 2015 launch, and da Silva's insists that "our conversations with MLS are very positive, they are very positive for us to start in 2015."

The reasons for da Silva's urgency are obvious. If the past transitions of minor league teams moving into MLS are anything to go by, OCSC can expect sizable bump in attendance upon switching leagues. This would drive considerable revenue increases in terms of ticket sales, sponsorships and naming rights. OCSC is also hoping that a 2015 start will increase the likelihood that Brazilian international Kaka, who signed an endorsement deal with Wise Up earlier this year, will join the club.

But New York City FC, the long-awaited second team in New York, is scheduled to make their debut that season, and there is speculation that the league might prefer to have the expansion spotlight shine exclusively on that team. There is also a belief that MLS would prefer not to have an odd number of teams given the scheduling headaches that that scenario creates. However, Abbott did admit that an odd number of teams isn't necessarily a showstopper.

"It's like a lot of different things, you focus on a lot of different factors," he said. "Clearly, a preference would be to expand with an even number of teams. I would say that we've always tried to do that. There have been occasions where we've determined not to do it that way."

The other factor driving OCSC's push to start in 2015 is the competition for expansion bids. Published reports have cities such as Miami, Atlanta, St. Louis and Minneapolis among those also interested, and da Silva is keen to push his advantage lest any other contenders catch up and beat Orlando to the finish line.

But Abbott seemed to indicate that MLS would take its time in assessing the relative merits of the competing expansion bids. And while he declined to name or rank any of the other contenders, he did admit that Miami, which has been linked with David Beckham and billionaire Marcelo Claure, has work to do.

"I wouldn't say yet that there is a Miami bid," Abbott said. "Obviously there are people in Miami who are thinking about or looking at the possibility of MLS. Obviously David Beckham has been there to visit, but a key component of any city's plan to come to MLS -- and Miami is no different -- is having a stadium plan. So there's a number of pieces in Miami that would still have to come together. There's no bid going in Miami right now."

That would appear to leave da Silva and OCSC with a clear path toward joining the league. But as is the case with most MLS stadium projects, nothing comes easy. Orlando mayor Buddy Dyer is a big supporter of the project, but at this stage, it appears as though extracting the $20 million from Orange County will be difficult.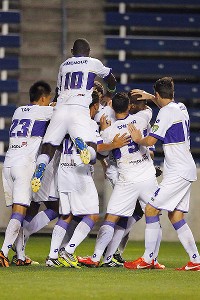 Dennis Wierzbicki/USA TODAY SportsOrlando City would like to join MLS by 2015, but New York City FC and other potential bids stand in the way.
OCSC presented their proposal to the board of commissioners Tuesday and will make a second presentation to the Tourist Development Council three days later. The big decision, though, will be made in early September when the board will vote on whether to subsidize the stadium. Da Silva conveyed plenty of confidence that the funding will be secured.

"We are optimistic, because they are supporters," he said of the Orange County BCC. "We believe that the project makes sense, what we are bringing to the table is much more than the other investors in the other [Orlando] venues have brought, because we are investing $30 million to build the stadium. So we are very optimistic about that."

But opponents to the project are beginning to emerge. Mike Cantone is a former Orlando mayoral candidate and is part of a bipartisan organization called the Timeout Coalition, which is opposed to the project on a variety of levels. Cantone expressed concern about whether the tax money would be better spent on the Orlando Convention Center or on some of the area's hotels, a view shared by the area's hotel industry. He finds the proposed stadium site problematic as well. The location sits in the Parramore neighborhood near downtown, and Cantone is concerned that building the stadium will lead to complete gentrification of an area that has long comprised one of the poorer sections of the city.

"We've seen how [Parramore] has been left behind on every other venue project including the Citrus Bowl and the Amway Center," he said in a telephone interview. "We don't want that to happen again.

"Our city is so maxed out on spending. We have so many other problems, including affordable housing, a jobs shortage in these neighborhoods, as well as a budget problem, that we don't' think this is the best priority right now for our city."

Commissioner Tiffany Moore-Russell, whose District 6 includes the Parramore neighborhood, indicated via telephone she didn't think the stadium would lead to further gentrification, since the site occupies land that was zoned for industrial or commercial uses, and wouldn't result in residents being displaced. The use of the Tourist Development Tax is something she plans to examine with a critical eye, however.

"As long as there is a plan that shows the venue will put heads in [hotel] beds, I have no problem taking the TDT, as long as there is a return on investment," she said. "As long as the TDT is strong, we are able to do other venues like this. If it's not, we've wasted that investment."

Commissioner Fred Brummer, who represents District 2, sounded more skeptical.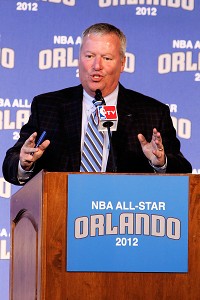 Douglas Jones/USA TODAY SportsOrlando mayor Buddy Dyer is on board for the MLS project, but extracting $20 million from Orange County will be a challenge.
"Someone has to show me that it's going to generate tourism in order for me to say, 'Yes, we should use Tourism Development Tax dollars to fund the soccer stadium,' " he said via telephone. "No one has shown me that there will be the kind of events around the stadium that will generate hotel nights."

Proving that return on the investment is the biggest obstacle facing da Silva and Rawlins at the moment, especially with other venues like the Dr. Phillips Center for the Performing Arts and the Citrus Bowl vying for additional TDT funds. Commissioner Pete Clark of District 3, who wasn't interviewed, is reportedly against the proposal as well. The remaining members of the BCC seem to be taking a wait-and-see approach.

Of course, a businessman like da Silva didn't get to where he is without some well-honed negotiating skills. He cut a charismatic figure as he laid out his vision for the club and touts a study -- paid for by the club -- that the stadium will generate $1.2 billion in economic development over 30 years. He spoke of using the stadium to host events like the NCAA College Cup as well as forging deeper ties to his native Brazil, all while insisting the club's roots will remain American.

"We want to be an American club, not a Brazilian club," he explained. "What we have in mind is very clear. It's focused on America, the local fans, but we have connections, we can sell products, we can sell our brand in Brazil to become an international brand. Orlando is one of the biggest destinations in the world. So for this reason we have this plan."

In about a month, the world will find out if it's one that Orlando is buying.