MLS Team of the Week: D.C. United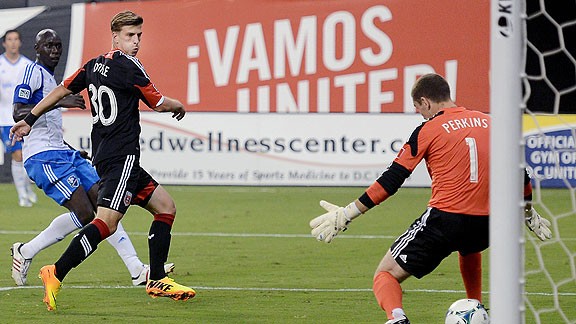 Chuck Myers/Getty ImagesConor Doyle fires past Troy Perkins in DC United's weekend win over Montreal.
There's something strange about inaugurating Soccer USA's "MLS Team of the Week" award with a side currently in the midst of one of the worst seasons in club history.

Nevertheless, D.C. United deserves ample recognition for the 3-1 drubbing of Eastern Conference title contenders Montreal Impact that they dished out at RFK Stadium on Saturday. While Clint Dempsey's big move soaked up most of the attention and garnered nearly all of the headlines, Ben Olsen's Black and Red youth movement paid massive dividends in United's best performance of the year. The names on the scoresheet -- Luis Silva, Conor Doyle, and Collin Martin -- are all talented young players who might give United fans a bit of hope that 2013 won't be a total loss on the field. If United can't contend, at least they can identify names that could help them get back to that level in the near future.

- Newcomers lift D.C. united past Impact

There's no doubt handing D.C. the "Team of the Week" nod is a backhanded compliment. If United were better, their victory over Montreal (at home, no less) wouldn't be much of a shock and they wouldn't be team of the week. But the win was only their third of the season, and came against a team that not that long ago was the clear class of the Eastern Conference. We could deduct United some difficulty points based on Montreal's recent swoon, but the Impact did arrive at RFK on the back of a last-minute win over Sporting Kansas City last week. Whatever Montreal's form, no one would say the Impact are not far and away a better team than D.C. United. And yet here we are.

It's also about those kids for D.C. Luis Silva arrived from Toronto on July 9th, and has scored in all three United appearances since, taking over the team scoring lead. The 24-year-old scored United's opener on Saturday, collecting a deflected Nick DeLeon shot before calmly shifting the ball to his right foot in traffic and pinging a drive off the far post and into the net. The goal embodied Silva's electric play thus far for D.C. and put his side on the front foot for the remainder of the match. Despite the results, it has to be said that acquiring Silva has given D.C. United a new look deep into a horrifically bad season.

Doyle, an American youth international on-loan from Derby County, scored United's second goal. It was the tally that ultimately proved to be the game-winner. Ghosting to the near post, Doyle deftly flicked the ball into Montreal's net off an excellent cross by James Riley. It was Doyle's first career league goal in any competition. Though it's unclear whether United will be able to keep Doyle after 2013, fans in Washington can enjoy his obvious talent through at least the end of this campaign. With the youthful approach Ben Olsen is taking with little left to play for, Doyle is sure to feature regularly.

But United fans should be most excited about last goal scored, a combination of play between Doyle, homegrown signing Collin Martin, and another US youth international now in the fold, Jared Jeffrey. The three players -- all of them 23 years old or younger -- combined on a perfectly played counterattacking goal to ice the game in added time as Montreal was pushing forward. That goal, and the overall performance, is a light in an otherwise dim season. It's not enough to guarantee United will be consistently competitive for the rest of the season, but it does provide all involved with something to look forward to.

With Chris Pontius battling injury much of the year, and Dwayne De Rosario's abilities declining, Silva, Jeffrey, Martin, and Doyle, breathed some life into a team long believed unconscious. For at least one week, D.C. United is worth recognizing not for the depths of their failure but for an encouraging bit of success.