Is Clint Dempsey making the right move?
With the news that Clint Dempsey is headed back to MLS to join up with the Seattle Sounders, the initial reaction is one of disbelief. The reason is simple. The move contradicts so much of the narrative that has surrounded the U.S. captain during his career.

Dempsey has always been a player who carried himself with a hefty amount of swagger, and in a sport that has tried for so long to gain traction in this country, U.S. fans loved him for it. He came from a modest background, he was gritty and tough, and most of all, he scored goals. This was a player fans could point to and say, "This is who we are."

This was true with how Dempsey carried himself off the field as much as on it. We're talking about a player whose ambition to test himself at the highest level has been unquestioned, as he rose above practically every challenge he faced while in England. In the process, he was held up as the antithesis of national teammate Landon Donovan, who, prior to a pair of successful loan stints with Everton, had endured several unproductive spells in Europe, some of which resulted in returns to MLS at the first sign of difficulty.

In Dempsey's case, instead of succumbing to difficult moments, he was strengthened by them. At Fulham, the U.S. international encountered a merry-go-round of managers, who almost without fail initially dropped him from the lineup, only to see him survive, thrive and then drive the Cottagers to a point where the club was punching well above its weight, including a trip to the 2010 Europa League final.

His ambition seemed limitless. Last year, with his contract winding down, Dempsey made it clear that what he wanted, more than anything else, was to play in the UEFA Champions League, and a transfer to Tottenham confirmed his willingness to test himself.

Blog: All-Star defeat takes no shine off MLS
Blog: Are American players undervalued?
Vote: Is MLS a good move for Clint Dempsey?

The 2012-13 campaign wasn't horrible by any means, as Dempsey scored 12 goals across all competitions. But there seemed to be an undercurrent of dissatisfaction with his performances. Spurs fell just short of UCL qualification, and with the club making a passel of high-profile signings, playing time looked like it would be a challenge for Dempsey once again.

Yet there was every reason to think Dempsey would carry on as he always has, grinding away, perhaps finding a way to prove his value to manager Andre Villas-Boas. And if Tottenham decided to part ways with the U.S. captain, it seemed logical that his proven track record in the Premier League would mean there would be countless other teams lining up for his signature.

Now that image is being challenged. MLS is a long way from the Premier League and the UCL, and a move back to North America almost seems like an admission of failure, at least as it relates to his tenure with Spurs. It also flies in the face of U.S. manager Jurgen Klinsmann urging -- or rather demanding -- that his players challenge themselves at the highest level. If Klinsmann once told The Wall Street Journal earlier this year that Dempsey "hasn't made s---," what is he thinking now? Because with all due respect to the strides MLS has made in its 18 years of existence, it doesn't test a player the way the Premier League does.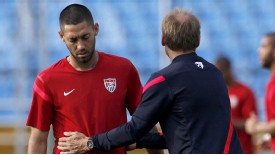 APHow will Clint Dempsey's decision affect his U.S. national team hopes?
That said, the move isn't completely devoid of logic. The World Cup is less than a year away, and if Dempsey felt playing time was in doubt, perhaps he felt that might jeopardize his standing with the U.S. team. Granted, on the one hand, it seems unfathomable that Klinsmann would bench Dempsey over a lack of playing time, but the U.S. manager has used that rationale more than once to justify leaving high-profile players out of the lineup.

With Dempsey the father of two young children, there's also a chance family concerns played a part in his decision. A source told ESPNFC.com that Dempsey's initial choice was to go to Houston, which is closer to his hometown than any other MLS club. But the Dynamo are known to be short of salary-cap space, and with Seattle restructuring the contract of Shalrie Joseph so he no longer counted as a designated player, the Sounders had the financial resources to make a deal work.

And money, more than anything, was no doubt a significant source of motivation. According to NBCSports.com, MLS reportedly paid a $9 million transfer fee, with Dempsey's contract valued at $32 million over four years -- both records for the league. It all adds up to an offer Dempsey likely felt he couldn't refuse.

Still, the move seems like a step backward and is similar to ones for which Donovan has been pilloried during his career. Granted, Dempsey had much more success overseas than Donovan did. But at the age of 30, it's clear Dempsey still has plenty to give at the highest level. His decision to return to MLS conveys a vibe that he's settling.

Will Dempsey maintain his sharpness in MLS? The impulse is to think that given the drop in level, something will be lost. Then again, for all the criticism Donovan faced for remaining stateside, he still managed to excel at the international level, including standout performances at the 2002 and 2010 World Cups.

U.S. fans can only hope that is the case for Dempsey next summer in Brazil.