Revs' Kevin Alston relishes return after leukemia diagnosis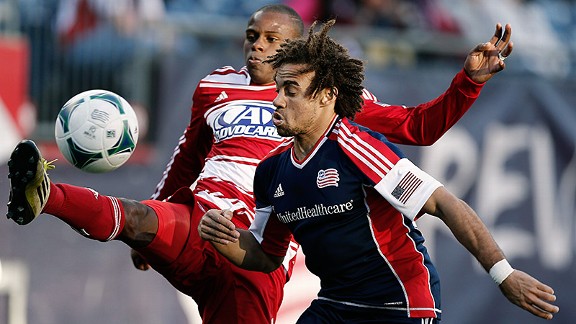 Winslow Townson/USA TODAY SportsKevin Alston said something didn't feel right during the Revs' March 30 match against FC Dallas. An examination led to a diagnosis of chronic myelogenous leukemia.
Surrounded by a clutch of media in the New England Revolution's locker room last Saturday, Kevin Alston knew he was once again immersed in the life of being a professional soccer player. With a smile beaming from ear to ear and still wearing his uniform long after his teammates had showered and changed, he described his 10-minute return to action just four months after being diagnosed with a rare form of leukemia.

'Emotional' was the first word he used. The realization of what he had overcome didn't resonate until referee David Gantar opted to blow the final whistle. Ever the professional and a man known for his quiet demeanor, Alston warmed up on the sideline in the 84th minute with his focus not on his own personal journey -- rather, his team's attempts to hold onto a 2-1 lead against D.C. United.

Thus when the piercing shrill of the whistle came at full time, he allowed himself a moment -- just a single moment -- as he fought back tears of joy rushing to the surface. Having grown up in the shadow of RFK Stadium, Alston can be forgiven for being swept up in the occasion.

It was an evening that was enhanced further by the presence of those close to him in the stands.

"I was in front of my friends, my mom, my dad, my grandfather, my brother," he told ESPN afterward. "They were there from the first day I was diagnosed, just that they could be there to see it the first day I stepped back on [the field] was unbelievable."

Where feelings of pride now sit, Alston admits there was once a polarizing fear of the unknown: "Looking back on it, I guess people have suffered worse injuries and are out for longer periods of time. The biggest thing was just the unknown."

Alston started the first four matches of the season, but the March 30 game against FC Dallas left the 25-year-old with a feeling that something wasn't right. A routine physical and blood tests confirmed his suspicions while also producing a shocking conclusion that was difficult to digest. Alston had chronic myelogenous leukemia -- his bone marrow was producing too many white blood cells. Rare, but also treatable, it was the beginning of an arduous journey.

Even after dispelling the ambiguity with a diagnosis, subsequent doctor's appointments provided few guarantees as he attempted to place a date on his return to the pitch. Coach Jay Heaps could not understate the defender's importance on his roster.

"He's an old soul in our locker room and someone the guys lean on," Heaps said.

Alston was placed on the disabled list. He was removed from it on July 15, completing the first significant step. Described as an 'inspiration' by teammate Chris Tierney, Alston's return is a welcome one for a New England side that currently sits just inside the playoffs.

Now eager to help his teammates cement that place, his previous situation had been fraught with difficulties.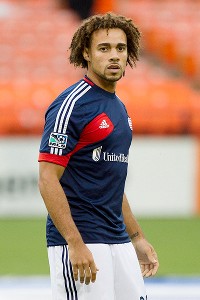 Paul Frederiksen/USA TODAY SportsNew England's Kevin Alston "shot out of a cannon" when he returned to the pitch Saturday in Washington but nevertheless maintained his focus.
"For the longest time I couldn't explain why I was feeling the way I was, I thought I was going crazy," he said. "At that time so many things go through your head, to be able to find out what was wrong and fix it, and fight through that. All the fans and people saying they're supporting you, I just never gave up."

If there was a positive to emerge from the situation though, it was that it only further enhanced his relationship with those he works alongside. "My teammates are like my second family," he explained. "They've been supporting me since Day 1 and supporting me all the way through even when I couldn't do anything, just going in hanging around and being there them they've always helped me a lot."

That unanimous support did not stray into sentiment for Alston on Saturday, however. When Heaps called his defender over to sub him in, it was a considered move: "He was exactly what we needed: a shot of energy," Heaps revealed. "He's been itching to get on the field, and you could see it tonight. When he went out, he shot out of a cannon."

Alston underwent a serious injury during his teens, so the determination that saw that 16-year-old return from a gruesome broken leg to turn professional also received a boost. "I guess you could say it has renewed my motivation and passion to not only come back but push even harder to go even further," he said.

He will attempt to go 'even further' with what he describes as a freshness. In the same week, the U.S. men's mational team lifted the Gold Cup and the league's selected All-Stars faced Roma. The 25-year-old Alston could not help but continue to look forward and place what he hopes are the next next markers in his career.

"I feel like I'm starting over," he enthused. "I feel like for a while I had a weight on my shoulders and I couldn't really explain why, or what it was. Now I feel like I'm fresh and it's all different, like I'm writing a new slate. The goals are there, the national team, the sky is the limit."