All-Star defeat takes no shine off MLS
KANSAS CITY, Kan. -- When it comes to the MLS All-Star Game, there's a simple calculus that is pretty effective in predicting the outcome. The deeper the foreign team is into its preseason, the better it is likely to fare against the MLS All-Stars.

Back in 2006, Chelsea was playing its first game of the preseason, and the All-Stars emerged with a 1-0 victory. In the case of Roma, the team was three weeks into its training camp, and had already played three exhibition games prior to Wednesday's encounter. When you combine that with the fact that the MLS players had a grand total of one training session, and that the Roma players are all eager to impress new manager Rudi Garcia, it was no surprise to see the visitors run out to a 3-1 victory.

- Tyler: Roma's class a boost to U.S. soccer
- Match report

The difference in cohesion was obvious from the opening minutes. When the All-Stars attempted to high press Roma early, the visitors were able to break pressure easily. That enabled Francesco Totti to spray diagonal passes to attacking fullbacks like Vasilis Torosidis, or for the likes of Kevin Strootman to make runs from deep in the midfield. And when Strootman put Roma ahead in the fourth minute thanks to some good work from the game's MVP, Alessandro Florenzi, a sturdy foundation was laid for a triumph in which the result was never in doubt.

Given the way the All-Stars pressed Roma from the outset, it's tempting to think that this was at the urging of manager Peter Vermes, who has implemented a similar style with his club side, Sporting Kansas City. Vermes insisted that wasn't the case.

"Even though I wasn't telling the guys that we needed to high press, we started out doing that kind of early on," he said during his postgame news conference. "In a way, I think the guys felt they had to because when we gave up the early goal it was like, 'Let's get this back right away,' so they went after them. They were able to break pressure really well, switching the point of attack. Just in all facets of the game they were strong."

Florenzi added a second two minutes after halftime after good work from Federico Balzaretti, but it also highlighted once again the lack of familiarity among the All-Stars. Half-time substitute Omar Gonzalez had dropped way too deep while the rest of his back-line teammates were pushed further up field. That allowed Balzaretti to remain onside, surge forward, and pick out Florenzi with a pinpoint cross. Junior Tallo put the game completely beyond reach with a great team goal in the 68th minute that involved Strootman and Michael Bradley. Omar Gonzalez's stoppage header provided only a dose of consolation.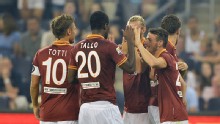 Peter G. Aiken/USA TODAY Sports
The result, somewhat inevitably, led to questions afterwards about whether MLS should persevere with a format that has seen them lose three times in the last four years. That ignores the fact that the All-Stars record in these matches is now a still healthy 6-4-0, a point that Bradley was quick to make during Roma's postgame news conference.

He said, "Not to nitpick, but didn't [the All-Stars] beat Chelsea last year?"

Indeed they did. Vermes was a bit more verbose, but equally on point.

"I don't think it's a bad thing by any means," he said of the result. "Look, at the end, it's a great environment, it's a great game. If all we were looking to do was win a game, then easily we could set something up. These are real games, these are real teams that come in here to play. Sometimes results don't go your way, but in the end, I think it's more than just the winning of the game. It's really what the experience is for everyone who participates in it."

That goes for fans and players alike. Defender Matt Besler spoke of how gratifying it was to spend time with players who are usually on the opposite side of the field during the year. He also lauded the job that his hometown did in hosting the event.

"Kansas City was unbelievable," he said. "For me to see it first-hand, I knew they were going to be great. But for everyone else coming in, at the meals, at training, before the game, everyone was talking about Kansas City, how nice everything was, and how much buzz there was about this game."

There was buzz during the game as well, even if didn't result from what happened on the field. At halftime, Commissioner Don Garber's announced that MLS plans to expand to 24 teams by 2020. That speaks to the overall health and growth of the league.

A loss in the All-Star Game isn't going to change that.

Note:

-- Given the injuries that have occurred to U.S. internationals Stuart Holden and Brek Shea in the last week, there was a depressing sense of déjà vu when Graham Zusi hobbled off in the 22nd minute with what was described as a quad strain. Afterward, Vermes indicated the move was mostly precautionary.

"[Zusi] just had a little bit of a cramp in his leg," said Vermes. "He said, 'You know, I think maybe I should come off. What do you think?' I said, 'Listen, if you're hurting, let's get you off.' We'll have to assess it tomorrow, but I think it was just some tightness more than anything else."