Totti's legend set to shine upon MLS
KANSAS CITY, Mo. -- As Francesco Totti settles into his chair, "The King of Rome" shows a common touch, delivering a wink and then autographing a shirt for a young boy who couldn't be more than 10 years old.

It's a gesture that Totti has no doubt delivered countless times as the captain and public face of his beloved AS Roma, which, when you include his days in the club's youth academy, is now entering an astounding 24th season. That longevity is evident on the wrinkles on his forehead and can be heard in his voice as he discusses both the past and the future.

"I've had a long and beautiful career," he said with the help of a translator. "But the years are going by, and I think that everything is going by more quickly."

Just how much time is left is still unclear. Totti created something of a stir on July 11 when, during the unveiling of Roma's new jersey, he said to the assembled press, "I have worn many Roma shirts, but this will be my last one."

Given his longtime association with the club, this has led to speculation that the 2013-14 campaign will be his last in any uniform. On Tuesday, he admitted that it was more about sending a message. "It was mainly a joke," he explained. "But it's the last year of my contract, it's expiring. I don't begrudge anyone. It's not that I have anything against the club. But if I had another two or three years running on my contract, I wouldn't have said that."

So would Totti prefer to keep playing? "If I feel well, yes," he said.

The uncertainty over Totti's future doesn't change one indisputable fact: For those attending Wednesday night's MLS All-Star Game (9 p.m. ET on ESPN2 and WatchESPN.com), in which Roma will take on a select XI of MLS's finest, the opportunity for fans to watch one of the game's all-time greats is not to be missed. To hear teammate and current U.S. international Michael Bradley tell it, he cherishes every moment he gets to play with the former Italian international.

-- Self-loathing obscures gains in U.S. soccer
-- Zusi quietly rises up USMNT ranks

"You have an idea coming in of what kind of player [Totti] is, how good he is," said Bradley at Monday's news conference. "But I can assure you that when you're up close and around him every day playing with him, you realize that he's so much better than everybody even realizes. His ability to make everyone around him better, the way he's able to see things on the field that nobody else does, I think you're talking about one of the best players in the world."

Granted, to look at the honors Totti has won in his career, one could argue that he doesn't belong on such a list. There is the big one, of course, the 2006 World Cup that he won with Italy. But at the club level his achievements are more modest. There was the one Scudetto back in 2001 when Fabio Capello was manager, a pair of Coppa Italia titles and two Supercoppa Italianas.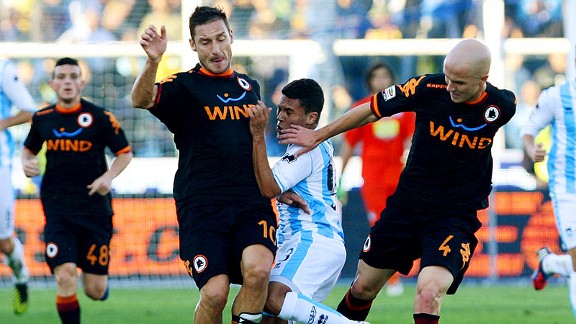 Paolo Bruno/Getty ImagesFrancesco Totti and Michael Bradley know one another well and the U.S. international speaks highly of the Italian legend.

There is a sense, however, that Totti could have achieved more. If he had moved to Real Madrid in 2004 when he had the chance, he would have won more trophies both for his club and individually. We're talking about a player whose top finish in Ballon d'Or voting came back in 2001 when he finished fifth. He's made the top 10 on only one other occasion.

When asked if he'd be content with what he's accomplished if his career ended tomorrow, Totti said: "I think I'm happy with my career. I don't have any limits, but I think that I'd be satisfied. I've had a good career, even though we could have achieved more trophies with Roma in the Italian league and with cups, but unfortunately we didn't."

Though downplayed, that list of disappointments is lengthy. Roma has finished in second place in Serie A six times during Totti's tenure and lost the final of the Coppa Italia on five occasions. The sight of him spitting at Denmark's Christian Poulsen at Euro 2004, an incident that resulted in a three-game ban, also lingered long in the memory of Italy fans.

Yet there is plenty that is endearing about Totti. Long a player who operated behind the strikers, in the mid-2000s he adapted his game to become one of the most lethal strikers of his era. Off the field he spent considerable time doing charity work, including publishing two books filled with self-deprecating jokes about himself and his teammates.

Then there is the fact that he is a "one-club man." It speaks of a devotion and endurance that is remarkable, especially in an era when loyalty often doesn't even last the length of a contract. Granted, loyalty is a concept that usually doesn't factor into a club's thinking either, but that only makes Totti's tenure with Roma even more impressive.

"I've always been a Roma supporter, and it was the thrill of my life to wear the Roma jersey," he explained. "Apart from the loyalty I've been shown, what pushed me to stay here was the passion and love I have for the club."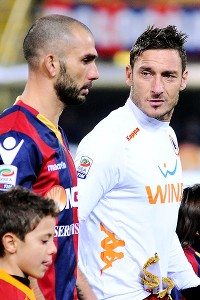 Mario Carlini/Iguana Press/Getty ImagesOn Wednesday, Totti will face Marco Di Vaio, left, longtime friend and current star at the Montreal Impact.

It's an aspect of Totti's career that even his friends find staggering.

"It's something I don't understand because I've changed teams 10 times," said longtime friend Marco Di Vaio with a smile and a shake of his head following a practice session with the MLS All-Stars. "For me it was different. But Totti has found everything in Rome."

Whether that's still the case for Totti this season will make for some compelling viewing. Totti has declared himself pleased so far with the work of new manager Rudi Garcia, but it's still early days. There was considerable optimism this time last year about the return of Zdenek Zeman as manager, and he didn't last the season. If the current campaign goes sour, who knows what the future holds for Totti?

To that end, the Roma legend revealed Monday that he has talked to Di Vaio about his friend's time in MLS and that Di Vaio, who is enjoying a stellar 2013 season with the Montreal Impact, had encouraged him to give it a try. But such a move appears highly unlikely, and Di Vaio himself sought to dampen any expectations that Totti would be heading to MLS at some point.

"Totti's dream is to finish his career in Rome," he said.

While that would be a loss for MLS fans, it would be an ending fit for a king.

Notes

• On those occasions when the MLS All-Stars have gone up against foreign competition, the league's all-time record is 6-3-0. Two losses came against Manchester United in 2010 and 2011, while another occurred against Everton in 2009, who won via a penalty shootout after the match finished 1-1.

• While Bradley lauded Totti at Monday's news conference, Totti was equally effusive in his description of the U.S. international. "In my opinion, Bradley is universal," he said. "He's a total player because he can play in different roles. He's also very strong in the midfield and he's a guy who is friendly with everyone and gives the [locker room] a good atmosphere."

• Wednesday's match is ostensibly an exhibition, which always calls into question just how much energy the players will put into the game. Los Angeles Galaxy midfielder Landon Donovan insisted the level of intensity will be there for all to see.

"It's as close to a real game as you can get," he said after Tuesday's training session. "For them, it's an opportunity to show well in preseason, so they take it seriously. For us, I think everybody now understands the magnitude and importance of it. Do you get anything for it? No, but when you're on the field and you're competing, all that doesn't matter anyway. We take it seriously."

• Totti also took time to express his hope that another of Roma's one-club men, midfielder Daniele De Rossi, who is rumored to be heading out of Roma, continues to stay at the club.

"I hope that [De Rossi] is going to stay like I did, and also because he's a very important player for us," he said. "He's a top player who can change the result of every single match in every single moment."