All-Star Game can alter opinion of MLS, won't measure its standing
KANSAS CITY, Mo. -- The MLS All-Star Game occupies a peculiar corner of the North American soccer landscape. There have been times when the match has been held up as a litmus test of the game's progress in this region, with broad conclusions drawn over the result.

-- Self-loathing obscures gains in U.S. soccer
-- Zusi quietly rises up USMNT ranks

When the MLS All-Stars defeated Chelsea in 2006, the sight of Dwayne De Rosario holding up a trophy had the look of a toddler desperately trying to get attention at the grownups' table. At the opposite end of the spectrum, Manchester United's consecutive demolitions of the All-Stars in 2010 and 2011 (combined score, 9-2) was held up as proof that the gap between MLS and the world's elite remains vast.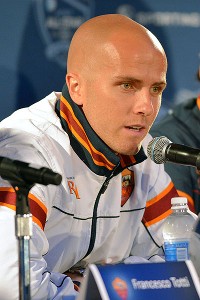 Denny Medley/USA TODAY SportsAS Roma's Michael Bradley said he sees signs all around that the quality of MLS is gaining traction.
Of course it does. But while MLS does indeed have a long way to go, the reality is that its status in the world pecking order isn't going to be defined by one game, especially one played by a thrown-together squad. There are much more important, meaningful metrics on that front.

"There's no question it continues to grow," Roma and U.S. international midfielder Michael Bradley said at Monday's press conference. "I think you look around the league, you see the stadiums that are being built, you see the teams that come into the league that have support and fans like they do in Seattle and Portland. I think that this is something that is great for the league and great for our country, and I think the quality continues to get better. When you look at the run that the U.S. team made in this Gold Cup, I think a lot is thanks to MLS and the quality of players that are playing here week in week out."

That said, opinions can change as a result of this match. They just tend to be of the more subtle variety and go beyond mere numbers, including the score. New York Red Bulls forward Thierry Henry remarked how last year players from Chelsea had come away with a somewhat different perspective of MLS players after seeing the hosts prevail 3-2.

"What was great about last year, when we won against Chelsea, was not that we won against Chelsea," he said at Monday's press conference. "But at the end of the game, the guys we played against came around and they were actually surprised at how we moved the ball around and really played football, or soccer. So that's one of the most important things that when we play Roma on Wednesday, obviously we want to win. But if they turn around and say we saw some great players and excellent play, that speaks volumes for the league."

That explains in part why All-Star manager Peter Vermes has been sacrificing time from his day job as head coach of Sporting Kansas City to study AS Roma. No one wants to be embarrassed, and Vermes admitted that he was even in possession of video of Roma's preseason matches.

"We have a little [piece of paper] with every guy's picture and what position we think they're playing, and then a little blurb," he said.

Whether that's enough to make up for a general lack of familiarity among the players remains unclear. Vermes added that he'll be giving the All-Stars a simplified game plan as a consqueuence.

"I'm going to give them the tidbits to at least give us a fighting chance," he said.

The match will also make for a rare opportunity for U.S. fans to see Bradley in club colors. There has been concern that given Roma's acquisition of PSV midfielder Kevin Strootman, Bradley's playing time will diminish. The uncertain future of Daniele De Rossi will have an impact as well, but Vermes is of the opinion that Bradley's current form puts him in strong position to become a key component under new manager Rudi Garcia.

"I think that Michael is in incredible form," Vermes said. "I thought he was at another level from anyone else that played for the national team. He's in such form right now, and he has such a confidence and presence about him. It's fantastic to see."

Catching a glimpse of some of the other excellent players on show will be uplifting as well, be it Henry, Bradley, Marco Di Vaio, Graham Zusi or Francesco Totti. All of which makes the MLS All-Star Game an event worth watching.