Are American players undervalued?
When Jozy Altidore completed his move to Premier League side Sunderland, the reported transfer fee came to $13 million, enabling the U.S. international to break his own record for an American player.

The extent to which incentives play a part in that number is unclear, but for Altidore it's an impressive accomplishment nonetheless, especially given the fact just two years ago his career appeared to be at a crossroads following a series of unimpressive loan spells. But a stellar two-year stint at Dutch club AZ Alkmaar catapulted him back into the transoms of European scouts everywhere, and after getting a taste of the EPL four years ago during a loan spell with Hull City, he'll now get another chance to prove himself in the highest-profile league in the world.

But looked at another way, the fee is sobering to a degree. So far this transfer window, dozens of players have commanded higher fees than Altidore did. Some players come from locales typically associated with the exporting of players, such as Brazil's Paulinho and Spain's Thiago Alcantara. It's no surprise that players with their reputation and talent would be sold for more money. But then there is the case of Kenyan defender/midfielder Victor Wanyama. Wanyama is a fine player, who showed well in Celtic's Champions League campaign last year, but the fee of $18 million paid by EPL side Southampton raised a few eyebrows.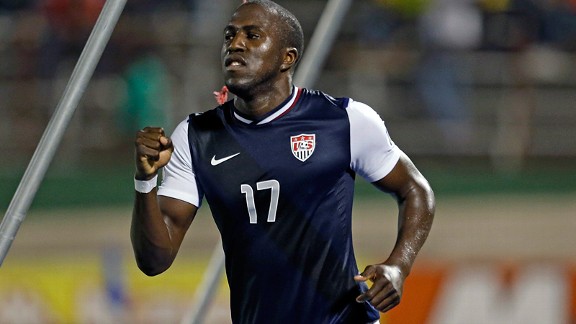 APJozy Altidore is back in the Premier League, this time with Sunderland.
Value proposition
It raises the question of whether American players are undervalued, and if there is still a stigma attached to hailing from a country whose soccer pedigree is viewed in some quarters as being substandard. Last summer Clint Dempsey was sold by Fulham to Tottenham for $9.5 million. Michael Bradley, perhaps the most important player in the U.S. national team, moved from Chievo Verona to Roma for a reported $4.6 million.

"I think that with transfer fee prices for English and South American players escalating, the American players are perceived as good value," said Richard Motzkin, a U.S.-based agent with Wasserman Media Group. "We still need -- and this will happen over time -- Americans playing at the top leagues in the world and performing well. We're still not quite there. We're making progress with every step, but their fees on a relative basis are still a lot lower than other players around the world."

Without question, even the most straightforward of transfers has more moving parts than an airliner. There's the player, his position, his age, his wage demands, the relative pedigree of the club and league he's coming from, his performances with his national team, the financial muscle of the club he's going to, as well as the time left on his current contract. In an interconnected world, off-field marketing concerns enter into the equation, as well. It's enough to give any number-cruncher a migraine.

"What you do is you look at all of those factors and then taking in as much information as you can, make the decision that you think is best for the club and best for the league," said MLS executive vice president Todd Durbin, who as head of the league's player personnel group has overseen almost every transfer into and out of MLS since 2008. "No two transactions are ever the same."

Any one of those factors can serve to drive down the price, as well. In the case of Dempsey, the fact he was 29 at the time of his move was certainly a mitigating factor, as was the fact his contract was winding down and he made public his desire to leave, giving Fulham scant leverage in negotiations.

The momentum that accompanies a player's career can also have an impact. After an initially promising spell with Borussia Moenchengladbach, Bradley found himself out of favor, and a subsequent loan stint at Aston Villa saw him make only four appearances. Bradley's career began to move forward again when he joined Chievo in 2011, but $4.6 million looks like a bargain.

The question of stigma elicits differences of opinion. For Kasey Keller, who spent 15 out of his 18 professional seasons in Europe, there is no question that even in 2013, being an American is a tougher sell than it is for a player from a more established country.

Keller said, "When a coach or an agent goes to a chairman looking for money, 'Well, we've got this Argentinian and we've got this Brazilian, we've got this Spaniard, and oh, we've got this American.' That stigma is still there."

Tor-Kristian Karlsen, a former executive with AS Monaco, and who has served as a scout with teams such as Hannover and Bayer Leverkusen, doesn't necessarily see it that way.

"Zlatan Ibrahimovic is Swedish, yet he's repeatedly moved from top club to top club for huge transfer fees," he said via email. "Edin Dzeko, despite being Bosnian, not Brazilian, raised a huge transfer fee. If an American or a Canadian sets La Liga or the Premier League alight, he'll attract huge interest and -- if sold -- cost a massive fee."

Where are the goal scorers?
And therein lies the biggest reason an American player hasn't commanded a bigger fee. The largest transfers tend to involve attacking players, and there is complete agreement that the U.S. has produced precious few of these performers over the years.

"I think value usually depends on success," Keller said. "Brian McBride consistently put balls in the back of the net for Fulham, and Clint Dempsey has. Other than that, we've not produced anybody up front who has gone to Europe and scored consistently. If that happens -- let's say Jozy is successful this time around in England after a good transfer fee -- now maybe that starts to pique interest again, maybe they give somebody else a chance, and then somebody else a chance. But there hasn't been enough consistency to continually pay bigger and bigger transfer fees."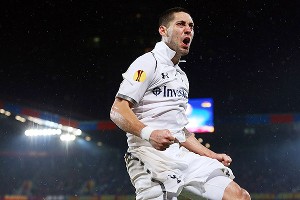 Julian Finney/Getty ImagesClint Dempsey: Bargain fee for Spurs.

Then there is the question of the level of player the U.S. is producing. Player development initiatives such as the U.S. Soccer Federation's Development Academy have now been in existence for six years, but Karlsen indicated that he has noticed a change in the quality of American players being produced, and not necessarily for the better.

"Generally, I believe there's a consensus that the U.S. is not quite producing players to the level they used to in the late 1990s/early 2000s, which is reflected in the slightly disappointing results of the U.S. at U-17 and U-20 level," he said. "Fine talent is still being produced, but the potential world-beaters are missing."

Karlsen added that he feels this is cyclical, and that it's just a matter of time until the U.S. starts producing top players again. He also noted that the U.S. is not alone in this regard. He cited countries such as Sweden, Norway and the Czech Republic as producing fewer top-level players than in the past. That said, he feels that American players are generally held in high regard by European clubs.

"My impression is that the vast majority of U.S. players are model pros with an excellent approach to their professions, great to have around, and a delight for coaches to work with," he said.

The MLS effect
As one of the prime conduits for American players heading overseas, and as a league operating under a single-entity structure in which all the player contracts are owned by the league, MLS has a significant role to play in the fees overseas clubs pay for players. And it's worth noting that the league's goals aren't necessarily in alignment with those of its players.

To be clear, MLS is engaged in a delicate balance. On the one hand, its primary aim is to raise the quality of its on-field product. MLS also doesn't want to be viewed purely as a "selling league" whose sole purpose is to be used a de facto farm system for Europe. On the other, MLS is a business connected to the world market for players. Sometimes, that can result in the sale of a player, but oftentimes it means keeping the player in MLS until the end -- or near the end -- of his contract.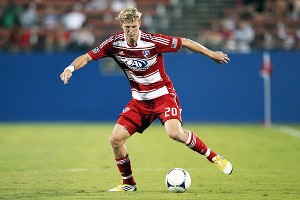 Layne Murdoch/Getty ImagesBrek Shea left the MLS to join Stoke.

"I fully understand the MLS approach and stance on selling players," Karlsen said. "Their prime concern is their own product and reputation. The MLS is an ambitious and well-run entity and they don't build on their success by letting their assets leave for a pittance. Plus, rightly or wrongly, the MLS sees themselves as a fine development platform for U.S. talent. I always found the MLS to be fair and quite realistic in their pricing."

But its approach can also serve to limit the flow of players overseas. MLS stated that since 2008, the league transferred 22 players, 13 of whom were eligible for the U.S. national team, to foreign clubs. In the current window alone, 13 players from the Eredivisie have been transferred to clubs outside of the Netherlands. Less movement means fewer opportunities for players to get to Europe and perhaps command a bigger fee down the line.

"It's not easy," said Motzkin with regard to transferring players out of MLS. "And it comes down to: What is the culture and mindset? In Europe [selling players] is just standard practice and in MLS it's not. MLS wants to continue to grow and develop the league and for some that's keeping the best Americans at home. But there's a difference of opinion. What's the right way? Do you try to keep your best players home or do you [sell them]? Do you do a little of both? There's no right answer."

But playing in MLS does have its benefits. Durbin indicated that 10 years ago, an American player's value was almost entirely based on his performance with the national team. The increasing reputation of MLS has since resulted in the transfer of players like Geoff Cameron, Tim Ream and Brek Shea, all of whom had little international experience at the time of their respective moves.

"Those were three players who were performing very well in our league, and that was a key driver in terms of their value," Durbin said. "So the perception of our league, and the actual increase in quality of our league, coupled with the success of the national team, has really done a lot to drive the value of players internationally."

Durbin adds that part of the league's calculus involves how the subsequent transfer fee is spent. In Dallas' case, the team was able to reinvest the funds on new players as well as the club's infrastructure. And while FCD has been struggling of late, the team is firmly in the playoff picture, something that wasn't the case this time a year ago.

"Obviously, we all wanted to keep Brek Shea, and it would have been good for us to keep him in the league," Durbin said. "On balance though, from a competitive standpoint, it's difficult to argue that Dallas isn't a better team now."

All eyes on Jozy
Yet it all comes down to how a player performs following his transfer, and for that reason Altidore's season with the Black Cats will come under intense scrutiny. Given that Sunderland narrowly avoided relegation last season, anything over 10 goals will be viewed as a success for Altidore. Whether that will be enough to get him moved to an even bigger club remains to be seen, but that is looking too far ahead. The fee has been paid, and it's up to Altidore to deliver. If he can, then American players everywhere stand to benefit.