Shea Gets Brek-through For U.S.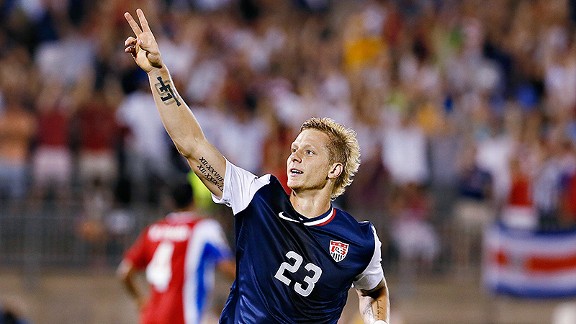 David Butler II/USA TODAY Sports
Three days ago, Brek Shea delivered perhaps his worst-ever performance for the U.S. men's national team. Against Costa Rica, it took just seven minutes for him to find redemption, as his 82nd-minute tally was enough to give his side a 1-0 Gold Cup victory over Costa Rica.

Shea's goal finished off a remarkable sequence that started with goalkeeper Sean Johnson touching Carlos Johnson's header onto the crossbar. The U.S. quickly countered, with substitute Joe Corona finding Landon Donovan on the right flank. Donovan's first-time pass found Shea in acres of space, and he powered his shot through Costa Rica goalkeeper Patrick Pemberton to set off a raucous celebration by the U.S. team.

Having won its first two games by a combined score of 10-2, the U.S. had already secured their passage to the quarterfinals. A draw in fact would have been enough to top Group C on goal difference. But the win clinched first place, and allowed a bit more confidence to permeate the squad, and now a quarterfinal matchup against El Salvador this Sunday beckons. The win was also the eighth straight for the U.S., setting a new record for the national side.

U.S. manager Jurgen Klinsmann had insisted that the Costa Rica game would be the first of the Gold Cup to test the Americans. On that front, the match lived up to its billing. The Ticos were organized and compact defensively, and frustrated the Americans for most of the night.

Credit the U.S. then for finding a way, and Shea in particular. He had looked completely lost in a 45-minute stint against Cuba that bordered on embarrassing. So it was something of a surprise when Klinsmann turned to him in the 75th minute. But Shea made Klinsmann look like a genius, and the joy on the player's face after scoring was unmistakable.

Prior to the match, Klinsmann insisted he would play his best available starting lineup, but that didn't stop him from engaging in a bit of squad rotation. Johnson came in for usual starting goalkeeper Nick Rimando, while Alejandro Bedoya was given a start on the right side of midfield in place of Corona. Oguchi Onyewu was reportedly nursing a knee injury he sustained against Cuba, and his place was taken by Clarence Goodson.

The first half was a textbook example of a grim, midfield struggle. Playing a high defensive line, the Ticos kept things congested in midfield and chances were scarce as a result.

In fact, the better opportunities fell Costa Rica's way, and even those were half chances at best. Rodney Wallace stripped DaMarcus Beasley in the seventh minute to create a counterattack, but his shot was ultimately deflected wide by Goodson. Kenny Cunningham got on the end of a Carlos Johnson cross in the 23rd minute, but his header went straight at Johnson.

The U.S. had plenty of possession, and Jose Torres began to exert a greater influence as the half progressed. One Torres set piece found Goodson in the box, but his header went straight at Wondolowski, whose backheel was easily saved by Pemberton.

The U.S. began to impose its will more after halftime. Bedoya began to find more success on the right wing, and he set the table for Wondolowski with a pinpoint centering feed in the 54th minute, but the U.S. forward skied his shot over the bar.

Costa Rica then caught a huge break just a minute later. A communication mix up between Pemberton and defender Giancarlo Gonzalez saw the two collide as the goalkeeper came out of his box to clear. The ball fell to Wondolowski, whose shot was blocked by Pemberton outside the box in a clear case of handball. It seemed to be a clear sending off, but referee Courtney Campbell issued a yellow card. The let-off proved significant as Pemberton delivered a diving save from Torres' free kick.

The match cooled down thereafter and seemed to be heading for a draw until Shea's, not to mention Johnson's, late heroics.

The result amounted to something of a bounce-back performance for the U.S. defense. The central pairing of Goodson and Michael Orozco-Fiscal was solid throughout and looks to be the preferred pairing going forward, assuming Klinsmann doesn't bring in any reinforcements. In midfield, questions remain, as Stuart Holden and Mix Diskerud were unable to unlock the Costa Rica defense.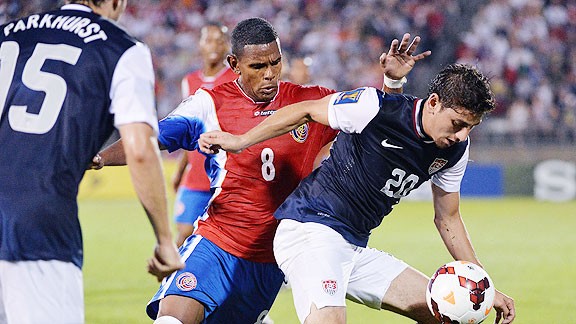 Stan Honda/AFP/Getty Images


That said, the night belonged to Shea, as well as to the motivational powers of Klinsmann. His ability to instill confidence in his players remains impressive. That will no doubt come in handy with the knockout stages approaching.

Player ratings: (0-10)

G Sean Johnson, 7: Without his save from Carlos Johnson, Shea doesn't get to play the role of hero. The U.S. keeper wasn't asked to do much on the night, but was well positioned to handle everything sent his way.

D DaMarcus Beasley, 6: Was stripped by Wallace early to create one counter, but survived that hiccup, as well as an early knee to the head to play some solid defense and was effective going forward.

D Michael Orozco-Fiscal, 7: Solid in all respects. He kept things simple with his passing and was tough in his defending.

D Clarence Goodson, 8: Looked sharp with his one-on-one defending and helped keep the U.S. organized. Resorted to the long ball a tad too often in the early going, but made some good passes as well. Was a threat on set pieces too.

D Michael Parkhurst, 6: An improved performance over the Belize game, as he was more secure in his defending. Delivered some decent crosses as well.

M Jose Torres, 6: Easily the most incisive of the U.S. attackers in the first half, and his goal-bound free kick was well-saved by Pemberton. Went off the boil a bit thereafter.

M Mix Diskerud, 5.5: His defense has improved, as he could be seen tracking back to break up some Costa Rican counters. Kept the U.S. attack ticking over with some decent passes, and threatened with one shot in the second half.

M Stuart Holden, 5: He competed well defensively, but didn't seem confident with his touches in attack, as he usually opted to play it safe. With Kyle Beckerman a near certainty to return to the lineup, the question of who starts alongside him remains.

M Alejandro Bedoya, 5.5: There just wasn't enough end product in the first half, especially on a 29th-minute header that he sent wide. He picked up his game in the second half, and set up Wondolowski for a chance that should have been buried.

F Landon Donovan, 6.5: Simply put, he made the play that mattered, setting up Shea with a perfect pass. He wasn't that impactful in the first half, but looked more aggressive as the game progressed.

F Chris Wondolowski, 4: Made some good runs into the box, but was always closely watched by the Costa Rica defense. Needed to be sharper with his hold up play, and should have scored on a clear chance in the second half.

Subs:

M Brek Shea, 8: Give the Stoke City man credit. He was dreadful against Cuba but came back in superb fashion. No doubt, the goal will give him a massive dose of confidence.

F Herculez Gomez, 6: One little-noticed play in the buildup to Shea's goal was how he bodied off a Costa Rica defender, allowing Corona to gain possession. Little things like that illustrate why he's on the team.

M Joe Corona, 7: Corona came on with just 10 minutes to go, but it was his pass that put Donovan in the clear in the build up to Shea's goal.