US, Costa Rica eager to make statement in Group C finale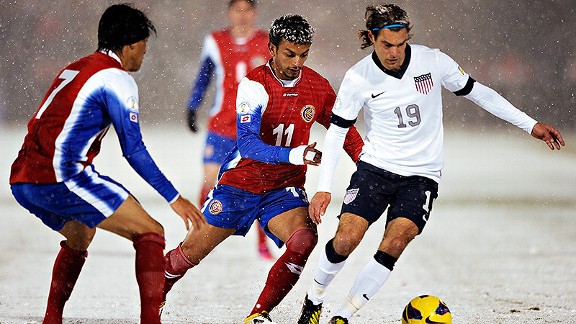 Daniel Petty/Getty ImagesThe USMNT's controversial qualifier win in the snow over Costa Rica in March will serve as a backdrop for Tuesday's Gold Cup Group C finale.


EAST HARTFORD, Conn. -- Ask U.S. coach Jurgen Klinsmann or any of his players how much Tuesday's Gold Cup Group C finale against Costa Rica will matter when the Yanks visit the Ticos for a pivotal World Cup qualifying match on Sept. 6, and they'll tell you the sole focus is on the task at hand.

But given the recent history between these squads -- namely a controversial win by the U.S. during a Colorado snowstorm in a March qualifier that Costa Rica boss Jorge Luis Pinto still contends "should never have been played" -- it's hard not to think the team that emerges victorious from Rentschler Field could have momentum when the hexagonal resumes less than eight weeks from now.

Even Klinsmann seemed to concede as much on the eve of Tuesday's tilt.

"Obviously it's going to be a very different game in a couple months time and a very important one," he said here Monday evening. "But I think every time these two teams meet ... you want to beat them. I think this gives you automatically more confidence when you face them next time."

After beating up on Belize and Cuba in its first two first-round games, the U.S. will face a much stiffer test against a fellow CONCACAF power. The Ticos -- who've accompanied the Yanks to two of the last three World Cups and just missed out on a trip to South Africa 2010 when they narrowly lost a two-leg playoff to eventual semifinalist Uruguay -- have not allowed a goal in their first two Gold Cup games.

They arrived in Connecticut boasting top scorer Alvaro Saborio and five other players who appeared against the U.S. in Denver (only three Americans on the current squad played in that game), and Pinto vowed Monday that his side would look to attack the hosts from the opening whistle.

"We're going to be very, very aggressive going forward," he said.

That could cause problems for a U.S. back line that conceded soft goals to Belize and Cuba. But the way goalkeeper Nick Rimando sees it, facing a team that isn't determined to sit in and defend will be a welcome change, one that could help the American rearguard stay alert.

"I think playing a team that's actually going to come out and play us," Rimando said, "is going to keep us more organized defensively."

Scoring will be decidedly tougher this time out, too.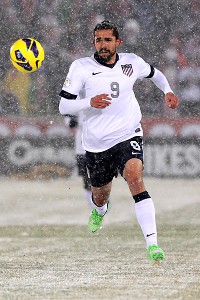 Ron Chenoy/USA TODAY SportsHerculez Gomez is expected to be part of a U.S. attack against Costa Rica that includes Joe Corona, Landon Donovan and Chris Wondolowski.
After exploding for 10 goals in its first two outings, the U.S. will find chances harder to come by Tuesday -- even if the game ends up being as wide open as advertised.

That's why tournament scoring leader Chris Wondolowski will almost certainly start for the U.S. as part of what Klinsmann said will be a full-strength lineup, despite the fact his team has already advanced to Sunday's quarterfinal.

"Costa Rica stays very compact -- their back four is very organized," said Wondolowski, who has five goals so far. "But I believe we have a lot of talent going forward ... when we're able to connect passes and play together as a team, I think we're able to create opportunities, and the more opportunities we get, we tend to finish them."

If Klinsmann is true to his word, bank on Joe Corona, Landon Donovan and Herculez Gomez joining Wondolowski in the attack. Who starts in behind them in central midfield is less certain, though, as Kyle Beckerman, Mix Diskerud, Stuart Holden and Jose Torres continue to vie for the two deeper-lying spots in front of the back four.

"Right now they're in competition," Klinsmann said of the four. "Depending on what the game demands and how we look at it, what the previous games showed, we'll make our choice."

There is, of course, some margin for error. The Yanks need only a tie to clinch the group and avoid an early elimination game against Honduras, another regional heavyweight.

Still, it's clear both teams are desperate to make a statement Tuesday, to leave town with three points that will help them in this competition and perhaps in the future, too.

"Everybody remembers Denver, and it's important to keep that in the back of our minds," Pinto said. "But whether it's today or in September, we know we have to play good football to beat the U.S.

"We're playing to win."