Real test begins now for USMNT at Gold Cup
For this version of the U.S. men's national team, the real games begin now.

After three straight wins -- the last two in Gold Cup group play -- in which the Americans' B-squad outscored its overmatched opponents 16-2, things will get considerably tougher beginning with Tuesday's Group C finale against fellow CONCACAF power Costa Rica on Tuesday in Hartford, Conn.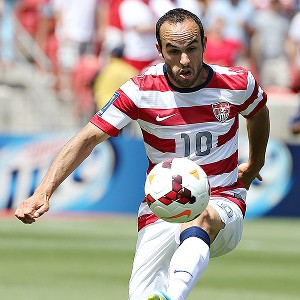 George Frey/Getty ImagesLandon Donovan is showing at the Gold Cup that he's a shoo-in inclusion for the USMNT's final stretch of qualifying.
Any way you look at it, that's a good thing. For as much resistance as Cuba displayed in the Yanks' 4-1, comeback victory in Sandy, Utah, on Saturday afternoon, one of the main objectives of this tournament -- determining which players might be able to help the first team when World Cup qualifying resumes in September -- will become easier once the level of competition increases.

"Costa Rica is the first real benchmark for us, coming now," U.S. coach Jurgen Klinsmann said in his postgame press conference. "We need now games where we're eye-to-eye with the opponents, where we know it's going to go down to the wire and therefore we are really looking forward to that match now in Hartford."

That's not to say Klinsmann and company didn't get any answers Saturday or during the games against Guatemala (in a pre-tourney friendly) and Belize, which the U.S. beat 6-1 in last week's opener.

With six goals in the last three games, including two as a second-half sub versus Cuba, Chris Wondolowski continues to shine for the second string. Landon Donovan keeps doing all the right things, showing that he's a no-brainer to be recalled for the final stretch of qualifying. Even Oguchi Onyewu, the veteran central defender who had been away from the U.S. team for over a year, has taken advantage of rare playing time, rebounding with a dominant second-half performance against Cuba's fleet-footed attackers after being, at least, partly responsible for the visitors' surprise opener.

Then there are youngsters like Joe Corona and Mix Diskerud. Corona scored his first U.S. goal Saturday, a peach of a strike that stood up as the game-winner. Diskerud again showed skill and vision in midfield.

But again, running up the score against regional minnows is one thing. Keeping the goals flowing against Costa Rica and in the knockout stage is another. The U.S. will certainly have to be sharper than it was in the first half against Cuba, but the way it battled back from an unexpected deficit will serve them well in the elimination games, when there's little margin for error.

How Klinsmann approaches Tuesday's game will be interesting to watch. The German has used all but two field players (young striker Jack McInerney and left back Corey Ashe) on his 23-man squad; only Donovan and keeper Nick Rimando have played every minute of every game. Will the squad rotation continue? The Costa Rica game isn't a must-win, after all, as the three points earned Saturday clinched the U.S. a berth in the second stage.

But with first place in the group and an overall seven-game winning streak on the line, a full-strength lineup seems likely.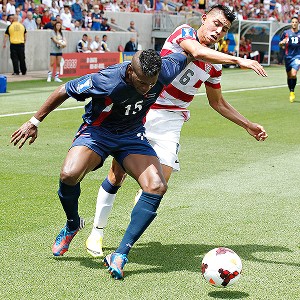 George Frey/Getty ImagesPerformances such as the one against Cuba can go a long way in building the confidence of U.S. youngsters such as Joe Corona (right).
The match could be a crucial one for Onyewu, in particular. Teams can make up to four roster changes after the first round, and with the 31-year-old's club situation unsettled heading into the 2013-14 European season, Klinsmann may allow Gooch to head back overseas early, with a first-team regular like Omar Gonzalez or Matt Besler called in to replace him. (Stoke City's Brek Shea, who was only added to the roster when injury forced Josh Gatt to withdraw, is another leading candidate to be released.)

But it will also be a vital test for the other players on the roster, not least Wondolowski, who, as it stands, is the player who has upped his stock the most during the competition so far.

"I'm really feeling confident in my ability and my play," the San Jose forward told reporters. "Getting the goals is so huge, but I'm feeling even more confident in my passing and my touch and it's really helping me in raising my level ... I want to try to keep it going."

No doubt Klinsmann wants that, too. But while the coach heaped praise on Wondolowski, it's worth noting that he didn't start him on the heels of the first-half hat trick he scored against Belize. Clearly, there's still more to prove.

"He's hungry, and he's working a lot," the coach said. "It's not only he has the instinct of where the ball will be in the box, it's also the runs he makes in the box open things up and open some channels for the other guys."

With first-team spots up for grabs, the question now, for Wondolowski as well as his teammates, is if they can keep doing good things once the real competition gets underway.

NOTES:

-- Klinsmann wasn't sure what to make of the Americans' sluggish start against Cuba, but he was happy with how they responded in the second half. "Coming out of the locker room they were ready, they had good energy," the coach said. "It happens sometimes that that energy is not there when you finally start the game, but then you have work yourself into the game. And I think that's what they eventually did."

-- It was no surprise that lightweight foes like Belize and Cuba (and Guatemala before them) took a decidedly defensive approach against the Yanks, but at least one American player is expecting a more wide-open game against the Ticos. "Teams have been bunkering in against us, but I think that's going to be different come [Tuesday] against Costa Rica," Rimando said.

-- Corona made his third straight start Saturday, going the distance for the first time with the U.S. Entering the tournament, the Club Tijuana midfielder, 23, had played just 29 minutes in four appearances with the senior team. "Joe has a lot of potential and slowly more and more he's showing that," Klinsmann said. "He learned a lot over the last year. He starts to implement more and more of what he learned, and gets also more confidence. A goal like this today shows you confidence. We are very pleased with his development."