Cosmos' Senna enjoys first taste of U.S.
Whenever a high-profile foreign player signs with a U.S.-based club, inevitably you hear stories of how the performer in question has some kind of affinity for his new country. Perhaps he vacationed here, or paid the U.S. a visit for an exhibition or international friendly earlier in his career.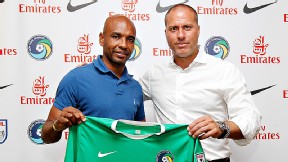 Mike Stobe/Getty Images Marcos Senna and New York Cosmos coach Giovanni Savarese began discussing the player's move to the States last year.
That isn't the case for former Spanish international Marcos Senna. In fact, prior to joining up with his new club, the New York Cosmos, for training this week, the Brazilian-born midfielder said he had never set foot in the United States.

"It's exactly what I imagined," he said through an interpreter shortly after his first practice with the fledgling North American Soccer League club. "The organization, the reception I have received has been marvelous. My impression of training was very good . . .I was able to enjoy the training today, and I'm sure I'm going to keep enjoying it."

It amounts to a moderate leap of faith for a player who helped Spain win the Euro 2008 title. Senna turns 37 next week, and at this point in his career, it's not as if his career will be ruined if things don't work out.

But it's never easy to uproot oneself and head to a new country, especially when you're a player like Senna, who spent over a decade at Spanish side Villarreal and no doubt could have landed with another European club.

He's also joining a reconstituted version of the Cosmos, who 28 years after playing their last competitive match in the Major Indoor Soccer League, will begin play in the second-tier NASL on Aug. 3.

So why walk away from a club where he was widely regarded as a legend so he can play in what amounts to the U.S. second division?

"I believe that a cycle had ended at Villarreal, and the Cosmos had believed in me, so I decided to be a part of this new project," he said by telephone.

It speaks to the ambition of the Cosmos as well as to the persuasive powers of coach Giovanni Savarese that Senna decided to head stateside. Savarese said that the club first made contact with Senna at the end of last year, when he delivered his sales pitch to the player.

"Senna was very interested in coming to the U.S., the name of the Cosmos represented a lot for him," Savarese said in a telephone interview. "He was very aware of the history of the club and he wanted to be a part of it, and that's why he made the decision to come here. He wanted to be part of this project, it got him excited."

Savarese also had the help of New Jersey-born Italy international Giuseppe Rossi, who played with Senna at Villarreal.

"Rossi was able to explain even more what we are, who we are, and what we were trying to do," he said. "The help came from different areas, and in the end, Senna was convinced to come here, and he's very happy with his decision."

So are Savarese and the rest of the Cosmos' front office, who now have a holding midfielder with UEFA Champions League experience on their roster. Senna does have a history of knee trouble, and given the Cosmos will play on the artificial surface at Hofstra University, there is concern over how he'll hold up physically.

But Senna did log 36 games last year in leading Villarreal to promotion out of the Spanish Segunda Division and back into La Liga, and stated that he was "in perfect condition."

Savarese insisted he has no concerns. Instead, he's focusing on translating Senna's experience to his squad. Senna, for his part, is eager to take on the role of teacher.

"The most basic thing I have is football, and the experience of having played in competitions at the highest level," he said. "I hope to share the best things that I've lived so far for the younger players to have a wonderful evolution and win championships."