What Altidore can expect at Sunderland


Reminiscing on the opening throes of Jozy Altidore's AZ Alkmaar career, coach Gertjan Verbeek had a blunt assessment of the U.S. national team striker: "When he arrived, Jozy had no idea what he was doing," he told De Telegraaf. "He had never spoken with a coach or thought about how to improve his game in such a way to make use of his specific qualities. He didn't understand tactics at all."

-- Altidore switches to Sunderland

That was two years ago, when Altidore was attempting to reignite his career after a difficult three seasons at Villarreal. A different player in 2013, he is now sharp, physical and a genuine goal threat -- 38 goals in 67 games. His return to the Premier League is just reward for years of hard work with Verbeek.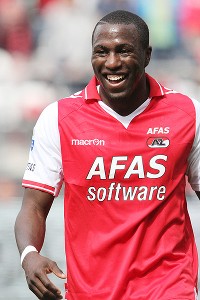 Anoek de Groot/EuroFootball/Getty ImagesJozy Altidore's hard-working approach and understanding of how wingers operate will ease his transition to Sunderland.
His last act in English football's top tier, then with Hull City, was to head-butt a Sunderland player. Now he joins the Black Cats knowing that it's a second chance to establish himself in one of Europe's top leagues. Arriving on Wearside, he will do so having not just developed his technical strength but also his mental strength over the years since his last try.

Dropped into an alien system at Alkmaar, Altidore has candidly admitted that he had little idea how to operate in a side that used two wingers and a creative midfielder. "If you don't know when to move with those wingers next to you, things are always going to be difficult," Altidore explained to Ad.nl last September. "I had only ever played with wingers once before, at youth level in the U.S. Another Dutchman, Thomas Rongen, was my coach back then."

Now, he will once again be asked to adapt with his move to Sunderland. Noted for his hard-working approach in Holland, such an ethos is a fundamental expectation from Paolo Di Canio. Holding no hesitation in lamenting the work -- shy in public, his 24-minute rant after the game against Tottenham Hotspur gave the clearest indication of how he intends to lead.

Despite being fairly young at 45 years old, Di Canio's tactical mantra does not follow that of his contemporaries. Despising what he calls 'tippy tappy' football, he explained his philosophy best during his time at Swindon Town: "I want to play football but my football is not one, two, three, four, five -- moving the ball in a 10-yard space. My football is one, two, three and then boom -- change and go through," he told the Swindon Advertiser.

It will mean a compromise from the aesthetically pleasing style AZ used and that Altidore has so oft commended. Although Sunderland do not just "hoof it long" as many of their detractors may think, they have also not played with any degree of intricacy under Di Canio. During the 45-year-old's brief spell in charge last season, they did not once enjoy the majority of possession. On average they recorded fewer than 300 passes per game and just 38 percent of the ball.

Yet it garnered results -- enough to stick in the Prem -- and will likely do so for Altidore. While fans may be disappointed to see him join a club that finished 17th last season, it is a testament to Di Canio's ability that he was able to rally a squad that had looked so devoid of cohesion or effort in the weeks and months prior to his arrival.

For those concerned over Altidore's future, it should be noted that those players who have bought into his ideals, such as winger Adam Johnson, have shown a sharp improvement as Di Canio looked to amplify their key skills. Having credited Verbeek for instilling discipline in him at AZ, Di Canio's approach should focus Altidore even more.

Di Canio's promises have been bold -- to play attacking football, and produce a Sunderland side the fans would be proud of -- but underlined by a conviction that was missing in previous manager Martin O'Neill, who left Di Canio an intimidating proposition when he was hired in late March. The mood around the club has swung significantly, as the winds of revolution grip the club with new signing Cabral revealing he spurned interest from Tottenham Hotspur and Arsenal after talking to Di Canio.

Removing a number of the fringe players -- including Titus Bramble, Matt Kilgallon and Phil Bardsley, with the latter confirming his imminent departure on Monday -- his acquisitions seem shrewd by comparison. The aforementioned Cabral, Modibo Diakite and Valentin Roberge arrived on free transfers with David Moberg Karlsson and Arsenal's Vito Mannone also fitting the new blueprint of players with potential for an ascending trajectory unlike those who have departed.

Backed by director of football Roberto De Fanti and chief scout Valentino Angeloni, the latter of whom has a strong pedigree following jobs with Internazionale and Udinese, the summer's changes at Sunderland so far have reshaped the nucleus of the club, appearing to give them the organization and strategy that had been absent for some time.

Though much remains to be seen, Altidore has little to lose. Along with his teammates and Di Canio, the striker could easily cultivate the air of a young, vibrant squad, underlined by the desire to grow and aspire to reach the top, just like Angeloni's former employer. That in turn could see him earn a move to a bigger club.

In the meantime, he will be asked to once again learn a new formation. Di Canio was forced to operate in a 4-4-1-1 for most of his eight-game spell last season despite holding a preference to the traditional 4-4-2. Thus, Altidore will likely begin the season alongside Steven Fletcher in attack. Getting accustomed to yet another new system will help him be a more versatile option at the international level. A season competing against some of the best defenders in Europe could also prove to be the perfect precursor to next summer's World Cup in Brazil.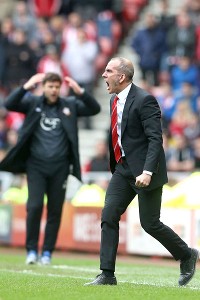 Scott Heavey/Getty ImagesUnder Sunderland manager Paolo Di Canio, Jozy Altidore will have to adjust the playing style he enjoyed at AZ Alkmaar.
Altidore's time spent in AZ understanding how wingers operate will also aid his transition. Creativity through central areas is usually limited in Di Canio's teams, with a more physical and athletic approach preferred. Instead the team's artists are stationed out wide, usually in the form of inverted wingers.

Although Altidore is a strong advocate of AZ's way of playing -- he once admitted that "actually, I think this is the best way to play" -- he will now need to adapt. While he may not enjoy the same style on Wearside, that same close bond with his manager is achievable on the provision he works hard. Expected to run the channels and play as a target man, the latter is a skill he has developed well in Holland.

Furthermore, Altidore will need to be strong on a defensive end for Sunderland, another potential benefit for the USMNT. Di Canio believes that defensive stability comes from organization, not from flooding the midfield with three or five players. Watching his early preseason training sessions, he spends considerable time working on the team's shape and how they react to the position of the ball on the field. Again, Di Canio's methods could in turn see Altidore's tactical understanding further expand.

As with many strikers, Altidore's time in Sunderland will be defined by the quality of service he receives. Given that his Achilles' heel is a lack of creativity, that burden will fall nicely into the lap of Steven Fletcher and those around him such as Stephane Sessegnon and Adam Johnson. However, given the right support up front, he will undoubtedly flourish in a side that already looks far removed from the strugglers of last season.