Jeff Carlisle's MLS Midseason Awards
Halfway through the 2013 regular season, it's clear that MLS has lived up to its reputation for unpredictability. The team with the most points per game, the Montreal Impact, not only didn't make the playoffs last year but has bucked a considerable stereotype by having success with a foreign, first-year manager in Marco Schallibaum.

Need more proof of the chaos? Last year's Supporters Shield winners, the San Jose Earthquakes, appear to be a dead team walking -- currently occupying eighth place in the Western Conference -- while Portland has catapulted itself up near the top of the conference standings. The surprises extend to some of the individual performances as well and while plenty can change between now and the end of the regular season, here are the worthy recipients of ESPNFC's midseason honors.

MVP: Mike Magee, Chicago Fire
No doubt some will question how a player who was traded could be an MVP, but it worked for Dwayne De Rosario back in 2011. So why not for Magee, who is proving to be much more than just the player who was dealt in exchange for Robbie Rogers? Besides, one need only look at Chicago's record before and after acquiring Magee from the L.A. Galaxy to see just what he's meant to the Fire.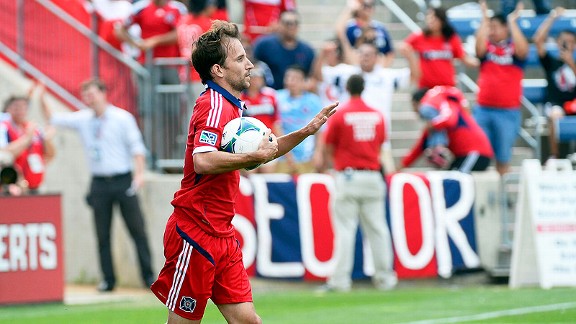 Mike DiNovo/USA TODAY SportsThe underrated Mike Magee has been an undisputed revelation in Chicago.

When Magee arrived May 24, Chicago was languishing with a 2-7-1 record. Since then, the Fire has gone 4-1-2 in the league and reached the semifinals of the U.S. Open Cup, with Magee netting eight goals in all competitions. Granted, the arrival of defender Bakary Soumare also has played a significant role in Chicago's revival but Magee has been a massive presence, and his 11 league goals overall are tied for the league lead. Not bad for a player whose previous career high was seven back in 2003, his rookie MLS season.

Biggest Disappointment: San Jose Earthquakes
There is some precedent for Supporters Shield winners failing to reach the postseason the following year, with four teams achieving that dubious honor. The Quakes are now poised to be the fifth, having recorded just 21 points from 20 games. How does one explain the drop-off? Injuries, suspensions, the departure of midfielder Simon Dawkins and the inability to duplicate career seasons by a handful of players have all contributed to San Jose tumbling over the cliff.

More troubling is that there appears to be no way back. Last year's Coach of the Year, Frank Yallop, departed last month and the team's defense, despite the pending addition of Clarence Goodson, isn't nearly good enough to bring the Quakes back. All told, it has been a tough follow-up to last year's magical run.

Coach of the Year: Caleb Porter, Portland Timbers
At the time Porter's hiring was criticized in this space, but he has proved himself to be more than equal to the task of turning around the Timbers. Along with general manager Gavin Wilkinson, Porter has assembled a side that plays some of the most attractive soccer in the league, even fashioning a 15-game unbeaten streak that just ended this past Sunday against Columbus. It hasn't all been smooth sailing for Porter either, as his back line has sustained an ungodly number of injuries. Simply put, honor is due.

Goalkeeper of the Year: Nick Rimando, Real Salt Lake
Rimando finds himself among the leaders in every statistical category and tops the league in save percentage, wins and goals-allowed average. But the veteran netminder's contribution transcends mere numbers. RSL's rebuilding project saw the departure of former Defender of the Year Jamison Olave while injuries to Kwame Watson-Siriboe and Chris Schuler have also prevented RSL from fielding anything remotely resembling a consistent backline. All of which points to Rimando's experience and organization in keeping RSL among the league's defensive leaders.

Trade of the Year (non-Mike Magee Division): Portland acquires Will Johnson from Real Salt Lake
The acquisition of Johnson was by no means the only bit of smart business done in Portland. The arrivals of Diego Valeri and Ryan Johnson have also helped turn things around. But Will's grit and tenacity in midfield have transformed Portland into a team that isn't just fun to watch, but tough to play against as well. Johnson has also made a massive contribution to the Timbers attack, having tallied a career-high six goals already along with three assists. The trade wasn't all one-way traffic -- the allocation money RSL received helped Jason Kreis' side retool -- but without question, it was money well spent for the Timbers.

Defender of the Year: Jose Goncalves, New England Revolution
New England has gone from being a middle-of-the-road team defensively to the league's stingiest outfit this year, and much of that improvement is down to the addition of Goncalves. The Portuguese center back isn't the flashiest of defenders but has proved to be an immense presence both in the air and on the ground, all while providing a heavy dose of composure to a young side. Another impressive statistic: Goncalves has incurred zero yellow cards all season.

Game of the Year: Los Angeles Galaxy 2, San Jose Earthquakes 3
The Goonie magic hasn't been as abundant this year in San Jose, but the June 29 match at Stanford Stadium showed that it hadn't disappeared entirely. The Galaxy appeared set for a valuable 2-1 road win when San Jose defender Victor Bernardez was sent off for a second yellow card midway through the second half. L.A. then proceeded to squander a bucketful of chances to seal the match, only for a combination of poor decision-making and stellar goalkeeping from the Quakes' Jon Busch to keep the home side in it. It proved momentous as stoppage-time goals from Shea Salinas and Alan Gordon gave San Jose a memorable victory amid a season of disappointment.

Newcomer of the Year: Claudio Bieler, Sporting Kansas City
The Argentine striker is the kind of player opponents love to hate, whether it's because of his gamesmanship or his harassment of opposition defenders. But Bieler has provided the kind of consistent scoring threat that manager Peter Vermes envisioned when he acquired the forward from Ecuador's LDU Quito. Bieler has tallied eight times with six of those coming from the run of play, good enough for fifth in the entire league.

Rich Lam/Getty ImagesIt's not every day that a top draft pick hits the ground running in MLS, but Andrew Farrell has been everything New England hoped he would be.
Rookie of the Year: Andrew Farrell, New England Revolution
Rare is the MLS SuperDraft when the No. 1 overall pick lives up to the hype, but Farrell has done just that in New England, locking down the right side of the Revs' defense. There were moments earlier in the season when his inexperience was exposed, but the Louisville product has been a quick study, and his tackling, athleticism and willingness to try to play out of the back has overall been a boost to Jay Heaps' side.

Out of Nowhere Player of the Year: Nathan Sturgis, Colorado Rapids
Ever since he was drafted by the L.A. Galaxy back in 2006, Sturgis has been the league's designated gypsy. Given his craftiness on the ball as well as his versatility, his journeyman career has been something of a mystery. Now in his eighth MLS season, Colorado marks the sixth team for which Sturgis has played.

In 2010, Sturgis appeared to have found a home in Seattle, making 20 appearances only to be traded to Toronto the following year. But now he seems to have made his mark in Colorado, lining up beside Hendry Thomas in the center of the Rapids midfield, and he has managed to score four goals -- he'd only scored one goal in his entire MLS career prior to this season.

It's a tribute to Sturgis' stick-to-itiveness, as well as Colorado manager Oscar Pareja for getting the most out of the midfielder.