Dutch league prepared Altidore for takeoff
Since scoring four times in four games with the U.S. national team, Jozy Altidore has been repeatedly asked what has clicked for him in the past month. It's a fair question given he went nearly two years without scoring from the run of play for the U.S. men's national team.

But if you really want to find a turning point for Altidore, it requires going back in time a bit further than just one month -- almost two years in fact -- when Altidore signed with Dutch club AZ Alkmaar.

Before that move, Altidore was looking like the latest American soccer gypsy, playing for four different teams in three seasons, mostly while out on loan from Spanish club Villarreal.

Now, after scoring 50 goals over two seasons, it's clear that Altidore's game has evolved and become more sophisticated. Granted, it helps playing in a league that places a heavy emphasis on attacking soccer, but it's also clear that Altidore has maximized the opportunities that have presented themselves in the Netherlands.

"I don't want to be a one-dimensional player," he said via telephone prior to a whirlwind visit at ESPN's Bristol, Conn., headquarters. "In that regard, I've gotten a lot better, and that's a testament to the training and the work I've done at AZ in the last two years."

-Altidore podcasts: With Colin Cowherd
With Scott Van Pelt

It's also gotten him noticed again throughout Europe. Sunderland, Lazio, and Schalke have all been linked to Altidore, although the latter club appears to have shifted its focus elsewhere after signing Mainz striker Adam Szalai. That has led to a host of questions about Altidore's future.

Would Altidore benefit from another season in the Eredivisie?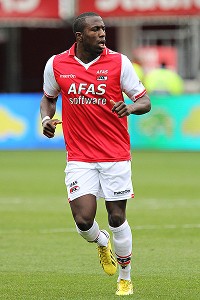 Anoek de Groot/Getty ImagesJozy Altidore scored the winning goal in AZ's Dutch Cup final victory in May.
On the surface, the answer would appear to be no in that there's not much else for Altidore to prove with AZ. He has scored goals by the bucketful and led AZ to just their second piece of major silverware in the past 30 seasons (the Dutch Cup in May).

But staying in Alkmaar wouldn't be devoid of benefits. Altidore is practically guaranteed to get playing time every week, an important consideration with the World Cup less than a year away. He would also continue to profit from working under AZ manager and noted taskmaster Gertjan Verbeek. And Altidore is the first to admit AZ has provided the kind of environment in which he has excelled.

"I have no problem [staying] at AZ," he said. "I'm comfortable there; I have a great life there. I have no problem staying at the club if that's what it comes down to."

How ready is Altidore for a big-money move?

In a word, plenty. As important as AZ has been to Altidore's development, it's by no means the only club with which he could develop further. Altidore is also at a point at which his game has grown sufficiently that he's much more capable of making an impact in a major European league than when he joined Villarreal as an 18-year-old.

"I think I'm more complete," Altidore said. "When I say that, I don't think I'm the finished article. When I say that, my passes, my holding the ball up, being a better finisher, taking free kicks, taking penalty kicks, I've added more to my game, trying to become more all-around."

Altidore is also a much more confident player, one able to ride out the inevitable rough patches that blight a striker's career, be it for club or country. The aforementioned dry spell for the U.S. is a case in point.

"I knew if I got the opportunities, I was going to score," he said. "I never thought twice. I never doubted myself. It wasn't an arrogant thing or anything like that. I just thought if I got the opportunities, I just could [score]; it's as simple as that."

The opportunity to cash in on a big-money transfer doesn't come around that often either, and if the right offer came around, Altidore would find it tough to say no. It would also fit in with the mantra of U.S. manager Jürgen Klinsmann, who is continually challenging his players to test themselves at the highest level possible.

What is the blueprint for Altidore's next club?

Altidore has often said that part of the reason for his success at AZ was the emphasis the club puts on developing players and teaching the game. Contrast that with when he signed with Villarreal, with whom he was expected to contribute right away or risk sliding down the depth chart on a team that was contending for a place in the Champions League every year. To hear Altidore tell it, his preference for a club that values development hasn't changed much of late.

"It's just about finding a place where they try to play," he said. "I think that's important. Obviously, finding a place that still likes to develop talent. I'm not 27 or something like that. I still have that time period where I need to be playing consistently. I think that's the biggest thing for me in terms of if I leave AZ Alkmaar."

That explains Altidore's continued admiration for the Bundesliga.

"The Bundesliga and Holland are similar in a lot of ways," he said. "The way they train and the way they bring up talent. You saw in the Champions League how good [the teams] are and how much good young talent there is in that country. I think that says a lot about the way they develop players, and the soccer culture as a whole. It's definitely a great place."

Is a return to the Premier League a possibility?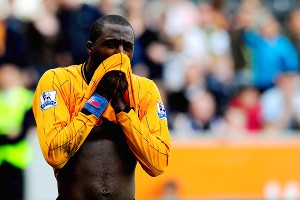 Jamie McDonald/Getty ImagesA return to the Premier League would give Altidore a chance to redeem himself after a disappointing 2009-10 season at Hull City.
It's tempting to look at Altidore's loan spell at Hull City during the 2009-10 campaign as a total failure. Altidore scored just once in 28 appearances for the Tigers, who were ultimately relegated.

Combine that experience with the regard he has for the Bundesliga, and it seems like there is little chance of Altidore making a return to the Premier League. But he insists that his time with Hull served him well, and with Sunderland among the reported suitors, a return to England is certainly possible.

"I'm light years different than I was then in terms of being prepared," he said of his time in the EPL. "When I first went to Hull, I hadn't played anywhere [in Europe], so my understanding at Hull was just to get the experience, and that's what I did: learn the game. I learned a lot about myself, how to be a better professional.

"So it was a great experience for me, and playing in the best league in the world didn't hurt. I really enjoyed myself, and it gave me a good look at what it takes to be at the top."

Given his form of late, he's definitely much closer to getting there.