Goodson signs with San Jose -- his only MLS option
The San Jose Earthquakes announced the signing of U.S. national team defender Clarence Goodson on Friday, bringing back to MLS a player who has plied his trade in Europe for each of the last six seasons. Grabbing Goodson is a coup for the Quakes, who played a long game with the player's rights after securing them through the 2007 MLS expansion draft.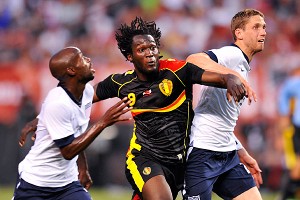 David Richard/USA TODAY SportsClarence Goodson, right, defends Belgium's Romelu Lukaku along with teammate DaMarcus Beasley, left, during a friendly in May.
Back then, the "new" Earthquakes were just getting started after filling the void left by the "old" Earthquakes, who became the Houston Dynamo. At the time, Goodson was selected despite his departure to Europe, the thinking being that one day he'd be back in the league where he got his start.

Goodson should step in immediately for the Earthquakes once he's relieved of his Gold Cup duties. A centerback pairing of Honduran Victor Bernardez and Goodson would be one of the most formidable -- if not mobile -- in the league. Whatever frailties Goodson has at the international level (mainly a lack of speed and occasional lapses in concentration), he's certainly good enough to do the job at the MLS level. With San Jose going through a coaching transition and struggling to recapture last year's Supporters Shield-winning form, Goodson is a welcome reinforcement -- even if San Jose has to wait a bit to add him to the lineup.

The end of Goodson's European stint comes somewhat suddenly. The 31-year old left FC Dallas for IK Start in Norway in 2007, then spent three mostly solid years at Brondby in Denmark. Along the way he managed to carve out a fairly solid international career, serving as centerback depth through two different generations of American defenders. Goodson figures to be a key player along the USMNT backline as they challenge for the Gold Cup. Jurgen Klinsmann opted for only two true centerbacks, Goodson and Oguchi Onyewu, for the group stage of the tournament.

Goodson's return has also opened the usual questions about the player acquisition process in MLS -- he was not free to negotiate with anyone but the Quakes, despite never playing for them and leaving the league six years ago. That is an issue that will crop up each time an American playing abroad entertains joining MLS. As long as other players avoid a return specifically because their rights are controlled by teams they aren't interested in playing for (see Gomez, Herculez) or subject to the whims of the allocation order, Major League Soccer will have difficulty bringing back American players before becoming a last resort.

Although this is a good signing for San Jose and MLS, the fact that Goodson waited until age 31 to return to the league shows just how many of many American players' primes MLS is missing out on.

Of course, if MLS salaries rise and American players are valued, the league can avoid the issue altogether by holding onto players such as Goodson in the first place. The announcement of a contract extension for Graham Zusi with Sporting Kansas City, which does not preclude a move abroad but ensures Sporting and the league will benefit from a transfer, is a step in the right direction.

The only remaining question surrounding Goodson at this point -- besides how good he'll be for the Earthquakes -- is whether or not he'll reprise his role as "Clay" for a San Jose episode of HGTV's "House Hunters." Back in 2011, when he made the move from Norway to Denmark, Goodson and his wife featured on an episode of the international version of the show.

Why "Clay"? It's a mystery. Welcome back to MLS, Clay.