U.S. U-20s suffer nightmarish exit to nemesis Ghana
Once again, Ghana has proved to be the nemesis of the U.S. men's national team.

The Black Stars eliminated the U.S. from the past two World Cups, and now Ghana's U-20 team has done the same at the FIFA U-20 World Cup, dumping the Americans out of the tournament with a 4-1 hammering.

Frank "Messi" Acheampong and Ebenezer Assifuah put Ghana ahead with goals either side of halftime. U.S. center back Shane O'Neill, one of the few bright spots for the U.S. on the day, pulled the Americans within one with a 69th-minute header. But Assifuah and substitute Kennedy Ashia put the game away with goals thereafter, and the U.S. was left to exit the tournament, finishing in last place in what was an insanely difficult Group A.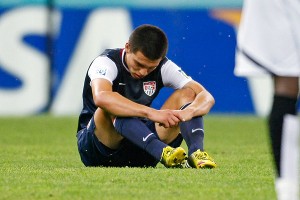 AYKUT AKICI/AFP/Getty ImagesShane O'Neill was a bright spot on a U.S. U-20 team filled with vulnerabilities.
Ghana will now await the results of matches in four other groups over the next two days to see if their three points will be enough to progress to the knockout stages as one of the four best third-place teams.

The match in many respects saw the U.S. team's worst nightmare come true. Needing to win to have any hope of reaching the knockout stages, the Americans struggled from the outset to cope with the physicality and skill of Ghana in all areas of the field. And while the U.S. did create chances, the vulnerabilities of its defense, a major concern entering the tournament, were badly exposed.

Needing to win by a large margin, Ghana threw numbers forward from the beginning and had two good chances in the first seven minutes only to be denied by a combination of desperate U.S. defending and poor finishing.

The U.S. then began to exploit the spaces that Ghana was leaving in the back, and Mario Rodriguez had two good chances to put the Americans ahead. But his 13th-minute header went wide, and 14 minutes later, he could only shoot tamely at Ghana goalkeeper Eric Antwi after a surging run up the left wing.

Ghana soon reasserted itself. A deflected shot in the 33rd minute landed at the feet of Lawrence Larty, but a prone Cody Cropper recovered to pull off a spectacular save, and Mikey Lopez was on hand to clear the rebound. Assifuah and Acheampong then both volleyed wide from the same sequence a minute later.

The breakthrough eventually came in the 38th minute. Moses Odjer's long shot was deflected toward the top of the box, and when Wil Trapp failed to clear the ball fell to Acheampong, who slotted his shot past Cropper. Replays showed that Acheampong was in an offside position, but it also appeared as though Trapp had touched the ball to the Ghana attacker, making the goal perfectly legitimate.

Now needing multiple goals, and with midfielder Benji Joya suspended, U.S. manager Tab Ramos turned to Danny Garcia in place of Lopez in a holding midfield role. It seemed an odd choice given the player's skill in the attacking third, and the U.S. was punished as a result in the 58th minute. Garcia coughed up possession to Clifford Aboagye, and the ensuing attack ended with Assifuah dancing around Caleb Stanko to curl a well-placed shot around Cropper for a 2-0 lead.

O'Neill pulled a goal back for the U.S. in the 69th minute, heading home Oscar Sorto's cross. But Ghana put the result beyond doubt with a pair of goals in a five-minute span. Assifuah nodded home Acheampong's corner in the 78th minute, and Ashia added Ghana's fourth when he fired home through Cropper's legs.

So what then can one make of the U.S. performance in this U-20 World Cup? The difficulty of the group can't be argued, and the Americans did have their moments where they took the game to their opponents. But there was no overcoming the lack of depth and experience at center back. This area was exposed repeatedly, leaving Ramos open to criticism that he should have gambled on oft-injured Dallas center back Walker Zimmerman.

One also wonders if the squad wouldn't have benefited from players who could provide more of a physical presence. Jose Villarreal, while a fine player, seemed miscast as the forward designed to help the U.S. break out of pressure against Ghana, and Alonso Hernandez didn't fare much better in the two previous matches against Spain and France. The same was true in the center of midfield, where Trapp, Joya and Lopez often found the going difficult against bigger opponents like Ghana.

Granted, for years the criticism of U.S. teams is that they relied too heavily on physical attributes, but the makeup of this squad hints that the pendulum swung back too far in the direction of skill.

So who will suit up for the full national team someday? Historically, this tournament has been a poor predictor of who will step up and who will fall off, but right back DeAndre Yedlin is a good prospect, as is Gil. Daniel Cuevas and O'Neill also acquitted themselves well.

That said, the gap in quality between the Americans and their group opponents is another reminder that in terms of producing top-level players, the U.S. still has a long way to go.

Player ratings: (0-10; 10 = highest)

G Cody Cropper, 6 –- Kept the U.S. in the match with otherworldly saves, including a first-half effort from Larty. He'll want the fourth goal back as Ashia's shot went through his legs, but the match was essentially over by then. Still, a solid tournament overall for the young keeper.

D Juan Pablo Ocegueda, 4.5 –- Didn't look sharp at all defensively and was caught ball watching too often. That said, he was also on hand for key clearances and picked up his game as the match went on.

D Caleb Stanko, 3 –- A tough tournament for the Freiburg midfielder. Caught ball watching a bit on Acheampong's opener, and couldn't close down Assifuah on the second. Then he was simply overpowered on the third.

D Shane O'Neill, 6.5 –- Did what he could to keep things together in the back, and took his goal well with a fine header. He was definitely a player who enhanced his reputation with his performances in this tournament.

D DeAndre Yedlin, 5 -– Looked great when he got into the attacking third, but his defensive positioning was suspect at times. Still, he looks to have a bright future.

M Wil Trapp, 4 –- Looked composed on the ball, but his failure to clear on Acheampong's goal was symptomatic of his day, in that he lost too many physical battles while in possession.

M Mikey Lopez, 5.5 –- Was on hand for a vital clearance in the first half, and recovered well defensively in transition. Was pulled at halftime in a tactical switch.

M Mario Rodriguez, 4 –- He provided stellar approach work, but the end product was poor, be it attempts on goal or on crosses. He'll have nightmares about his weak shot on a 27th-minute chance.

M Luis Gil, 5.5 –- Still didn't reach the heights of the Spain game, as he wasn't always clean on the ball. But he did create good opportunities with telling passes.

M Oscar Sorto, 5.5 – Was tidy enough in possession in the first half, but looked vulnerable -- and perhaps ailing with an injury -- when moved to right back in the second half. That said, no doubting the quality of the cross he served up to O'Neill.

F Jose Villarreal, 4 –- Unleashed a cannon shot in the first half that was well saved, but his overall link play was subpar. He needed someone with more of a physical presence beside him.

Subs:

M Danny Garcia, 3.5 –- Was played out of position and it showed, as he was too careless with the ball. His giveaway led to Ghana's second goal.

M Daniel Cuevas, 6 –- Once again, created a spark off the bench with dynamic runs. One can only assume he wasn't 90 minutes fit, because otherwise he should have been on from the start.

M Alex Pineda, 5 –- Had a few decent touches, but overall had little impact.