U.S. Gold Cup squad reveals Donovan's return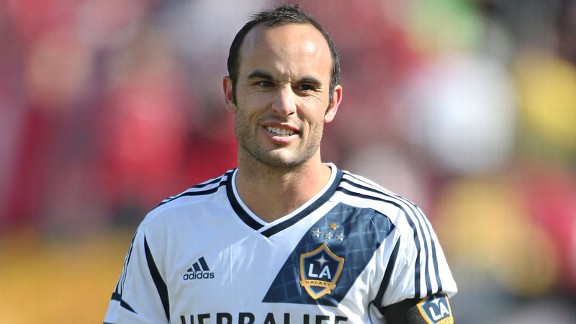 Claus Andersen/Getty ImagesPicked for the Gold Cup squad, Landon Donovan is taking a big step back toward the U.S. national team.
As expected, U.S. coach Jurgen Klinsmann unveiled a mostly second-string roster on Thursday for the upcoming CONCACAF Gold Cup, and while there weren't a ton of surprises on the 23-man list -- at least not after word leaked that all-time scoring leader Landon Donovan would indeed be on the squad -- there's still plenty to talk about.

"The players that are representing us in this Gold Cup, they clearly know that this a huge opportunity to prove their value and their case to the coaching staff one year prior to the World Cup," Klinsmann told U.S. Soccer's website.

Here are five thoughts about the players who was named and what it will mean for Klinsmann's team during the tournament -- which begins for the Americans in Portland, Ore., on July 9 against regional minnow Belize -- and beyond.

Donovan's big chance
The three time World Cup vet has been good -- not great -- for the L.A. Galaxy since returning from his self-imposed three-month-long sabbatical in March. That led some to wonder whether Donovan would make Klinsmann's final cut, but in the end, he was there as expected.

"We have all respect for what he has done in the past, but sports are about the present and about the future," Klinsmann told USSoccer.com. "We are really happy to have him back in the group, and he has the opportunity now to show where he's at."

Donovan's performances on the field for the U.S. will be hugely important to his chances of returning to a prominent role with the first team, but how successful he is in repairing his relationship with the coach will be just as important -- and perhaps even more fascinating to watch. It's clear that Donovan has to prove his commitment as much as his ability and without getting the star treatment he's been accustomed to in the past. Klinsmann's man-management skills will also be put to the test, but the bottom line is that the German knows that an inspired, in-form Donovan can help his team in Brazil. That means he'll give him every opportunity to re-establish himself at the international level over the next month.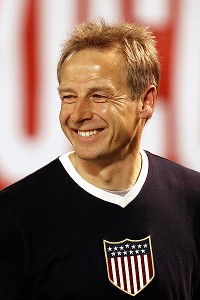 Matt Sullivan/Getty ImagesJurgen Klinsmann showed no sentimentality in omitting the beloved Carlos Bocanegra, a sign that he's clearly focused on a long-term plan.
Gooch is back ...
Klinsmann raised more than a few eyebrows when he included central defender Oguchi Onyewu on his preliminary 35-man list, especially after the veteran had been out of the picture for a full year. Onyewu has struggled with injuries and fitness issues since late 2009, and he made only nine appearances with Spanish club Malaga last season. Yet three of those came in the Champions League, and while the 31-year-old has to prove he still can compete on a regular basis at the international level, his experience should help the second string.

If he plays -- first-teamers Matt Besler and Omar Gonzalez are staying with their MLS clubs for at least the group stage, leaving Onyewu, Michael Orozco Fiscal and Clarence Goodson to vie for two spots in the heart of the U.S. back line -- it will also help send him into the European season with some valuable game action under his belt.

... But there's no spot for Boca
Carlos Bocanegra's days as an international player appear to be over. The longtime U.S. captain was named to the preliminary list, and it was thought then that the 34-year-old would get one final opportunity during the Gold Cup to earn a seat on the plane to Brazil next summer.

Yet his omission instead signals a true changing of the guard for the national team. Bocanegra is revered by teammates young and old, but given his age and unsettled club situation, the harsh reality is that Klinsmann's bold decision here is probably the right one. There's no time for sentiment, and with plenty of experience already on the roster, the message is clear that now is the time for up-and-comers like Joe Corona and Jack McInerney to begin to establish themselves with the U.S. team.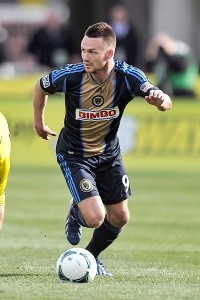 Jamie Sabau/Getty ImagesYoung striker Jack McInerney has been rewarded for his strong season in Philadelphia with a Gold Cup call-up.
Who could come, who might go after group play?
Assuming the Yanks can advance -- the U.S. has never failed to make the knockout stage of this competition before -- they will have the opportunity to swap out up to four players from this roster for others on the original list. If changes are made, a European-based player like Onyewu could be a prime candidate to return overseas ahead of his club's preseason. Releasing Onyewu and another center back -- such as Liga MX vet Orozco Fiscal -- also would give Klinsmann the flexibility to bring the still-inexperienced Besler and Gonzalez for a few valuable reps in the higher-stakes elimination round. Other candidates to join the squad later include first-team regulars Brad Davis, Brad Evans and Graham Zusi.

How healthy is Holden?
It's no surprise that Stuart Holden made only one late cameo appearance during the Americans' three recent World Cup qualifiers. The plan all along was for the 27-year-old midfielder, who missed almost two full years of action after suffering a horrific knee injury while playing for Bolton Wanderers in March 2011, to train alongside the first-choice U.S. players in May and June before taking on more responsibility during the Gold Cup.

With Kyle Beckerman, Donovan, Corona and Jose Torres all included, Holden will have plenty of competition for playing time in the midfield. There's no guarantee he'll able to nail down a starting spot from the first game, but if he does, it will be the first clear signal that the former Premier League standout is finally closing in on full fitness.