MLS notebook: RSL hardly misses beat after rebuilding efforts
The MLS offseason is supposed to be a time for relaxation and the recharging of batteries. The anxiety that comes with the longest season on the American sports landscape is supposed to bleed off.

But late last year, in the offices of Real Salt Lake, the stress meter for general manager Garth Lagerwey and head coach Jason Kreis was redlining. After falling short in both domestic and international competition, the club was well over the salary cap and faced with the likelihood that several established players would be jettisoned.

-- Power Rankings: Week 17
-- RSL climbs atop West standings

Remember the old adage of, "Enjoy the journey, not just the destination"? Forget it. Lagerwey admitted that his lawyer-trained, analytical brain was awash in emotion. Kreis recalled that he had trouble sleeping for weeks over how he would break the bad news to players such as Will Johnson, Jamison Olave and Fabian Espindola.

"In an ideal world, people that do things for you and are integral parts of your successes stay forever," Kreis said following an RSL training session last week. "But we don't live in an ideal world. We don't have unending amounts of money and it causes you to make difficult decisions and deliver difficult messages to people that you care about. It's just not easy."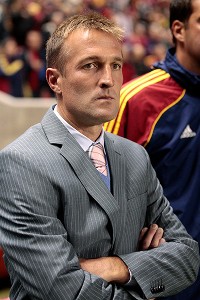 George Frey/Getty ImagesJason Kreis' Real Salt Lake has rebounded nicely, but that doesn't mean he didn't spend sleepless nights as the club underwent changes.
And so the decision was made to trade all three players, with Olave and Espindola heading to New York and Johnson departing for Portland. But even after the shock wore off, the stress of rebuilding remained. Given the number of new players that would need to be brought in, reestablishing chemistry would be difficult, at least in the short term. Lagerwey stated that the team's goal was to be .500 after the first eight weeks of the season.

"That's not a fun process when you're trying to keep from drowning for the first two months with a new team," he said.

Yet Real Salt Lake has emerged perhaps stronger than ever. At present, the team finds itself tied for first place in the Western Conference alongside Portland. In terms of points per game RSL trails only the Montreal Impact and FC Dallas.

Of course, when this is pointed out to Kreis he begins channeling his inner Jim Harbaugh and starts ticking off all of the reasons why his team isn't as good as everyone thinks. A recent spate of home games has made things seem better than they actually are -- so he says -- and a season-ending knee injury to Kwame Watson-Siriboe and continued foot problems for Chris Schuler have thinned the ranks of the team's center backs.

But ask about the contributions of newcomers Carlos Salcedo, Joao Plata, Devon Sandoval and Olmes Garcia, and Kreis' mood brightens. The forwards in particular have surpassed the RSL manager's notoriously high expectations, with Plata, Sandoval and Garcia combining for six goals and five assists.

"I'm extremely happy," Kreis said about his young reserves. "I think that was the biggest wildcard for us, how those players would do and how much they would be able to contribute."

And therein lies the secret to the team's rebuilding efforts, and it's one borne of meticulous planning. There was much more to RSL's approach than simply being cap compliant or getting younger. Lagerwey stated that an analysis of the team's salary structure revealed that too much money was being spent on defense and not enough on attack. The departures of Olave and Johnson helped in that regard, but then there was also the issue of how to retool the team's offense. Robbie Findley returned after a two-year spell overseas, but determining who would provide the supporting cast would be critical as well.

"In the past several years, we had Alvaro Saborio and Espindola, and everyone below them it was like, 'If they do well, we're probably going to do real well. If they don't well we're probably not going to obtain our objectives,'" Kreis said. "I would have to be frank and say the group below those two players didn't do real well the last couple of years. I think that was a big determining factor in why we didn't win anything."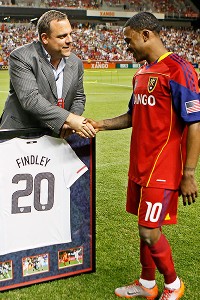 George Frey/Getty ImagesThe challenge for Garth Lagerwey and RSL has been putting a supporting cast around Robbie Findley, who returned after two years overseas.
RSL went on to use every avenue at its disposal. Sandoval was selected in the second round of this year's SuperDraft. Plata was acquired from Toronto FC after having spent the latter half of 2012 back in his native Ecuador on loan. Garcia was signed from Colombian side Deportes Quindio.

At this point, Lagerwey's planning went even deeper. The team appointed Sal Perez to be the full-time relocation coordinator for the young signings, the better to help them acclimatize to the team as well as a new country.

"If we were going to embark on a plan like this and invest in young foreigners from abroad, then we needed to commit full-time resources to them off the field and give them the support they needed," Lagerwey said. "When you talk to companies that relocate executives to other countries, they have reams of support. Nothing is left to chance with help finding apartments, schools for their kids. I think we forget about that stuff when we're dealing with athletes."

The impact of the young forwards has been immense, especially in a season in which both Saborio and Findley have missed significant time due to injuries. Another offseason acquisition, Khari Stephenson, has chipped in as well during a period when international duty further ate into RSL's roster.

"Stephenson was a spot starter for the first half of the season but has looked really sharp," midfielder Ned Grabavoy said. "The forwards that we've brought in, Robbie's been here before, but Plata, Garcia and Sandoval, those guys have an understanding of the partnership and how we want to play. I think that's all kind of helped us gain a little momentum here and string together some good results."

Add in mainstays such as goalkeeper Nick Rimando, defender Nat Borchers, midfielder Kyle Beckerman, along with attacking lynchpin Javier Morales, and you have a side that compares favorably to the 2009 team that hoisted the MLS Cup.

So can RSL sustain its recent run of good form? Much will depend on the team's center backs. Kreis is the first to note that Salcedo is only 19 years old. Aaron Maund is another defender for whom the team has high hopes, but he also lacks experience.

Schuler's injury is another unknown. The good news is that if the team does decide that it needs to make a move, it has the cap space to act, a change from years past.

"The thing I am pleasantly surprised with is if we can continue to progress, I think we can contend this year," Lagerwey said. "I don't know that we were sure about that at the beginning of the year."

Perhaps Lagerwey and Kreis will be able to enjoy the journey after all.

Has Le Toux found his niche?

Ever since his breakout season with the Philadelphia Union in 2010, Sebastien Le Toux has forged a reputation as a player who has excelled from central positions. That's what 25 goals and 20 assists over two seasons while playing primarily as a forward will get you. That impression was reinforced last year when Le Toux struggled in a wide midfield role while with the Vancouver Whitecaps and the New York Red Bulls, and it certainly wasn't expected to change when Philadelphia manager John Hackworth brought him back to the club last December.

All the more reason to be impressed then by what Le Toux has achieved the last two weeks. Shifted full time into a wide midfield role, he's delivered three assists -- two from open play -- to help the Union record consecutive 3-0 victories over the Columbus Crew and the Red Bulls.

In the process, it has helped Hackworth solve a thorny problem, that being what's the best way to get Le Toux, Jack McInerney, and Conor Casey on the field at the same time? It was a question that remained difficult to solve for months. McInerney's rise to the top of the league's goalscoring charts meant he was mainstay in the Union lineup, while Casey, when healthy, has provided Philadelphia with something they've never really had, a prototypical target man capable of holding the ball up. Le Toux had struggled through a home match against Toronto in April when he played out wide, and since then had to content himself for deputizing for Casey when the former U.S. international wasn't available. That isn't the case now.

"I have to give [Le Toux] kudos for not getting stuck, because I know he wanted to come back here and continue to be the leading goalscorer for the club and play as a forward," Hackworth said via telephone. "That was honestly the intention we had, but with Jack and Conor and that partnership it led to Seba looking at a different role, and he's accepted that and thrived in it."

That acceptance is interesting because Le Toux's previous struggles out wide led to the whispers that he wasn't willing to play the position. This is at odds with the Frenchman's reputation as one of the league's hardest-working players and points to the old Frank Yallop adage that sometimes a lack of production can be mistaken for a lack of effort. To hear Le Toux tell it, the way Hackworth has used him out wide has made all the difference.

"It's been a little bit different [in Philadelphia] because I have more freedom on the right side," he said via telephone. "I'm seeing more of the ball than when I played this position last year in Vancouver or in New York. There, they asked me to touch the [sideline] and not really move, so it's a little better for me. I see more of the ball and can get closer to the box."

Given his experience at the position, Le Toux stated it hasn't been a difficult adjustment either.

"I had played with Sheanon Williams before, so it was very easy to get the connection with him on the side defensively," he said. "But I also know when I get the ball, I can cross the ball quickly because there's that big target in the box with Conor who makes some good runs and Jack gets a lot of attention."

The switch has provided a bit more balance to the Philadelphia midfield, one that seemed tilted more toward defensive skills with Brian Carroll and Keon Daniel in the lineup. It's also vindication of the patience Hackworth has shown in terms of finding Le Toux's best position with this edition of the Union.

"I think sometimes when you go through these natural processes of trying to find the right roles and responsibilities of players within your own team, it takes a little longer than people expect," he said. "But I'm happy with the way Sebastien handled it for sure."

"That guy" helps D.C. United emerge

As D.C. United suffered through a 13-game winless streak in league play, manager Ben Olsen knew exactly what he was missing, even if a precise label eluded him.

"Not having 'that guy' was a big part of why we struggled," he said via telephone. "Whether it was John Thorrington or Lewis Neal or Marcelo Saragosa, we lost three guys in the same position. It was tough to fill. Raphael Augusto showed some promise at times but wasn't the perfect fit. We started to move guys around, and then we were shuffling. We never seemed to find a groove or a consistent lineup because of that."

United has recently shown signs of emerging from the Marianas Trench-like depression that has plagued them for the last two months. There was the 0-0 road draw at New England on June 8, a 3-1 U.S. Open Cup triumph over Philadelphia four days later, and finally last weekend's 1-0 win over San Jose. And it's no accident that Thorrington's return from injury coincided with that spell.

"Having Thorrington back in there healthy has been a big part of us leveling off and becoming a better team," Olsen said. "The on-field stuff, he does what he does. He's experienced, he understands the rhythm of games, his communication is spot on out there, and he has leadership qualities."

Thorrington is by no means the only regular to return in recent weeks. Nick DeLeon and Chris Pontius have come back as well. But his vast experience has been a critical component in the team's revival, mild as it is.

"Thorrington has also helped me in the locker room," Olsen said. "He's a good voice, he gets it. He understands the emotions of a season. He's been around, and I think he understands what the team needs from a psychological standpoint.

"No one wants to listen to the guy that's hurt, so he's had to bite his tongue a little bit until he's come back. When you're out there fighting with the team, your voice is a little bit clearer."

As for Olsen, he's had to make sure his voice has been clear as well, and the burden of failing to win for two months made monitoring the pulse of his team even more important than it is normally.

"It's a daily feeling out process," he said. "There's days where the last thing I can do is yell at guys. You just feel the energy down and you have to try and go the other way and pick them up. It's just a daily challenge of trying to keep the ship from sinking."

That hasn't changed now that United has finally one a match. As Olsen astutely pointed out, the team is still in last place. But much like he was as a player, he intends to help the team fight its way out of its current predicament, no matter how long the odds.

"I do believe we can go on a run and try to make a real effort to do something a lot of people don't think we can do," Olsen said.