More than the story: Week 17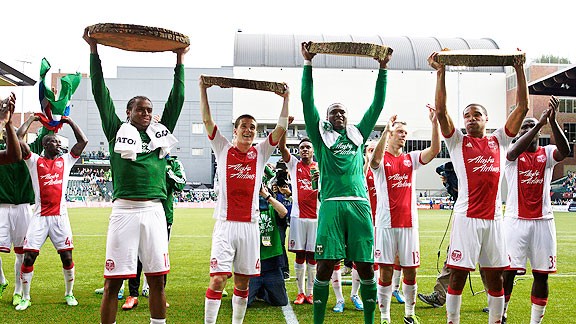 AP Photo/The Oregonian/Thomas BoydSlabs of wood all around for the Portland Timbers who hammered Colorado at home over the weekend.
Each week, Major League Soccer presents a schedule full of games. Those games are full of pre-conceived storylines. Sometimes those storylines play out, sometimes they don't. Here's the rundown for Week 17 of the season.

D.C. United 1-0 San Jose Earthquakes

Narrative: D.C. United will probably never win another game, ever, making this a perfect opportunity
for Mark Watson to start off his head coaching stint with a winning streak.

- United ends 13-game winless skid

Apparently, United didn't completely forget how to win a soccer game, though it did take something of a perfect storm in order for Ben Olsen's side to pick up three points for the first time since March 9th. San Jose was missing Chris Wondolowski and Steven Lenhart, taking most of the scoring punch out of the lineup. While United wasn't much better, the reintroduction of John Thorrington -- back after a long injury absence -- seemed to reinvigorate them. Olsen, in a bid to find something of a balance, again left reigning MLS MVP Dwayne DeRosario on the bench. Chris Pontius had one of his best games of the season (which is not saying much considering how difficult the year has been) and slotted home the 10th minute penalty kick the ultimately proved to be the game-winner.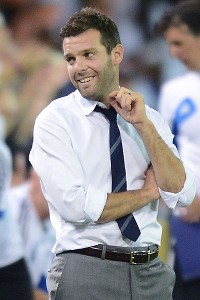 Chuck Myers/Getty ImagesFinally a reason for Ben Olsen to smile as DC United snapped their winless skid.
United now moves on to a U.S. Open Cup quarterfinal match against New England on Wednesday, while San Jose will have a long talk with themselves about how they managed to be the team that actually lost to D.C. United. Then they host LA at Stanford Stadium next weekend.

Columbus 1-2 Chicago Fire

Narrative: The addition of Mike Magee has made Chicago a dangerous team, and despite Columbus coming in on a high after beating Montreal, the Fire look like a possible winner on the road.

- Fire douse Crew, stay hot

After a series of come-from-behind results, the Fire's new narrative is one of overcoming a deficit. After going down to a Federico Higuain penalty in the first half, the Fire conjured the Mike Magee magic to win 2-1. After Dilly Duka scored to level the game, Magee scored his 10th goal of the season, good enough to put him into a tie for top spot in the league and give Chicago the win.

The setback has to be frustrating for Robert Warzycha and the Crew, who suffered a letdown after last week's win over Montreal. The Crew seem to have the talent to compete with the best teams in the league, but too rarely show their full capabilities. Saturday against Chicago stands in evidence of their inconsistency. While Columbus remains ahead of the Fire in the standings (neither are in a playoff place), the Crew are treading water while the Fire, thanks to the introduction of Magee, are on their way up.

FC Dallas 2-2 Sporting Kansas City

Narrative: FC Dallas, back at home where they haven't lost this year, look to rebound at home against Sporting Kansas City after an ugly trip to Portland last week -- but expect it to be physical and tense.

- FC Dallas rallies for late draw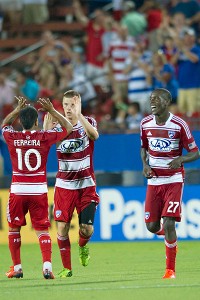 Cooper Neill/Getty ImagesFC Dallas' Walker Zimmerman took out his Under-20 World Cup omission frustration on Sporting Kansas City.
For 88 minutes, Sporting looked like they'd turn over FC Dallas at home. For 88 minutes, Sporting looked like they'd escape with three points from North Texas despite playing down a man from the 69th minute on. A controversial red card to CJ Sapong for tapping the ball into the face of a prone Andrew Jacobson gave FC Dallas a man advantage, though they didn't do much with it until the late comeback.

The winner of a game with no winner was rookie defender Walker Zimmerman, a player left off of the US roster for the U20 World Cup in Turkey despite American issues at the back. Schellas Hyndman is surely glad that Tab Ramos passed on Zimmerman, because it was the youngster's 90th minute header from a free kick that leveled the game and secured a point for home team. Prior to both Zimmerman's goal and Andrew Jacobson's a few minutes before (off of a quality cross by Ramon Nunez), FC Dallas couldn't find a way past the formidable Kansas City defense.

Houston Dynamo 0-0 Toronto FC

Narrative: Houston just has to win a home game against one of the league's worst teams.

As painful as it is to credit anyone in a scoreless draw, TFC deserves some for where it happened. Still, the Dynamo haven't been themselves since Sporting ended their home undefeated streak back in May -- in their next six games, Dominic Kinnear's team has three losses and three draws, scoring just two goals.

Despite getting Brad Davis back from USMNT duty, the Dynamo struggled to create chances against Toronto. Ryan Nelsen's team did what one would expect from a lesser team going on the road; they defended, played opportunistic offense to create a handful of threats, and held on for a single point in a place where such a thing isn't necessarily expected. It was a step forward for Toronto FC that they managed not to concede late and waste all of the hard work that went into playing an ugly scoreless draw.

Real Salt Lake 2-0 Seattle Sounders

Narrative: With two hot teams with a history of rivalry collide in Utah, this match figures to be quite the show and a possible playoff preview (again).

- RSL moves into first in West

Good teams beat other good teams at home as a matter of course. RSL's done that this season, with Saturday's win over Seattle being the second time they've knocked off the Sounders at Rio Tinto this season. Sure, Seattle was in the midst of an abominable start the first time around; this time, the Sounders came in playing well and looking like the team we expected to see back in March. Kyle Beckerman's opportunistic volley and a goal from Robbie Findley only seconds after halftime were more than enough for RSL to take out the Sounders.

Sigi Schmid's team never found their rhythm, struggling to create chances all night. Seattle generated just two shots in 90 minutes, with only one of those on goal. The absence of Osvaldo Alonso from the Sounders' midfield is painfully obvious -- without the destroyer and adept passer, Seattle suffers from an inability to push the attack. For all the quality the Sounders have in the final third of the field, it's the midfield engine that it most crucial to their plan against good teams.

Philadelphia Union 3-0 New York Red Bulls

Narrative: Philadelphia's bid for respect would get a boost with a win over the talented Red Bulls.

- Conor Casey scores two in Union win

The Union made a statement, though it's open to interpretation just how strong said statement was. Thanks to a 28th minute red card to Red Bulls winger Lloyd Sam, the Union enjoyed a man advantage for the majority of the game. John Hackworth's team didn't waste the chance to put the Red Bulls to the sword, but far-ranging declarations of the Union's legitimacy as an Eastern Conference contender are difficult to make. Still, 3-0 for a Philadelphia team against a team from New York? Who cares how it happened or what it might mean. For now, it's just a three-point brick in the playoff wall John Hackworth is trying to build in Philadelphia.

Conor Casey, currently playing in the rapidly expanding shadow of young Jack McInerney, showed he still has something to offer with a pair of goals. Casey's bread-and-butter is strong runs to the post and getting on the end of crosses from the wing -- without Jamison Olave in the New York lineup, he was free to make those runs. His goal in the seventh minute from a Sheanon Williams assist came via exactly that move. Casey added a second in the 64th minute with an opportunistic play off of a rebound before Antoine Hoppenot iced the game in the 88th minute.

New York was missing several important players coming into the game and couldn't keep up with the Union after going down to ten men. Philadelphia sent a message, but it was really about being capable of beating a team when they should.

Portland Timbers 3-0 Colorado Rapids

Narrative: The Timbers are really good and at home. The Rapids don't stand much of a chance.

- Timbers unbeaten in last 15

This year's Timbers are a clinical team capable of knocking the ball around the field while knocking the block off opposing teams. At home at JELD-WEN Field, the Timbers had no real trouble with the Rapids, the narrative playing out to form. It's not necessarily Colorado's fault that it played out that way, though Oscar Pareja's team did present something of a threat for stretches of the match. The Timbers have the weapons and the identity to take out anyone. Frederic Piquionne, Will Johnson, and Ryan Johnson scored the goals, but it continues to be Costa Rican winger Rodney Wallace (who had all three assists) that best personifies the strides Portland has made this year.

The Timbers win takes them into a tie for first in the Western Conference with Real Salt Lake. While nothing is in the bag yet, that's a landmark achievement in a transitional season for the Timbers. Meanwhile, Colorado is left with nothing but some silver linings on the stat sheet with which to mollify themselves. The loss makes three in a row for the Rapids, who have yet to fully recover from the spate of injuries that marked their early season.

Chivas USA 0-1 LA Galaxy

Narrative: The Superclasico is not so super anymore; expect LA to win.

- Galaxy wins 'SuperClasico'

The battle for the -- Stub Hub Center -- played out as expected, but only in terms of the LA victory. Something is clearly ailing the Galaxy, who haven't looked like themselves since trading Mike Magee and seeing several players leave for international duty. Although Omar Gonzales and Robbie Keane are back in Bruce Arena's team, Sunday night's slog against Chivas USA showed that it will take some time for the two-time defending champs to round back into form.

As for the lack of Magee, it's not necessarily the fault of the man who arrived via the trade that sent Magee to Chicago that things are going to plan for LA. Robbie Rogers doesn't look to be at his best, but there are glimpses of the speed and crossing that made him an MLS star in Columbus. Rogers would have scored his first LA goal in the 34th minute if it weren't for Keane lurking in an offside position, and otherwise played relatively well. Goal-scorer Gyasi Zardes was the real star of the night, however, though it's worth noting that the rookie striker missed several chances that could have changed the tenor of the game.

There's not much to say about Chivas USA. Interim head coach Jose Luis Real has little to work with on the Rojiblanco side of Stub Hub Center and the balance of the Goats' season will be spent in the throes of losing streaks like the current seven game run.