Cuevas helps U.S. grab priceless draw versus French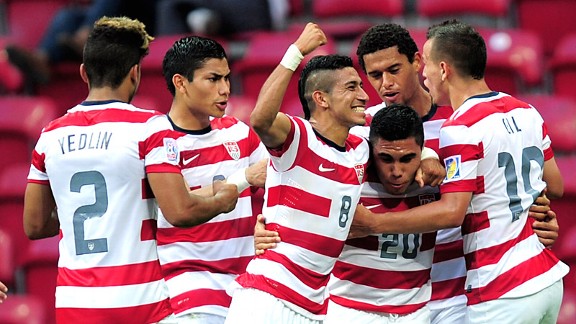 Jamie McDonald/FIFA/FIFA/Getty ImagesDaniel Cuevas is mobbed by teammates after equalizing for the U.S. Under-20s against France.
With just five minutes remaining in the United States' second group match of the U-20 World Cup, things were looking grim against France. The Americans had fallen behind on a dubious penalty from Yaya Sanogo in the 48th minute, and had missed a spot kick of their own midway through the half. But Daniel Cuevas popped up for a late equalizer to give the U.S. a priceless 1-1 draw.

It's a result that gives the Americans' hopes of advancement to the knockout stages an immeasurable boost. They now face Ghana in their group finale Thursday, and a win would almost guarantee them a spot as one of the four best third-place teams.

It was a match that saw the U.S. give a much-improved defensive performance. No doubt mindful of the 4-1 shellacking they received at the hands of Spain in their opening match, the Americans adopted a much more sensible tactical approach, making sure there were sufficient numbers behind the ball. As a consequence, the U.S. was much more compact defensively, conceded fewer opportunities on the counterattack and still offered enough going forward occasionally to threaten the French defense.

That doesn't mean the U.S. was mistake-free in its own defensive third. A giveaway by Benji Joya in the 17th minute gifted Sanogo a look at goal, but his rasping drive was tipped over the bar by U.S. goalkeeper Cody Cropper. France also threatened in the 22nd minute when Florian Thauvin's drive flew just over the bar.

Yet for the most part the U.S. defense, aided by the return of Shane O'Neill from suspension, defended capably, and aside from conceding a few too many set pieces, looked composed.

The U.S. had a bit more difficulty in attack, however. Luis Gil, so impressive in the first match against Spain, found the going much tougher, as France seemed determine to deny him any time on the ball. Forward Alonso Hernandez struggled with his ability to link up with his teammates, thus making it difficult to build any kind of sustained attack.

A first half that was largely devoid of chances crackled to life just before halftime. Hernandez's cross found Jose Villarreal at the far post, but the Los Angeles Galaxy attacker opted for a header back across goal, which was cleared. France went immediately down the other end, and Jean Christophe Bahebeck looked to have a good look at goal, only for O'Neill to defuse the threat.

The Americans then delivered a counter of their own with Villarreal feeding Gil, but he could only shoot right at France keeper Alphonse Areola.

The second half saw an erosion in the Americans' defending, and it resulted in France taking the lead. Javan Torre, who had enjoyed a solid first half, upended Dimitri Foulquier and was whistled for a penalty. Replays showed that the French defender was just outside the box, but it mattered little to referee Carlos Vera. Sanogo's subsequent penalty was taken poorly, but he still managed to get it by Cropper, despite getting both hands on the shot.

France looked to be in control thereafter, and Sanogo nearly added a second in the 59th minute, only to be denied by a sprawling save from Cropper. But there were some faint hints that the U.S. could conjure up a revival. DeAndre Yedlin began to link well with second half substitute Oscar Sorto on the right side, while Mario Rodriguez began to cause problems on the left wing with some direct runs at goal.

It was from the latter approach that the U.S. nearly pulled level. Rodriguez collected a pass from Joya on the left wing, cut inside, and was felled by Mario Lemina for a penalty, although replays showed there was minimal contact. Unfortunately, Gil telegraphed his spot kick and Areola made the save.

When Bahebeck struck the bar with a long-range effort minutes later, the U.S. was looking wobbly. But the Americans stuck to their task. Yedlin began to make more inroads after switching roles with Sorto, and his pass to Rodriguez led to a deflected shot that was saved by Areola.

But it was from a set piece that the Americans got the equalizer in the 85th minute. After Rodriguez was fouled outside the penalty area, Gil sent a low centering feed into the box. When the French defense failed to clear, Cuevas, who had come on just eight minutes earlier, was quickest to react, volleying home past Areola.

There was still time for some anxious moments for the Americans. Lucas Digne's cross just missed connecting with Paul Pogba, but the U.S. was able to hang on for an inspiring draw.

Given the difficulty of the group, not to mention the defeat to Spain, the ability to control its own fate is a position the U.S. scarcely could have imagined. But now, the Americans will have an immense amount of self-belief that it can reach the knockout rounds, at which point anything can happen. Of course, the opponent is one that has broken U.S. hearts at senior level for two World Cups in a row, but given the tests the Americans have faced so far, they'll have every reason to feel they can escape from the Group of Death.

Player ratings: (0-10; 10=highest)

G Cody Cropper, 7 -- Sharp in all phases, especially in coming off his line to cut out through balls. Produced a good save off Sanogo in the first half, as well as on a second-half breakaway. He'll be kicking himself after he got his hands on Sanogo's penalty, but excellent play overall.

D Juan Pablo Ocegueda, 5 -- Impressed in the first half, but began to wilt under the pressure in the second, as France continually attacked his side. Lost Sanogo on a 59th minute breakaway.

D Javan Torre, 5 -- Looked like a different player, and benefited from playing simply. Used his size to good effect against Sanogo. His game eroded a bit in the second half, although the penalty that was whistled against him was outside the box.

D Shane O'Neill, 7 -- A bit foul-prone early on, but read game well to snuff out some promising opportunities for France.

D DeAndre Yedlin, 6.5 -- A real threat going forward, and was better on his one-on-one defending as well. Moved to the wing in the second half and was a constant menace. Only complaint is that he needs to shoot when offered the chance.

M Wil Trapp, 6.5 -- His distribution was excellent, and coped well with the imposing size of the French midfield.

M Benji Joya, 5.5 -- Curbed his instincts to go forward so that he provided more defensive help to Trapp. He had one frightening giveaway in the first half, but overall was much better defensively and more assured in his passing. Yellow card means he'll miss the group finale against Ghana.

M Mario Rodriguez, 7 -- Played a bit too narrow in the first half, and had more success when he started out wide. An aggressive run earned the penalty, as well as the free kick that produced the equalizer. Overall, he provided an attacking spark.

M Luis Gil, 5 -- Not his best game, as he wasn't nearly as sharp as he was against Spain. His finishing, especially from the penalty spot, was lacking, but he didn't hang his head, and played a part in the U.S. equalizer.

M Jose Villarreal, 5 -- Started slowly, but picked up his game late in the first half. Set the table nicely for Gil's chance, but his decision to head across goal instead of at it was a strange one.

F Alonso Hernandez, 3.5 -- Overcomplicated things early with too many touches and poor link play. He picked things up toward the end of the half, but it wasn't enough to avoid being subbed at halftime.

Subs:

M Oscar Sorto, 6 -- Linked well with Yedlin on the right wing, and was solid in defense after switching positions.

M Daniel Cuevas, 7 -- Why this guy doesn't start is a mystery, but he was perfectly positioned to volley home the equalizer.

M Mikey Lopez, NR -- Late cameo for Lopez, but with Joya suspended, he's the leading candidate to start the Ghana match.