Deulofeu, Spain carve up green U.S. U-20 back line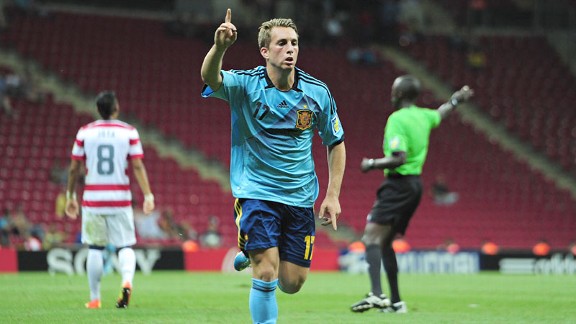 Jamie McDonald/Getty ImagesBarcelona prospect Gerard Deulofeu scored twice to lead Spain past the U.S.
The U.S. Under-20 men's national team received a brutal baptism in its opening game of the FIFA U-20 World Cup Friday, as Spain delivered a 4-1 hammering to the Americans in Istanbul.

Gerard Deulofeu and Jese each scored twice as Spain broke on top early and never really looked back. Luis Gil scored a consolation goal late for the U.S., although the extent to which it repaired the Americans' goal difference could come in handy later on in the tournament.

-Spain romps past U.S. in U-20 World Cup opener

The main talking point -- aside from Spain's unquestioned brilliance -- will no doubt be the tactical approach taken by U.S. manager Tab Ramos. Faced with a back line short on experience, especially at center back, the big question was how best to provide protection. Do you sit in and get numbers behind the ball, as Honduras did in a recent World Cup qualifier against the U.S. senior team, or do you press high and try to win the ball farther up the field?

Ramos opted for the latter approach, and the game illustrated the high-wire nature of the tactic, especially when going up against a technical team like Spain. The U.S. managed to force Spain's defense into a fair number of mistakes, winning its share of loose balls. In fact, possession-wise the U.S. was Spain's equal.

But the quality of Spain's attack, not to mention the frailty of the U.S. defense, was revealed most in transition. Whenever La Rojita managed to break the initial line of U.S. pressure, Spain's attackers had acres of space to exploit between the Americans' defensive and midfield lines. With the U.S. midfield lacking the mobility to recover, Spain was given numerous opportunities to run at the U.S. defense, and proved clinical enough in its finishing to run out comfortable winners.

With the game not even five minutes old, a long pass from Javier Manquillo found Deulofeu in the clear. Javan Torre was slow to close him down, allowing Deulofeu to cross for Jese to volley home at the far post.

But the Americans' aggressive approach nearly saw them equalize in the 13th minute. Luis Gil, by far the best U.S. player on the day, slipped a deft through ball into Alonso Hernandez, but he could only hit his shot wide with just the keeper to beat.

And so the pattern of the game was set. The U.S. had its moments in attack and a more than adequate amount of possession, but Spain was always more likely to score. Manquillo had a good shot for a penalty in the 18th minute when he was upended by Torre, and Jese nearly added a second in the 28th minute when he touched Deulofeu's cross just wide.
Meanwhile, Gil twice set up teammates for good opportunities inside of a minute, only for his teammates to misfire.

The U.S. appeared set to go into halftime trailing by just a goal, only for Spain to deliver the knockout blow. Deulofeu scored on a beautiful curling shot in the 42nd minute after skipping around DeAndre Yedlin and Caleb Stanko. Then just two minutes later, another marauding run by Manquillo left Torre in his wake, and when Stanko couldn't clear the ball fell to Jese who fired home from 12 yards.

The second half saw more of the same, with Deulofeu making it 4-0 in the 61st minute. With midfield pressure nonexistent, Jose Campana picked out Deulofeu's diagonal run, releasing his teammate on a clear breakaway. U.S. goalkeeper Cody Cropper came way off his line to challenge, but Deulofeu easily rounded the American to slot into an empty net.
Manquillo nearly made it five as Suso sprung him on another breakaway, but Cropper saved the ensuing shot with his legs and Manquillo could only put the subsequent rebound attempt over the bar.

Gil pulled a goal back for the U.S. in the 77th minute with a splendid curling effort after good work from Wil Trapp. It was just reward for the Real Salt Lake midfielder on a day when his overall game was excellent.

So what do you do going forward if you're Ramos? The return of central defender Shane O'Neill, who was suspended for the match, will no doubt come in handy. But more support is needed from the midfield, and it seems clear that Mikey Lopez, who looked sharp after coming on as a substitute, needs to be on the field from the start partnering Trapp. More conservative positioning from the midfield when in possession is needed as well, the better to cope with opposition counterattacks.

Ramos will also need to repair his team's psyche a bit given the scoreline, as France, the Americans' next opponents, are nearly Spain's equal in terms of quality. It amounts to the toughest of assignments for both the coach and the players.

Player ratings: (0-10; 10-highest)

G Cody Cropper, 6 -- Couldn't really be blamed for any of the goals save perhaps the last one when he was rounded by Deulofeu. That said, he delivered several sharp saves to keep scoreline from being worse.

D Juan Pablo Ocegueda, 3 -- His lack of pace was badly exposed, as he had difficulty from the outset, especially in dealing with the overlapping runs of Manquillo.

D Caleb Stanko, 4 -- Played a solid first 35 minutes, only to come up short on the two goals right before half. That said, he put out his share of fires as well and the return of O'Neill in the next game will no doubt help his cause.

D Javan Torre, 3 -- Looked completely out of his depth. Caught ball watching too often, and left attackers with too much space. He doesn't have the pace to recover either. Was lucky to avoid conceding a penalty to Manquillo in the first half.

D DeAndre Yedlin, 5 -- Actually took up some good positions going forward, but the final pass was lacking too often. Defensively he fared better than most of his teammates, but still struggled to cope with brilliance of Jese and Deulofeu.

M Wil Trapp, 5 -- No complaints about his distribution, and his tackle helped set up Gil's goal. But overall, he didn't provide enough defensive cover for a suspect backline. Some of this was down to tactics as Joya was often pressing forward, but needed to be more of a defensive presence.

M Benji Joya, 3 -- Struggled in all phases. His passing was way off, and couldn't keep up with Spain's attackers in transition. In fact, he looked to be laboring as he tried to recover defensively. Joya is a good player, but seems better suited to a role further up the field.

M Jose Villarreal, 4.5 -- Had his moments where he took up good positions, but needed to do better when given clear looks at goal. His shots from set pieces needed to be better as well.

M Luis Gil, 7 -- Wasn't overawed at all, and on another day might have had three assists. His goal will have turned some heads of the scouts in attendance, as did the quality of his touches around the box.

M Daniel Garcia, 5 -- Was busy and saw plenty of the ball, but there just wasn't enough end product. Appeared to suffer a concussion early in the second half, making him a doubt for France.

F Alonso Hernandez, 5 -- He connected well with his teammates, but he simply has to convert the chance that Gil set him up for in the first half. Forced off at half time with what looked like an injury.

Subs

F Mario Rodriguez, 4 -- Didn't really offer much in terms of energy and needed to be more optimistic with his runs.

M Daniel Cuevas, 5.5 -- Showed some good flashes on the ball and had a decent look at goal late.

M Mikey Lopez, 6 -- In retrospect, probably should have been on from the start given the bite he provides. Delivered some quality passes as well.