Cameron or Jones -- should Michael Bradley decide?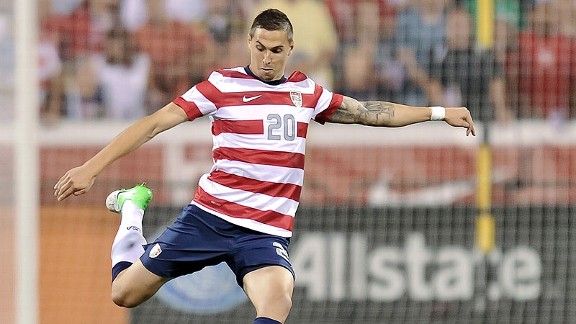 Jamie Sabau/Getty ImagesGeoff Cameron received a subtle, notable nod from Michael Bradley.
Despite collecting maximum points from the last three matches and going their separate ways with qualification for Brazil 2014 in sight, questions still swirl around the U.S. soccer team.

Is Fabian Johnson best played at left back or left mid?

Will Timmy Chandler or Steve Cherundolo arrive in September to take the right-back spot from Brad Evans?

Has the team proved they don't need Landon Donovan?

Is Geoff Cameron a better partner for Michael Bradley than Jermaine Jones?

Videos: Honduras recap - Klinsmann reaction

It's that last question that seems the strangest to be prompted by the recent run of games. While Cameron performed well in spot duty over three games after Jermaine Jones sustained a concussion against Jamaica, the former Houston Dynamo and current Stoke City player is not presently identified as a central midfielder. Cameron's fate pushed him into the backline, where both Dominic Kinnear and former Stoke City manager Tony Pulis was best suited to defending due to his size and skill set.

Jurgen Klinsmann relied heavily on versatile players during this round, however, and should be given credit for calling in players such as Evans and Cameron who could fill in at multiple positions if needed. The decision to insert Cameron for Jones in Kingston seemed odd at the time, simply because Cameron hadn't played midfield for club or country for so long. But Cameron filled in admirably in Jamaica, starred as part of the starting lineup against Panama, and improved the team when subbed for Jones against Honduras. Where there was no controversy, Cameron created one.

Ultimately, the decision of who to pair with Bradley comes down to Klinsmann. As that's the case, it seems unlikely a part-time central midfielder such as Cameron -- who is also the first name on the depth chart behind Omar Gonzalez and Matt Besler at centerback -- will usurp Jones in the coach's mind. But if Klinsmann considers the feelings of his other central midfielder, a man whose name is chiseled into the lineup as long as he is healthy and available, Cameron could have a fighting chance.

In the aftermath of Cameron's stellar performance against Panama, when his commitment to defending the space in front of the back line allowed Bradley to range forward into the U.S. attack, Bradley expounded on the understanding forged by the pair.

"As a midfielder, you're constantly trying to read the game. You're constantly trying to find space. You're trying to find the spots on the field where you can make an impact. And at times that's going to be defensively. At times it's going to be attacking-wise.

Sure, when you're playing with Geoff, the situations that you find yourself in are going to be different. There's going to be the opportunity to be a little bit more mobile at times, to be a little bit more two-way, to find the opportunities to move forward into the attack. I think that understanding was good tonight."

The taciturn Bradley will rarely be more effusive. He didn't clearly state he preferred Cameron over Jones -- and as a team leader who reacted strongly to internal team issues being discussed with the press, he never would -- but he did identify that the duo played well together because Cameron allowed him to be more adventurous up the field. That made the United States more dangerous, which in turn led to their best performance of the calendar year. If all other things (health, suspension, etc.) are equal, the performance of the team and Bradley's post-game comments represent a strong argument for giving Cameron the starting role.

None of this speaks to the variable of the competition, however. Against Panama, a team that couldn't keep up with the U.S. in the midfield, Cameron had space and time to best complement Bradley and make his own offensive contribution on Eddie Johnson's goal. Against Honduras, Cameron entered for an ineffective Jones late in the game, with the Catrachos already fatigued and chasing the game.

There's evidence Bradley and Cameron play well together, but it comes with caveats. Jones has a larger body of work, plays regularly in the same position for club and country while Cameron does not, and until a poor-to-average performance against Honduras in Utah, was turning a corner in his role with the national team. It also seems unfair not to consider the concussion Jones suffered as a possible reason for his ineffectiveness against Honduras.

Just how much should Bradley's opinion on the subject matter? Again, as long as he's available, the Roma midfielder's name will always be in the starting lineup. If his working relationship with his central midfield partner is as crucial to the team's success as it appears, Klinsmann could do worse than allowing Bradley to choose between Cameron and Jones himself. After all, it's Bradley who has the best vantage point of how well things are going on the field, it's Bradley who must have an instantaneous understanding with the man beside him, and it's Bradley who most singularly drives the USMNT.

Michael Bradley is an intelligent player and the son of the former coach. As long as it's done discreetly, it might be best to let him decide.