U.S. on the defensive heading into U-20 World Cup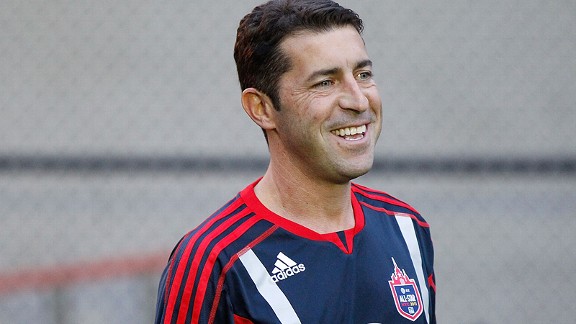 GettyImagesTab Ramos has plenty to ponder ahead of the U-20 World Cup.
U.S. Under-20 national team head coach Tab Ramos was a gifted midfield playmaker in his day. But as he prepares his team for Friday's World Cup opener against powerhouse Spain, he knows that his team's defensive performance will determine just how far the U.S. goes in the tournament.

The back line has been an area of concern for the U.S. manager since he took over in October of 2011, especially as it relates to the center back position. Hertha Berlin defender John Anthony Brooks, a dual citizen of Germany and the U.S., decided to sit out the tournament, to leave his future international options open. Will Packwood, as bright a prospect as there is in this age group, suffered a horrific leg break in January, thus ruling him out of the competition. Other prospects, like F.C. Dallas center back Walker Zimmerman, have been dealing with injuries for much of this calendar year, leaving Ramos to look elsewhere.

"It has not been easy," said Ramos about his center back search. "And to be honest [there] has not been, over the last year and a half, any center backs ... who have stood out to us as guys who hands down deserve to play."

That search has seen Ramos convert players occupying other positions into central defenders. During U-20 World Cup qualifying, Ramos utilized Shane O'Neill of the Colorado Rapids and Caleb Stanko of German side SC Freiburg as his two central defenders. After some early hiccups, the duo improved with every game in leading the U.S. to the CONCACAF U-20 World Cup qualifying final, where it fell to Mexico 3-1 in extra time.

At the time, it was thought that the pair was merely a stopgap combination, but the aforementioned absences have forced Ramos to turn to the same duo once again. The only problem is that O'Neill was red carded against Mexico, and he'll have to sit out Friday's match. Another converted central defender, nominal right back Eric Miller, will take his place. This has left Ramos open to criticism over the construction of his roster, especially in terms of the defenders chosen.

So how exactly is the U.S. better defensively now than it was during qualifying?

"Did I say we were?" joked Ramos during Tuesday's conference call with reporters. Yet there is some evidence that this is the case. O'Neill has spent much of the current MLS season playing center back for Colorado, garnering some valuable minutes in his new position. The addition of Seattle Sounders right back DeAndre Yedlin, who wasn't selected for the qualifying tournament, should provide a significant boost, as well.

"I think we're a little bit more experienced than we were a couple months ago, and the fact that we've been together for a couple weeks hopefully is really going to help us," Ramos said.

The U.S. will need some help from its midfield, as well. During qualifying, Will Trapp and Mikey Lopez formed an effective partnership in the center of midfield that provided some cover for the back line. Lopez in particular will need to provide the tackling needed to help keep opposition attacks at bay. He and Trapp will also be counted on to provide a platform for the likes of Jose Villarreal, Benji Joya, Daniel Cuevas and Luis Gil to do damage in the attacking third. Gil suffered a concussion in the Americans' last warm-up game against Portugal last week, but is expected to play on Friday.

One wild card for the U.S. is Monterrey forward Alonso Hernandez, who only appeared on Ramos' radar in April, but has done enough since then to grab a spot on the roster.

"[Alonso] plays for Coach [Victor Manuel] Vucetich down there who is an excellent coach," Ramos said. "And I know because I played for him, how demanding he is. I know in order for a young player to earn playing time for one of the best coaches the Mexican league has ever had, I think says a lot about the player. So we called him in and I think he's been nothing but a great find for us. He certainly fits in well with the team. He certainly works hard and has been a great last-minute addition for us."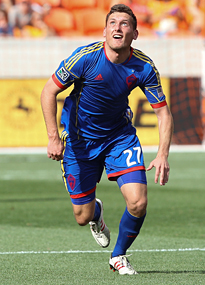 GettyImagesShane O'Neill of the Colorado Rapids has filled in at center back.
No doubt, every U.S. player will need to perform at his peak if the Americans are to progress out of a daunting group that in addition to Spain contains France and Ghana. Spain's roster is littered with players possessing experience in La Liga, including attacking midfielder Oliver as well as forward Francisco Alcacer. Barcelona's Gerard Deulofeu, Liverpool's Suso and Real Madrid's Jese are expected to make big contributions, as well.

France's roster has a similar level of experience, and has the likes of Juventus' Paul Pogba at its disposal. Ghana's side is less well known in terms of individual players, but historically the Black Satellites have done well in this tournament, and current manager Sellas Tetteh led them to the 2009 U-20 World Cup title.

But it all starts against Spain on Friday. La Rojita have been leaking goals of late, having conceded six goals in friendlies against Chile and Uzbekistan. But this is also a team that won the European U-19 championships last year, and plays the same mesmerizing style as the senior squad.

"I see that as a great challenge for us that maybe tells us whether we're close or whether we're really far away," Ramos said. "At this point I don't know the answers to that. I do know that if we can somehow survive in our group and get through to the next stage, I think that coming out of this group, we would probably be able to beat anybody."

As preparation, Ramos said he intends to show his team video of the U.S. national team's 2-0 win against Spain at the 2009 Confederations Cup.

He added: "There's no reason that we couldn't do the same on Friday."