Timing could be right as U.S. hosts Honduras

SANDY, Utah – When the U.S. men's national team convened last month, there was one goal on the team's agenda: nine points from its three World Cup qualifiers. It's the type of objective that is easier to verbalize than put into practice, but with six points in the bag and only Tuesday's match against Honduras remaining, it's one that is well within reach.

The match is one with huge implications for the Americans' qualifying effort. Win, and the U.S. is practically assured of heading to Brazil next summer. Lose, and the journey becomes littered with obstacles. The next World Cup qualifier after Tuesday's encounter is a Sept. 6 match at Costa Rica, a side hell-bent on avenging last March's Blizzard Bowl, and a locale where the U.S. has a record of 0-7-1 in World Cup qualifying. That's followed four days later by a home date against Mexico, an opponent against whom nothing is guaranteed, despite the U.S. team's history of success against El Tri on home soil.

The kind of cushion that would come with a victory against Honduras would make those two encounters less stressful. That's why there has been an almost a steely resolve to the U.S. mindset this week. Klinsmann has continually called the match "a must-win" and one gets the sense that there has been zero letup in the Americans' approach.

"Now is the time for us to really have a killer instinct to say, 'This is our chance to separate ourselves from the rest of the pack and put ourselves in a position where you're a result or two away from qualifying,'" said U.S. midfielder Michael Bradley prior to Monday's practice. "Now is not the time to take our foot off the gas and say, 'Six points,' and be satisfied with that. We've got to have an aggression and a mentality and a spirit about us [Tuesday] night that says we're looking to win and really put a foot in the door in Brazil."

To that end, the U.S. appears to be facing Honduras at precisely the right time. Lynchpin defender Victor Bernardez is suspended, as is holding midfielder Luis Garrido. Another central defender, Maynor Figueroa, is out injured, while presumed replacement Osman Chavez will be a game-time decision due to an injury of his own. Jerry Bengtson has been sent back to his club following a spat with manager Luis Suarez, and Oscar Boniek Garcia is in a race to recover from a hamstring injury sustained in last week's 2-0 win over Jamaica.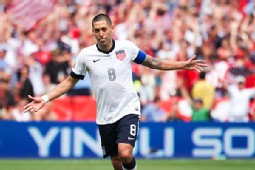 Paul Frederiksen/USA TODAY SportsDempsey hasn't scored in his previous two games for the U.S.
At Monday's news conference, Suarez stated he would wait until Tuesday morning to make up his mind about Chavez and Garcia, and opinion within the Honduran press corps was divided as to the path the Honduras manager will take. But regardless of who suits up for Honduras, the U.S. remains wary. Marvin Chavez, the presumed replacement for Garcia, has the kind of speed to trouble any defense.

"You bring in new guys who are hungry and want to impress the coach, it's almost a little bit more dangerous I think," said U.S. defender Brad Evans on Sunday.

Klinsmann has some lineup shuffling of his own to do. With DaMarcus Beasley suspended because of accumulation of yellow cards, it looks as though Edgar Castillo will be the choice to fill in. Graham Zusi returns from suspension and seems poised to resume his spot on the right side of midfield. Lastly, Jermaine Jones has been given the all clear from the team's medical staff following the concussion that he sustained against Jamaica. Geoff Cameron filled in capably in his absence, but given the way Klinsmann raved about the spine of his team Monday, a group that he said included Jones, it looks like the Schalke midfielder will be back in the lineup.

Even with these changes, don't expect the U.S. approach to change.

"We're going to step on the field and try to impose ourselves on them ... with the speed of how we play, with the speed of our movement," said Bradley. "When the ball turns over, closing down quickly, closing down aggressively. We're going to try and tilt the bar in our favor right from the start."

That will require much better midfield execution from the U.S. compared to the match four months ago in San Pedro Sula, when Honduras prevailed 2-1. In that game, Garrido and Espinoza got the better of the American triumvirate of Bradley, Jones and Danny Williams. On Tuesday, it looks as if Espinoza and veteran Wilson Palacios will go up against Bradley and Jones. While Bradley admitted Tuesday's match is a chance to put things right, any thoughts of revenge are being shunted into the background.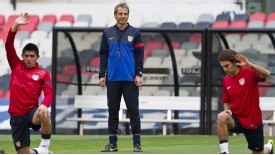 APJurgen Klinsmann's USA have recently shown signs of shaping up
"Look, we're trying to qualify for a World Cup, we're not trying to settle a personal score with Honduras," said Bradley. "There's a bigger picture here, and we feel like we're moving ourselves along. Part of moving ourselves along, part of qualifying for the World Cup is taking care of business against Honduras tomorrow night."

If the U.S. can at least compete on level terms in the center of midfield, that could allow the likes of Fabian Johnson, Graham Zusi, Clint Dempsey and Jozy Altidore to go at Honduras' depleted backline. The ability of the U.S. to attack from wide positions has improved drastically from four months ago, and probably will be the primary conduit to getting some goals Tuesday. Not that anyone is expecting the match to be easy.

"It's going to be a hell of a lot of work," said Klinsmann at Monday's news conference. "It's going to be a tough, tough opponent. We have been talking to the team about their strengths and weaknesses in detail, but at the end of the day, if we approach it with the right attitude, the right commitment and aggressiveness, then I'm very positive."

At which point, the U.S. players can enjoy the rest of their summer.

Notes:

• The USSF announced that Tuesday's match is a sellout. Additional seats have been added to Rio Tinto Stadium, pushing the capacity to 20,250.

• The U.S. is undefeated in 24 straight home qualifiers (22-0-2). The last loss was to -- you guessed it -- Honduras, who claimed a 3-2 victory at RFK Stadium in 2001.

• The U.S. won its only previous match at Rio Tinto Stadium, 2-1 over El Salvador in a 2009 World Cup qualifier.

• Clint Dempsey has seven of the 17 U.S. goals this qualifying cycle. Dempsey has seven goals in his past eight games for the U.S, and he has scored 13 of the 29 U.S. goals in games he has played under Jurgen Klinsmann. That said, Dempsey hasn't scored in his previous two games. He hasn't gone three straight international games without a goal since an eight-game dry spell that ended in June 2011.

Additional reporting by Paul Carr